MBA vs MS in Finance Alexander Lowry with Gordon College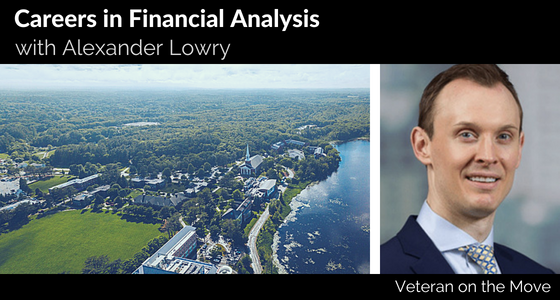 Alexander Lowry Gordon College
Alexander Lowry is a Professor of Finance at Gordon College, head of the Master of Science in Financial Analysis program. He's also into advising businesses that students can potentially work for. In this week's episode, Alexander shares with us an affordable option to get a finance degree for veterans who wish to transition into the finance world.
"From my perspective, hands down, the best leadership guys are military… But on the flip side of that, you're competing against people who have been doing a certain job for many years." – Alexander Lowry
Alexander Lowry – From History to Wall Street
Alexander was a history major and always assumed he was bound to go to business and finance. Deviating from this path, he got into management consulting. This field, he thinks, is a great training ground, as it gives exposure to different industries and sectors.
The Cohen Veterans Network, a not-for-profit philanthropic organization, was created to serve them by providing high-quality, accessible, and integrated mental health care.
But even after over a decade in this profession, his "Wall Street itch" just had to be scratched. With a Wharton Masters in Business Administration experience, he was finally able to move across.
MBA vs MS in Finance
For most people who'd like to be part of the business industry, it's mostly a choice between MBA or finance. Picking one is easy. It's a matter of whether you know where you want to go in the future.
Taking up MBA entails learning all the subjects from operations, accounting, and finance. There's the eventual internship that matches you up with the right job that suits you. You also get to choose any field of specialization that you want.
But if you're pretty set on finance, you wouldn't want to take up two more years of learning basically everything. Taking up a one-year finance program like the one offered at Gordon will save you over a hundred grand. It will also allow you a few years of working experience.
On Military Fitting in Finance
A lot of hiring managers seem to prefer experienced financiers over military veterans. It's the easy way, but it's not always the right way. Alexander maintains that veterans have a lot more to offer, owing to their training and inherent leadership skills.
"When hiring someone, I only need two things. I need to know they're intelligent and passionate. Because if you have those, I can train you to do any job." – Alexander Lowry
Good news is, many companies have been exerting effort to understand veterans and the actual value they can bring.
Don't forget to leave us a 5-star rating and review if you enjoyed the show. We would love to hear from you!
Check out these links for Alexander Lowry:
Download Joe Crane's Top 7 Paths to Freedom or get it on your mobile device. Text VETERAN to 38470.  
Join the Veteran on the Move on Facebook!
Check out Veteran on the Move on Facebook to connect with our guests! It's also a great place where you can stay in touch with other veterans who are transitioning to entrepreneurship, and get updates and free gouge on the people programs and resources to help you in your transition to entrepreneurship.
The Veteran On the Move podcast has published over 150 episodes giving listeners the opportunity to hear in-depth interviews conducted by host Joe Crane featuring the people, programs and resources to assist veterans in their transition to entrepreneurship: Marine Corps, Army, Navy, Air Force and Coast Guard veterans, DOD, entrepreneurship, business, success, military spouse, transition, education, programs and resources.  Veteran On the Move has garnered over 500,000 listens verified through Stitcher Radio, Sound Cloud, Itunes and RSS Feed Syndication making it one of the most popular Military Entrepreneur Shows on the Internet Today.
Lorem ipsum dolor sit amet, consectetur adipiscing elit, sed do