Connecting Veterans to Fulfilling Careers with Air Force Veteran Stacey Wiggins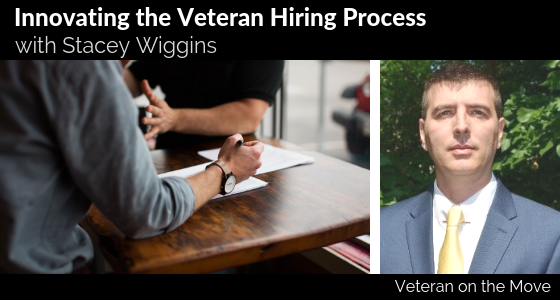 Podcast: Play in new window | Download
Stacey Wiggins is a retired prior enlisted Air Force officer with over 26 years of military service. He served aboard the National Airborne Operations Center, deployed multiple times to the Middle East, and lived abroad for 3 tours. He completed his Air Force career in 2015 as the Operations Officer at Clemson University's Air Force ROTC program. He lives in the Greenville, SC area with his wife Kathy where he's helping bring Veterans and employers together through a new organization and web tool called Veterans ASCEND.
Stacey Wiggins – Difficult Transition
Stacey started his resume and distributing his resume 3 months prior to terminal leave.  At 7-8 months he still and no phone calls or interviews with prospective employers. Stacey sent out over 200 resumes.  Desperation starting setting in and he finally got a call.
"The difficult part is that you don't get any feedback from anybody." – Stacey Wiggins
Trust Your Gut Instinct
When Stacey went to the interview he saw every red flag about this company but he was so desperate to have purpose again so ignored the red flags and took the job.  Eventually the red flags started coming to the surface and Stacey learned that this job was not for him.
"For anybody who is out there and interviewing, trust what your gut is telling you.  Don't take it because you are setting yourself back 3-6 months." – Stacey Wiggins
Networking is Key
Stacey had been actively looking for 13 months before he received the call to work with Veterans ASCEND.  The networking piece is where Stacey failed but he was able to join in the beginning stages with a company that is helping veterans find jobs.  Veterans ASCEND works much like Match.com but from the skill set level of the employee and matches the skill set needed by the employer. They are also reaching out the those companies that want to hire veterans.
"It's not what you know, it's who you know." – Stacey Wiggins
To hear more strategies for your business from Stacey Wiggins, download this episode.
Don't forget to leave us a 5-star rating and review if you enjoyed the show. We would love to hear from you!
Check out these links for Stacey Wiggins:
Download Joe Crane's Top 7 Paths to Freedom or get it on your mobile device. Text VETERAN to 38470.  
Join the Veteran on the Move on Facebook!
Check out Veteran on the Move on Facebook to connect with our guests! It's a great place where you can stay in touch with other veterans who are transitioning to entrepreneurship.  Get updates and free gouge on the people, programs and resources to help you in your transition to entrepreneurship.
Veteran On the Move podcast has published over 200 episodes. Our listeners have the opportunity to hear in-depth interviews conducted by host Joe Crane . The podcast features people, programs and resources to assist veterans in their transition to entrepreneurship.  As a result, Veteran On the Move has over 1,000,000 verified downloads through Stitcher Radio, Sound Cloud, itunes and RSS Feed Syndication making it one of the most popular Military Entrepreneur Shows on the Internet Today.
Lorem ipsum dolor sit amet, consectetur adipiscing elit, sed do