Putting Systems Into Place with Army Veteran Rob Braiman Cogent Analytics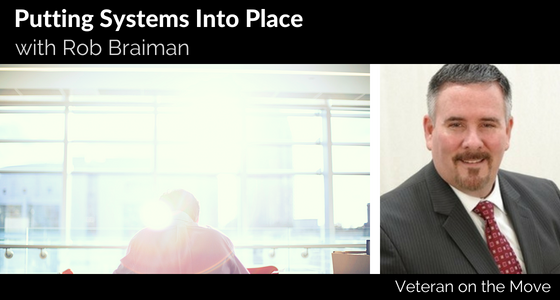 Army veteran Rob Braiman is founder and CEO of Cogent Analytics. He has spent fifteen years working with business owners on improving strategic planning, operations, growth, and business development. With a military career that has left a huge impression on his principles, Rob has built a culture of integrity, honesty, and transparency that puts clients first.
"I cherish my military time. It was the foundation of principles for who I am, how I raise my children, how I try to lead my people, and more importantly, how I try to represent small business owners, which is really the mission of Cogent Analytics." – Rob Braiman
Rob Braiman – An Invaluable Military Career
Rob enlisted in the Army and served in Special Operations. He was with the first battalion for the Special Forces Group stationed at Fort Bragg and then Fort Campbell. It wasn't until 1990 that he got out.
A young man when he retired from the service, Rob has a great deal of respect for the soldiers who have been involved in conflicts in and out and in multiple countries for the past couple of years.
Job-Hunting During Transition
Having married while still in the military, Rob's first objective upon getting out was to find a job. It was quite the challenge. The military walk, talk, and communicate at different speeds and manners than civilians do, and the structured world they navigate is so different from that of the civilians.
He had a couple of jobs that put food on the table and paid the bills the first few years. And if Rob had anything to be thankful for, it would be the values that being part of the armed forces instilled in him and he carried through his transitional career search.
"All of the attributes that made us successful while in service are those same things that employers are looking for today." – Rob Braiman
Trailblazing Business Systems
Rob began his career in the business world working with a startup company. He helped his boss build his operations from ground up. With his attitude and abilities, he got offered his first equity.
He was working with people who didn't necessarily have the same values as him. In his early thirties, Rob realized that his skills for putting systems into place were key to opening his own endeavor. And that, he did.
Don't forget to leave us a 5-star rating and review if you enjoyed the show. We would love to hear from you!
Check out these links for Rob Braiman:
Download Joe Crane's Top 7 Paths to Freedom or get it on your mobile device. Text VETERAN to 38470.  
Join the Veteran on the Move on Facebook!
Check out Veteran on the Move on Facebook to connect with our guests! It's also a great place where you can stay in touch with other veterans who are transitioning to entrepreneurship, and get updates and free gouge on the people programs and resources to help you in your transition to entrepreneurship.
The Veteran On the Move podcast has published over 150 episodes giving listeners the opportunity to hear in-depth interviews conducted by host Joe Crane featuring the people, programs and resources to assist veterans in their transition to entrepreneurship: Marine Corps, Army, Navy, Air Force and Coast Guard veterans, DOD, entrepreneurship, business, success, military spouse, transition, education, programs and resources.  Veteran On the Move has garnered over 500,000 listens verified through Stitcher Radio, Sound Cloud, Itunes and RSS Feed Syndication making it one of the most popular Military Entrepreneur Shows on the Internet Today.
Lorem ipsum dolor sit amet, consectetur adipiscing elit, sed do