Treating PTSD with the Stellate Ganglion Block with Navy Veteran Meriwether Ball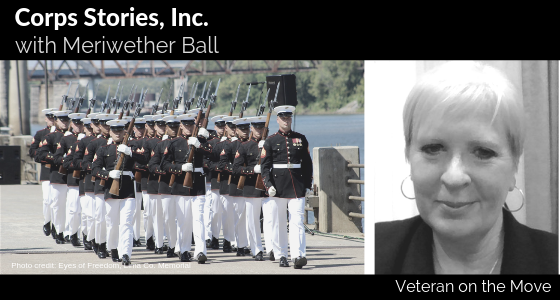 Podcast: Play in new window | Download
Meriwether Ball, USMC historian and journalist, has provided pro-bono public affairs effort for Dr. Eugene Lipov since her successful treatment, relieving her of 50 years of symptoms.  Dr. Eugene Lipov is the pioneering anesthesiologist who developed the Lipov Block, the stellate ganglion block for treatment of PTSD.
"I don't have flashbacks, nightmares anymore and I have to tell you that it was so unfamiliar.  The first thing I said, Greg asked me how do I feel and I said, it's so noisy in here. He said that's something, a lot of people who have had the block experience that the noise in your head is so loud.  I didn't realize that flashbacks had audio." – Meriwether Ball
Meriwether Ball- Navy Reserve Cut Short
Meriwether went into the Navy Reserve in 1999 for just a few years as it was cut short.  She loved her time in the Navy and it was pivotal for her life. Meriwether wrote for the wire and was at a rate they no longer have, JO 3rd Class Petty Officer.  
"I was attached to the Quincy, Massachusetts Depot and they had a lot of, actually news on there.  A lot of visits from dignitaries and brass and some pretty interesting stories were written out of that little office in that little season of my life." – Meriwether Ball
Transitioning From the Navy
Meriwether had a traumatic event in her family with her very young child when he was five years old.  She was serving in the Navy on a single parent waiver and had just gotten a divorce. The Navy couldn't help Meriwether during this difficult time so she fought for and received an honorable discharge.  Over the years she has seen the Navy improving their support for families and children unlike when she served.
"I learned so much about military journalism in that short time and it changed me.  Being an AP correspondent before that and afterward my whole view of news writing shifted while I was in the navy reserve  ." – Meriwether Ball
PTSD Relief
Meriwether has had PTSD since she was a small child due to horrific childhood trauma.  She didn't want anybody to know especially in her professional life because she thought that it would work against her.  People that have PTSD want to be normal and fit in. She had an awful childhood and then went through domestic violence and a divorce.  Additionally, terrible trauma happened to her child and then a random act of violence occurred. Meriwether heard about the Stellate Ganglion Block and knew she had to be on the list.
"I don't care if I have to sell the house, I will be in Chicago when you can have me.  It's the only place that he performs it in his office in Chicago. I got an email back and one thing led to another and six weeks later on the 14th of July, 2017 I got my Stellate Ganglion Block.  And that moment that I woke up from that I have been a completely different person, completely different brain sets." – Meriwether Ball
Corps Stories
Ordinary Marines. Extraordinary Lives.
"As head and founder, I launched Corps Stories to make inspiring feature stories of ordinary Marines available without cost or registration to the USMC community worldwide. My Board and I staunchly stand by our brand of transparent journalism – no story is written or runs without the approval of the story subject. We have no interest in harm and nothing to hide.  Semper fidelis." – Meriwether Ball
To hear more from Meriwether Ball and her journey with PTSD and the Stellate Ganglion Block, download this episode.
Don't forget to leave us a 5-star rating and review if you enjoyed the show. We would love to hear from you!
Meriwether Ball links:
Download Joe Crane's Top 7 Paths to Freedom or get it on your mobile device. Text VETERAN to 38470.  
Sponsor
Bench Bookkeeping is this episodes sponsor.  Being an entrepreneur, bookkeeping is a necessary evil.  To put your bookkeeping needs on autopilot check out Bench Bookkeeping and get one month free at veteranonthemove.com/bench.
Join the Veteran on the Move on Facebook!
Check out Veteran on the Move on Facebook to connect with our guests! It's a great place where you can stay in touch with other veterans who are transitioning to entrepreneurship.  Get updates and free gouge on the people, programs and resources to help you in your transition to entrepreneurship.
Veteran On the Move podcast has published over 250 episodes. Our listeners have the opportunity to hear in-depth interviews conducted by host Joe Crane . The podcast features people, programs and resources to assist veterans in their transition to entrepreneurship.  As a result, Veteran On the Move has over 1,000,000 verified downloads through Stitcher Radio, SoundCloud, iTunes and RSS Feed Syndication making it one of the most popular Military Entrepreneur Shows on the Internet Today.
Lorem ipsum dolor sit amet, consectetur adipiscing elit, sed do