Become a Great Podcast Guest to Promote Your Business with Navy Veteran Tom Schwab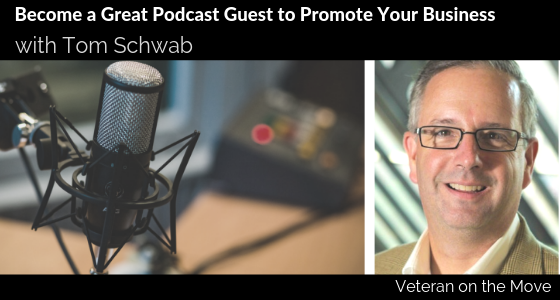 Podcast: Play in new window | Download
Tom Schwab, Navy veteran helps you promote your business by becoming a great podcast guest.  In this noisy digital world, you can't break through the noise, you just add to it. Instead, you need to get in on the conversation where your ideal customers are already listening. As a Navy veteran who ran nuclear power plants, and an inbound marketing engineer, Tom Schwab has a refreshingly unique approach. He focuses on time-proven strategy, then supercharges it with today's technology and podcast interview marketing. An author, speaker, and teacher, Tom helps you get more traffic, leads, and raving customer fans by being interviewed on targeted podcasts.
Tom Schwab- Extended Experience
Tom went to the United States Naval Academy and earned a BSME in Mechanical Engineering.  He served aboard the USS Abraham Lincoln and was a nuke. Tom can trace the highlights in his life back to his time in the military.  It taught him that just about anything can be systematized, taught and refined.
"I always tell people, I've done two major things in my life.  One was run a nuclear power plant and the other one's running a small business.  And one of those was easier because it came with an instruction manual." – Tom Schwab
Transitioning from the Navy to Corporate America
Tom transitioned from the Navy to a fortune 500 company in 1992.  He loved working there but found that his work community was quite small and he wanted something larger.  That caused him to go from the engineering side to the marketing side.
"But one of the things that really struck me probably within the first 18 months is that, I felt like I was on a submarine, right because my world was so small.  I used to joke that if I didn't work in the same building as you, go to the same church as you, or our kids didn't go to school together, I didn't know anybody." – Tom Schwab
Interview Valet
Interview Valet is the leader in Podcast Interview Marketing (PIM), using targeted podcast interviews to talk directly to your ideal customers. As the premier full-service concierge level service, Interview Valet takes care of everything but the speaking. Podcast guest appearances are a cost effective, fast and scalable way to reach your ideal prospects. in just 30 minutes, listeners get to know, like and trust you. They arrive at your website ready to engage. That is why traffic from podcast interviews converts 25x better than blogs. Interview Valet goes beyond just making a connection between host and guest. They build an online marketing machine that turns listeners into leads. All you have to do is be the guest; they take care of the rest.
"You know, the interview is the one thing you can't outsource Sinatra only saying. But with that we can teach them, we can give them the professional equipment.  We can teach them the best practices and give them feedback." – Tom Schwab
To hear more from Tom Schwab's journey and Interview Valet, download this episode.
Don't forget to leave us a 5-star rating and review if you enjoyed the show. We would love to hear from you!
Tom Schwab links:
Download Joe Crane's Top 7 Paths to Freedom or get it on your mobile device. Text VETERAN to 38470.  
Sponsor
Bench Bookkeeping is this episodes sponsor.  Being an entrepreneur, bookkeeping is a necessary evil.  To put your bookkeeping needs on autopilot check out Bench Bookkeeping and get one month free at veteranonthemove.com/bench.
Join the Veteran on the Move on Facebook!
Check out Veteran on the Move on Facebook to connect with our guests! It's a great place where you can stay in touch with other veterans who are transitioning to entrepreneurship.  Get updates and free gouge on the people, programs and resources to help you in your transition to entrepreneurship.
Veteran On the Move podcast has published over 250 episodes. Our listeners have the opportunity to hear in-depth interviews conducted by host Joe Crane . The podcast features people, programs and resources to assist veterans in their transition to entrepreneurship.  As a result, Veteran On the Move has over 1,000,000 verified downloads through Stitcher Radio, SoundCloud, itunes and RSS Feed Syndication making it one of the most popular Military Entrepreneur Shows on the Internet Today.
Lorem ipsum dolor sit amet, consectetur adipiscing elit, sed do