Amazon's Military Affairs Team with Beau Higgins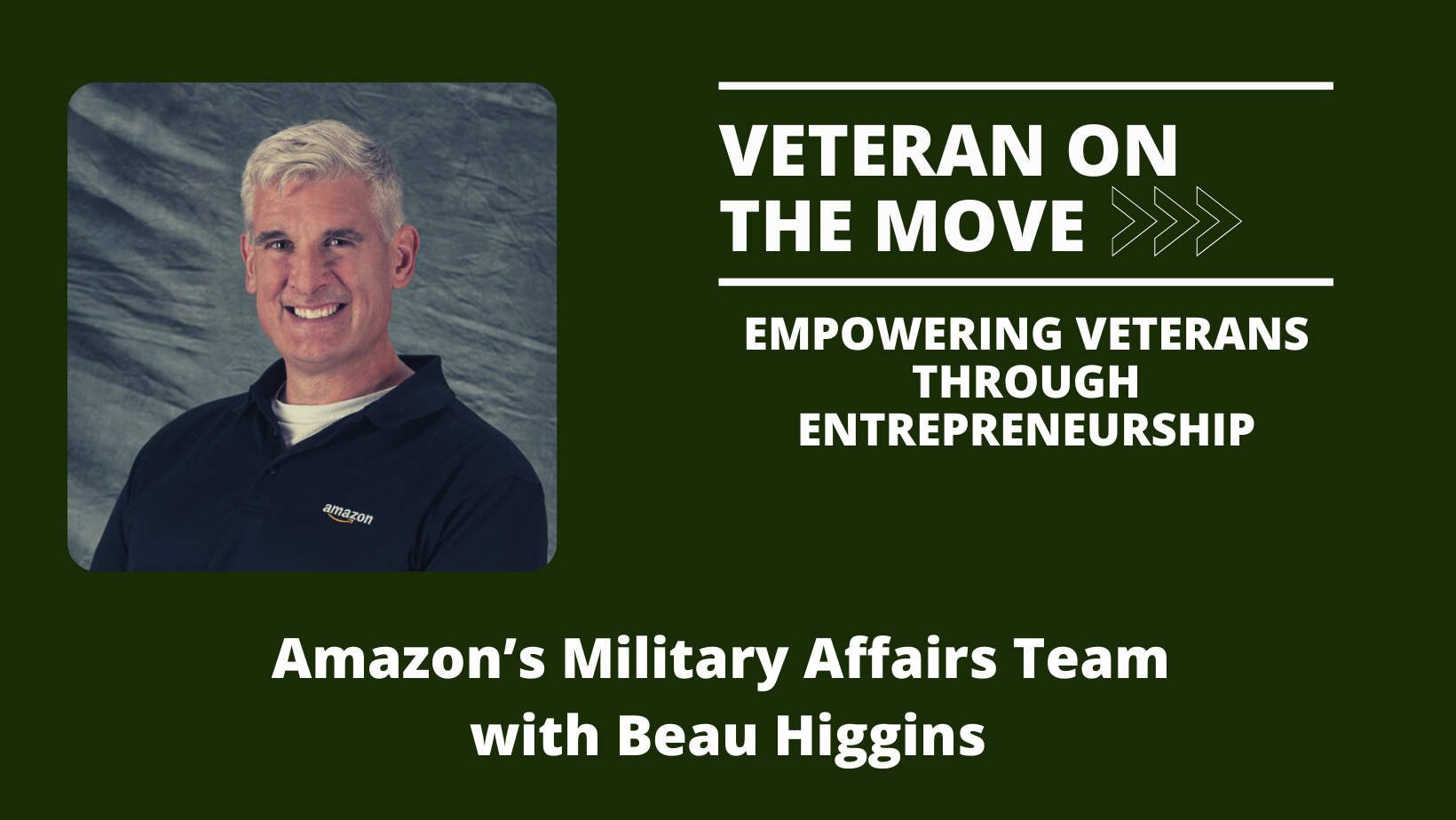 Podcast: Play in new window | Download
In this episode, Joe is joined by Marine Veteran Beau Higgins. Beau retired from the Marine Corps after 25 years on Active Duty and is now a Senior Manager with Amazon's Military Affairs Team. Beau stayed connected with his civilian network while on Active Duty, setting himself up for a successful transition to the corporate world. He is a leader in Amazon's effort to hire Veterans and military spouses through various programs including Skillbridge. Beau shares with Joe details about the three pillars of the Amazon Military Affairs Program and tips for transitioning servicemembers. 
Amazon Military Recruiting Events
Amazon Military Skills Translator 
About Our Guest  
As a Senior Manager on Amazon's Military Affairs team, Beau is a leader of organization that is responsible for creating scalable veteran programs, developing policies and strategic planning for military recruiting and outreach efforts, and focusing on hiring, developing and retaining the best and the brightest military talent available for positions within Amazon. Additionally, the Military Affairs team is focused on developing Amazon's ongoing efforts to increase hiring of diverse Veteran talent, military spouses, and wounded warriors, as well as engaging with multiple Military Support Organizations (MSOs) to develop pipelines of Veteran talent. Prior to joining Amazon in 2016, Beau served for 25 years as an intelligence officer with the Marines. This included deployments to Somalia, Bosnia, 3 tours to Iraq, and 3 tours to Afghanistan. He had the privilege to command 1st Reconnaissance Battalion and Headquarters Battalion, 2nd Marine Division.
Join the conversation on Facebook!
Check out Veteran on the Move on Facebook to connect with our guests and other listeners. A place where you can network with other like-minded veterans who are transitioning to entrepreneurship and get updates on people, programs and resources to help you in YOUR transition to entrepreneurship.
About Our Sponsors

Navy Federal Credit Union 
Partner up with Navy Federal Credit Union to pay down credit card debt. You could get a low intro APR on balance transfers with their Platinum Credit Card. Navy Federal can even help you get started on your next home improvement project. They offer a home equity line of credit with convenient access to funds when you need them at a variable rate. You can also get a fixed-rate equity loan that has set monthly payments for large purchases. Learn more at navyfederal.org. 
At Navy Federal, our members are the mission.  
Want to be our next guest? Send us an email at interview@veteranonthemove.com. 
Did you love this episode? Leave us a 5-star rating and review! 
Download Joe Crane's Top 7 Paths to Freedom or get it on your mobile device. Text VETERAN to 38470.
Veteran On the Move podcast has published over 460 episodes. Our listeners have the opportunity to hear in-depth interviews conducted by host Joe Crane. The podcast features people, programs, and resources to assist veterans in their transition to entrepreneurship.  As a result, Veteran On the Move has over 7,000,000 verified downloads through Stitcher Radio, SoundCloud, iTunes and RSS Feed Syndication making it one of the most popular Military Entrepreneur Shows on the Internet Today.
Lorem ipsum dolor sit amet, consectetur adipiscing elit, sed do