American Armed Forces Mutual Aid Association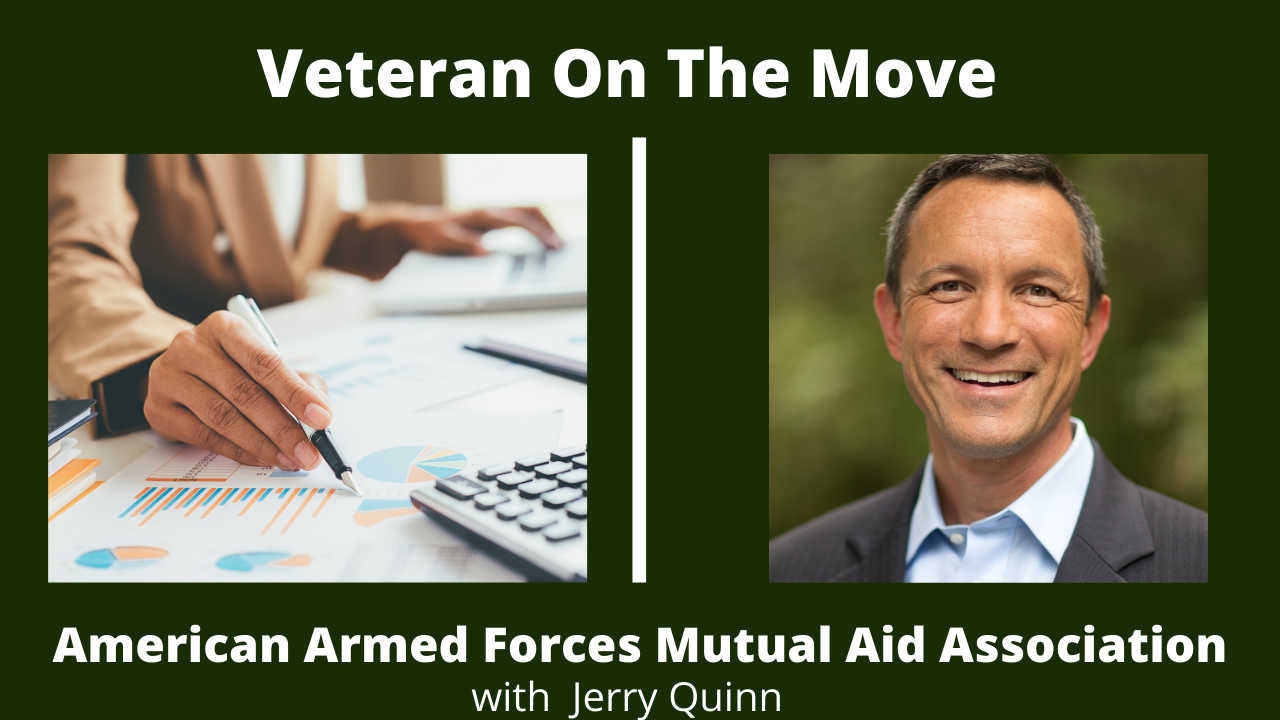 Podcast: Play in new window | Download
Are you interested in starting your own business? Then this episode is for you! Today we're speaking with Army Veteran, Jerry Quinn, COO of American Armed Forces Mutual Aid Association (AAFMAA).
Jerry speaks about his time in the Army, leaving Active Duty to go to college and his transition to the Army Reserves. Jerry speaks about exactly how he transitioned to the Banking Industry and the lessons he learned along the way. Jerry gives us amazing tips on developing a business plan and for what he looks for when approving business loans. Jerry also speaks on how AAFMAA is helping Veteran entrepreneurs make their own dreams come true while also protecting them. 
Are you a Veteran who is transitioning to Entrepreneurship? Then check out this FREE download for the Top 29 Entrepreneurship Programs for Veterans & their families! Download Here —>
https://bit.ly/31xfz8S
About Our Guest
 LTC Jerry Quinn (USAR) serves as Chief Operating Officer and Secretary at AAFMAA. Jerry brings more than 25 years of experience in the financial services industry where he specialized in strategic programs and business development, and has over 34 years in the US Army, including continued service in the US Army Reserve. He has served in various command and staff assignments, including deployments in support of OIF, Desert Storm and Panama, and homeland defense missions in the United States. He currently serves as the Commander of the 316th Quartermaster Battalion in Oklahoma. Jerry holds a B.S. in Finance from Colorado State University and an M.B.A with an emphasis in Organizational Design from the University of Colorado.
Join the conversation on our Facebook!
Check out Veteran on the Move on Facebook to connect with our guests and other listeners. A place where you can network with other like-minded veterans who are transitioning to entrepreneurship and get updates on people, programs and resources to help you in YOUR transition to entrepreneurship.
About Our Sponsors
Navy Federal Credit Union
There are lots of ways businesses like to show their appreciation to veterans on Veteran's Day.  
It's a great day to get free food or see a movie for free, but at Navy Federal Credit Union, every day is Veteran's Day.  
Navy Federal likes to show their appreciation by saying thank you in a meaningful way.  
They're inspired by their members' service.  
They make it their mission to understand the unique needs of veterans and to offer the resources, products, and services that will help their members every step of the way.  
They offer low APR credit cards, market-leading savings rates, and 24/7 customer service and support. 
They have partnerships with veteran's employment assistance programs and resources like "Best Careers After Service" and "Best Cities After Service." 
If you're a veteran who would like to join a credit union that puts you and your needs first, visit navyfederal.org/veterans or check out #GratitudeMission. 
Insured by NCUA. Value claim based on Navy Federal's 2019 Member Giveback Study.
FIVERR
The way we work together seemingly changed overnight
If there's one thing we've learned for adapting business, having access to the right resources is essential. 

And it's crucial to maintain a strong digital presence.
2020 has been the year of uncertainty, so how can your business plan for the unexpected and operate virtually?
Finding the right talent can be time-consuming, frustrating, and expensive.

It's difficult to keep up with current best practices for maximizing your digital presence.
Fiverr's online marketplace connects businesses with freelancers offering hundreds of digital services. 
Including graphic design, copywriting, web programming, film editing, and more. 
Want to be our next guest? Send us an email at interview@veteranonthemove.com. 
Did you love this episode? Leave us a 5-star rating and review! 
Download Joe Crane's Top 7 Paths to Freedom or get it on your mobile device. Text VETERAN to 38470.
Veteran On the Move podcast has published over 250 episodes. Our listeners have the opportunity to hear in-depth interviews conducted by host Joe Crane. The podcast features people, programs and resources to assist veterans in their transition to entrepreneurship.  As a result, Veteran On the Move has over 1,000,000 verified downloads through Stitcher Radio, SoundCloud, iTunes and RSS Feed Syndication making it one of the most popular Military Entrepreneur Shows on the Internet Today.
Lorem ipsum dolor sit amet, consectetur adipiscing elit, sed do