The Art of Awareness and Attack Survival with Jonathan Gilliam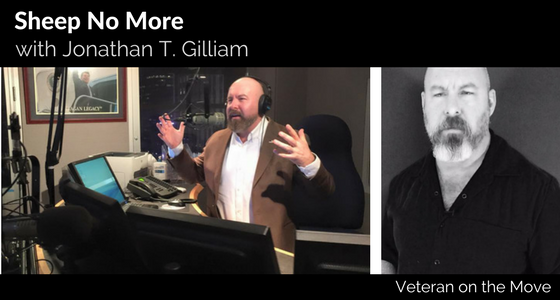 207: Jonathan Gilliam The Art of Awareness and Attack Survival
Jonathan Gilliam is a Former Navy SEAL and FBI Agent. He currently hosts his own show, The Experts, simulcast on social media. Jonathan is a frequent commentator on many radio programs, including the David Webb show on SiriusXM, and a frequent fill-in host on The Sean Hannity Show. He is the author of the brand new book, "Sheep No More: The Art of Awareness and Attack Survival."
"Your mistakes become your masters degree." – Jonathan Gilliam on becoming an entrepreneur
3 Years to Becoming a SEAL
Jonathan's career in the Navy lasted 5 years. For him, the journey began 3 years earlier when he made up his mind to be a SEAL. His last year of college he trained intensely to prepare himself.
Unfortunately, Jonathan was turned down for SEAL, Navy pilot and Marine Corps pilot. He simply did not know how to prepare his applications. So Jonathan trained harder and researched exactly what the SEAL's looked for in a recruit.
Dedication to His Goal
He decided to try again and by this time, all of the pilot slots were closed and he was turned down by the SEAL's again. Jonathan was not going to give up. He contacted the detailer in Washington DC who looked at his file and told him that all the slots for SEALs were closed and to come back in a year.
Jonathan was at the Pentagon a year later to the day with his file in hand. Finally he had made it. When he asked the detailer when he would get his official notice the detailed bellowed, "I am your official notice!"     
To hear the full story and what he's doing now, download and listen to Jonathan Gilliam The Art of Awareness and Attack Survival.
Don't forget to leave us a 5-star rating and review if you enjoyed the show. We would love to hear from you!
Check out these links from Jonathan Gilliam The Art of Awareness and Attack Survival:
Download Joe Crane's Top 7 Paths to Freedom or get it on your mobile device. Text VETERAN to 38470.
Guest Bio Jonathan Gilliam
Jonathan Gilliam is a Former Navy SEAL and FBI Agent. He currently hosts his own show, The Experts, simulcast on social media. Jonathan is a frequent commentator on many radio programs, including the David Webb show on SiriusXM, and a frequent fill-in host on The Sean Hannity Show. He is the author of the brand new book, "Sheep No More: The Art of Awareness and Attack Survival."   
Join the Veteran on the Move on Facebook!
Check out Veteran on the Move on Facebook to connect with our guests! It's also a great place where you can stay in touch with other veterans who are transitioning to entrepreneurship, and get updates and free gouge on the people programs and resources to help you in your transition to entrepreneurship.
The Veteran On the Move podcast has published over 150 episodes giving listeners the opportunity to hear in-depth interviews conducted by host Joe Crane featuring the people, programs and resources to assist veterans in their transition to entrepreneurship: Marine Corps, Army, Navy, Air Force and Coast Guard veterans, DOD, entrepreneurship, business, success, military spouse, transition, education, programs and resources.  Veteran On the Move has garnered over 500,000 listens verified through Stitcher Radio, Sound Cloud, Itunes and RSS Feed Syndication making it one of the most popular Military Entrepreneur Shows on the Internet Today.
Lorem ipsum dolor sit amet, consectetur adipiscing elit, sed do