Starting a Non-Profit to Fulfill Your Passion Army Vet Deborah Stegmaier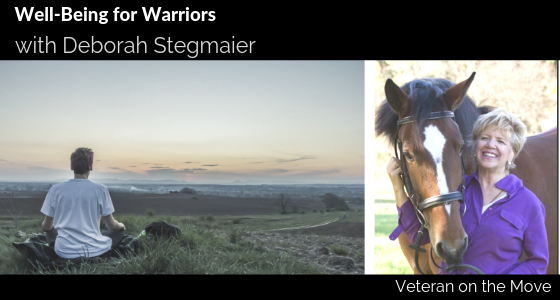 Podcast: Play in new window | Download
Deborah Stegmaier is owner of New World Wellness and Founder and CEO of Well-Being for Warriors, Inc, a non-profit organization offering free holistic and energy medicine services to veterans with PTSD. She is an Army Veteran, entrepreneur, businesswoman, educator, holistic physical therapist, life coach and soon to be published author with over 38 years experience using integrative holistic therapies and energy medicine helping to heal mind, body, spirit of thousands of clients. She is passionate about changing lives to make a difference in this world.
Deborah Stegmaier- Passion for Helping Soldiers
Deborah started her journey at the University of Connecticut in ROTC and studied Physical Therapy.  Deborah was commissioned as a 2nd Lieutenant and served as a Physical Therapist for the Army and absolutely loved it.  She was stationed at Fort Knox and Madigan Army Medical Center in Tacoma after doing work in Texas.
" We had the opportunity to work with doctors and do all kinds of testing, evaluations and screenings.  We were the TMCs, we saw the military guys before the docs even saw them. So I had freedom to learn and to help these soldiers." – Deborah Stegmaier
Transitioning
When Deborah got out of the Army she had a rude awakening transitioning into Physical Therapy in the civilian world.  She didn't have the freedom she had in the Army. Deborah had to learn another way since there were more rules and structure.  She stayed in the Army Reserves and started studying holistic therapy, manual therapy using her hands.
"I learned early on in my career that what I learned in school wasn't enough.  I was working with people with acute and chronic injuries and pain illnesses, disease processes.  And I just saw that there was so much more to healing that needed to be learned and used to help these people truly heal. " – Deborah Stegmaier
Well Being for Warriors
Deborah used  her passion for  helping people and  holistic medicine to  start wellbeing for Warriors,  a nonprofit helping veterans with  PTSD.  Her heart and soul is committed to helping veterans with PTSD, mild traumatic brain injury, chronic pain and military sexual trauma.  
"We offer free, absolutely free holistic services to veterans, active duty and veterans who have a diagnosis of PTSD, mild traumatic brain injury, chronic pain or military sexual trauma.  And we offer a variety of things because everything we do is about mind, body, spirit, and energy because of who we are as human beings. We need to look at the whole person." – Deborah Stegmaier
To hear more from Deborah Stegmaier and how she serves our military community download this episode.
Don't forget to leave us a 5-star rating and review if you enjoyed the show. We would love to hear from you!
Deborah Stegmaier links:
Download Joe Crane's Top 7 Paths to Freedom or get it on your mobile device. Text VETERAN to 38470.  
Sponsor
Bench Bookkeeping is this episodes sponsor.  Being an entrepreneur, bookkeeping is a necessary evil.  To put your bookkeeping needs on autopilot check out Bench Bookkeeping and get one month free at veteranonthemove.com/bench.
Join the Veteran on the Move on Facebook!
Check out Veteran on the Move on Facebook to connect with our guests! It's a great place where you can stay in touch with other veterans who are transitioning to entrepreneurship.  Get updates and free gouge on the people, programs and resources to help you in your transition to entrepreneurship.
Veteran On the Move podcast has published over 250 episodes. Our listeners have the opportunity to hear in-depth interviews conducted by host Joe Crane . The podcast features people, programs and resources to assist veterans in their transition to entrepreneurship.  As a result, Veteran On the Move has over 1,000,000 verified downloads through Stitcher Radio, SoundCloud, itunes and RSS Feed Syndication making it one of the most popular Military Entrepreneur Shows on the Internet Today.
Lorem ipsum dolor sit amet, consectetur adipiscing elit, sed do