5 Things You Can Do This Week to Move Forward In Your Business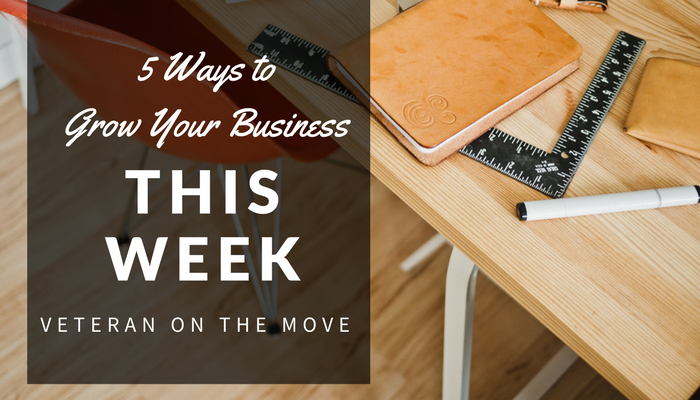 Entrepreneurship is a journey. Sometimes, just starting is the hardest part. Whether you are considering starting a business, or if you've just hit a wall – there are things you can do right now to help you grow your business. Those little steps, taken day-by-day, will help you achieve long-term sustainability in your entrepreneurial ventures.
#1: Find a Networking Group
The best way to keep yourself focused and help your business grow is to reach out to other members of the business community. Building your network will help you increase referrals and improve your professional development.
#2: Set SMART Goals
Failing to plan is planning to fail. Setting SMART goals for your business will help you focus your daily activities on growth. What are SMART goals? They are Specific, Measurable, Action-Oriented, Realistic, and Time-Based. It's not enough to say "I want to do this," you need to create a goal that has an end state.
#3: Start with PT
Did you know? It has been proven that cardio exercise improves cognitive function. Make the commitment to start your day with a run to get your creative juices flowing. You'll reap the health benefits, and be able to stay focused throughout your day.
#4: Take a Day Off
This may seem counterintuitive, but taking time to rest and rejuvenate is actually going to help your business. When you're first launching a company, there are long hours and a lot of pressure. If you have a family, it can be even more overwhelming. Taking even an afternoon to do something fun or relaxing will help you avoid burn out during those tough few years. If you can't keep up, your business will fail. Make your mental, physical, and spiritual health a priority – whatever that means for you.
#5: Thank Your Customers
In the day-to-day rush of running a business, we as entrepreneurs tend to forget about those who helped us grow our companies. Take the time to send thank you notes to past and present customers. Don't pitch, don't sell, just say thank you for supporting your local veteran-owned business.
Lorem ipsum dolor sit amet, consectetur adipiscing elit, sed do