5 Reasons Your Blog Isn't Working (And What You Can Do to Fix It)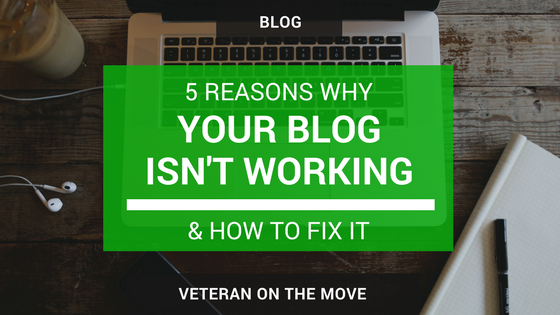 Whether you're just making the transition from military service to entrepreneurship for the first time, or if you're a seasoned pro at this whole start-up thing: You've likely heard a lot about the rising star of marketing – content.
If you run a business today, there are a few ways you can present your content. One of the most popular vehicles is to start your own business blog. In fact, research states that businesses that post a blog at least once per week gain an average of 67% more leads that the businesses that don't blog at all.
There is power in a well-crafted and consistently maintained professional blog.
Maybe you've already made the leap and you're blogging regularly – but it's still not working. The leads are not coming in, you're not getting engagement on social media, and there's just no return on the time you've spent developing that content.
I've been a business writer for fourteen years, and these are the top five mistakes I've found in blogs that just aren't pulling their weight.
Blog Mistake #1: You Talk About You Too Much
If you're in business, selling your product or service is naturally going to be at the front of your mind – let's be completely honest. You have to make that revenue to keep yourself and your employees afloat. It's a lot of pressure.
Many business owners make the mistake of making that the focus of their content. Their blogs are focused on what they do, what products or services they sell, or something else that focuses internally. People don't like to be "sold" – and constantly focusing on you can turn them off from your brand.
What to do instead: This one is a simple fix. You just have to focus on your audience. I recommend that my clients write down the top ten problems that their product or service solves, and create blogs with that mentality. Instead of saying "You should buy my product because…" you're saying, "You struggle with this issue, and here's a solution to alleviate that issue."
The message is essentially the same, but the delivery is more audience-centric.
Blog Mistake #2: Your Content is Too Technical
This can be a major pitfall for entrepreneurs in the fields of tech, medicine, mechanics, and so on. If someone is buying a product or service from a specialized provider – it's likely because they don't have the skill or knowledge to accomplish that themselves.
You want to prove yourself to be an expert in your field, but you also don't want to talk over the heads of your audience. You also don't want to produce the same kind of content over and over.
What to do instead: Use stories in your blogs. Instead of just stating the facts, statistics, and research – humanize it. I recommend collecting case studies, client histories, and anecdotal scenarios to explain why this topic is important. This method makes it easier for your audience to identify with your content, and your brand by extension.
Blog Mistake #3: You're Not Consistent
It happens to the best of us. We start out with the best of intentions about blogging regularly. Then we miss a week. A week turns into a month, a quarter, and so on. It can be hard to keep up.
Ideally, you need to be posting once per week at a minimum. This helps to create confidence in your brand. Your audience learns to come to you for fresh and new information on a regular basis. That means, when they're ready to buy, you're the first company they think of.
If you're inconsistent, they'll find another source.
What to do instead: Take a hard look at why you're struggling to post. Is it time? Is it a lack of ideas? Maybe you just don't feel great about your writing skills. Whatever the reason, you can try a couple things. You can hire an editor or a ghostwriter to keep you on task with your blog. It can be extremely beneficial when you have a back up plan for your blog post. This is one area where it's a good idea to consider outsourcing.
If creativity is your issue – check out these tips for overcoming writer's block.
Blog Mistake #4: You Don't Have A Purpose
One of the biggest mistakes small business owners can make is to post anything on their blog. So long as you've posted this week – you're good, right? Not so much.
People want to know why they should follow your blog over the thousands of other information sources out there. What makes you special? Where do you specialize? If you're all over the place, you're not going to tap into that repeat audience. This can lead to a lack of engagement and fewer qualified leads.
What to do instead: Start by clearly defining your core values. Why did you start your company? Let that guide your blog's overall narrative. You need to stay somewhere within those parameters. This is also going to resonate with your audience than just posting "stuff". You need to define your purpose for starting your blog.
Blog Mistake #5: You're Not SEO-Minded
Content and search engine optimization go hand-in-hand. You cannot be successful in one without the other. If you consider SEO an afterthought, your blog will likely not perform as well as it should.
What to do instead: I recommend that my clients use the Yoast plugin for WordPress. You can use the free version to get an analysis of each individual page and blog post. You get a ranking of how optimized your content is, and a list of what you can do to correct technical issues. This is an invaluable tool, especially if you're determined to do your own blogging.
Where Do I Start with My Business Blog?
If you are just starting a new business blog, or if you're frustrated with an underperforming blog – I recommend starting with a thorough content audit. Have a third party review your blog articles and give your feedback. Take notes and make adjustments as needed.
If you feel like you need a lot of help, Heeren Content & Strategy offers free consultations and 15% off all marketing services for veteran and military spouse owned business. We'll be happy to provide an initial analysis at no charge!
About the Contributor: Erika Heeren is the founder of Heeren Content & Strategy. With 14-years of experience marketing and public relations, she has a professional focus on integrated media spanning 16 different industries.
She works with small businesses and non-profit organizations to provide affordable, professional-quality content development, marketing, and public relations services. Her clients include local small business owners, marketing agencies, public universities, media outlets, Huffington Post-published authors, IT firms, and non-profit organizations.
A military spouse herself, Erika is an outspoken advocate for veteran and military spouse education, employment, and entrepreneurship. She also volunteers as a digital marketing instructor with Treasure Valley SCORE.
Lorem ipsum dolor sit amet, consectetur adipiscing elit, sed do