Are you waiting to "get in the fight"?

I first learned the term "Get in the fight" as a young lieutenant.  I was a new attack helicopter pilot still learning my aircraft and all the tactics that went along with it.  In my case, when we would arrive on station to provide close air support to a Forward Air Controller (FAC or JTAC) there would be many other players in the game and the FAC himself was quite busy and possibly being shot at on the ground.  He was trying to keep his head down, manage the radio, identify targets and juggle fixed wing, rotary wing CAS and maybe some artillery or mortars.  In my early days this situation was overwhelming, it was all I could do to keep track of what was going on in my own cockpit.  My situational awareness (SA) was minimal.  As I gathered time and experience and watched the tactical gods that I had the privilege of flying with, my SA increased and I started to understand what it meant to get in the fight.  Getting in the fight is a tactful art form on the battle field and in the objective area.  You don't want to interrupt, clog the radio frequency or get in the way.  But if you just sit there and do nothing, the FAC may forget about you or not utilize your services in a timely manner which means you reach bingo fuel and head back to the barn with a full ordnance load.  Days of mission planning, hours of briefing, rehearsals, fuel, flying time and coming back with all of our ordnance was not a good thing.  One time in a debrief of a mission I recall the instructor saying over and over "You Have to Get in the Fight!"  That always stuck with me and for years we would actually mock the experience by taunting each other with "You Have to Get in the Fight"  This line was used extensively in debriefs, the ready room and even the bar.
So as far as your transition goes, are you standing on the sidelines trying to build your SA, hesitating to "get in the fight"?  Are you waiting until all the circumstances are just right before you jump in?  Will you be sent home with all of your ordnance having never fired a round?  Get in the fight!
www.veteranonthemove.com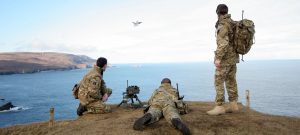 Lorem ipsum dolor sit amet, consectetur adipiscing elit, sed do