Bunker Labs with Dean Bundschu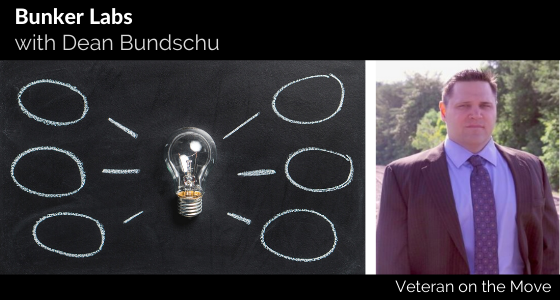 Podcast: Play in new window | Download
Are you about to transition out of the military and into civilian life? Need some guidance to make sure you do it right? If you said yes to either, this episode is one you should definitely listen to. In this episode, we talk with Dean Bundschu, the Atlantic Regional Executive Director at Bunker Labs to learn how to transition into the civilian world the right way, how important it is to network, and how properly networking can help you now, and later throughout your career.
"Know your industry, where you want to be, research the area for opportunities and then network!"  – Dean Bundschu
Advice from Dean:
Jumping right into entrepreneurship can be hard. Start out by getting into a role with a smaller entrepreneurship minded company and work within their sales or marketing team.
About Our Guest  
Dean currently serves as the Atlantic Region Executive Director for Bunker Labs. Additionally, he is an entrepreneur, accomplished sales professional, and business advisor to numerous high growth startups. Prior to venturing into the business world, Dean served 8 years as an Infantry Officer in the United States Army; his service included a combat tour in support of Operation Iraqi Freedom. Upon returning from the war Dean had the honor to work at Orion International where helped hundreds of veterans transition from military to corporate America. As the Founder and CEO of PrepChamps, Inc., Dean successfully raised $2.2M in private equity capital, PrepChamps was recognized as the 2007 North Carolina Fast Trac Tech Company of the Year and ultimately the became the 2nd largest site in the high school sports recruiting space before being acquired. Dean received his bachelor's degree from Ohio Northern University. He attended ONU on a full-ride R.O.T.C. scholarship and he was a Distinguished Military Graduate.
Bunker Labs Website- https://bunkerlabs.org/
Connect with Dean Bundschu on Linkedin – https://www.linkedin.com/in/deanbundschu/
Connect with Bunker Labs on Facebook – https://www.facebook.com/thebunkerlabs/
Connect with Bunker Labs on Instagram – https://www.instagram.com/thebunkerlabs/
Connect with Bunker Labs on LinkedIn – https://www.linkedin.com/company/bunkerlabs/
Join the conversation over on our Facebook!
Check out Veteran on the Move on Facebook to connect with our guests and other listeners. A place where you can network with other like-minded veterans who are transitioning to entrepreneurship and get updates on people, programs, and resources to help you in YOUR transition to entrepreneurship.
About Our Sponsors
Navy Federal Credit Union
At Navy Federal, our members are the mission. As a member-owned, not-for-profit credit union, they put you first by making your success a priority. Veterans and service-members from all branches of the military are welcome to join. This includes Active Duty members of the Army, Marine Corps, Navy, Air Force, Coast Guard, and National Guard. Plus, military family members can join!
If you're Active Duty, you'll enjoy FREE Active Duty Checking® with perks like:
account balance and transaction notifications
early access to your military paycheck, and
up to $240 in ATM rebates per year
American Express is a registered service mark of American Express, used by Navy Federal under license.
Visit navyfederal.org/veteranmove for more information.

Fiverr
Whether you're launching your first business, scaling your current business or in need of extra support to complete a project -Fiverr's global network of on-demand freelance talent is here to help.
Find what you're looking for instantly.
It's easy — customize your search by service, deadline, price, seller reviews, and more.
No more guessing games. you'll know exactly what you're paying for upfront — no negotiating needed.
24/7 customer service.
Check out FIVERR.com and receive 10% off your first order by using my code VETERAN.
Find all the digital services you need in one place at F-I-V-E-R-R DOT COM, code VETERAN.
Again, that's FIVERR.com, code VETERAN.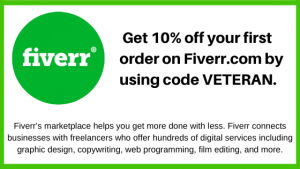 Want to be our next guest? Send us an email at interview@veteranonthemove.com. 
Did you love this episode? Leave us a 5-star rating and review!
Download Joe Crane's Top 7 Paths to Freedom or get it on your mobile device. Text VETERAN to 38470.
Veteran On the Move podcast has published over 250 episodes. Our listeners have the opportunity to hear in-depth interviews conducted by host Joe Crane. The podcast features people, programs, and resources to assist veterans in their transition to entrepreneurship.  As a result, Veteran On the Move has over 1,000,000 verified downloads through Stitcher Radio, SoundCloud, iTunes, and RSS Feed Syndication making it one of the most popular Military Entrepreneur Shows on the Internet Today.
Lorem ipsum dolor sit amet, consectetur adipiscing elit, sed do