Capital Tacos with Bill Hoopes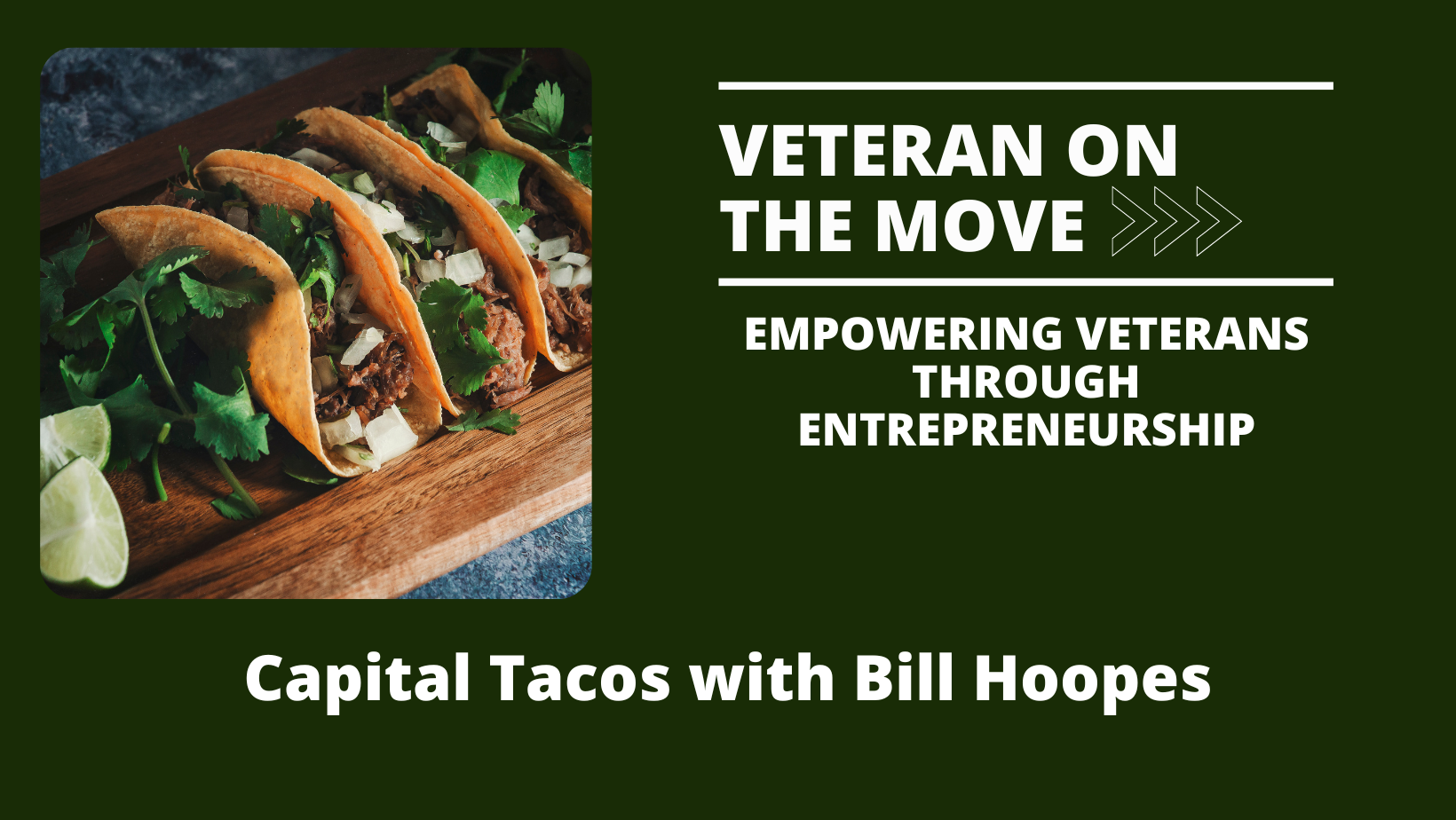 Podcast: Play in new window | Download
This week Joe is joined by Navy Veteran, Educator, and business owner, Bill Hoopes. Bill served for 16 years, finding success as a recruiter and ultimately reaching the rank of Chief Petty Officer. Prior to his naval service,  Bill dropped out of high school to help his Mom with bills and earned his GED. It was during this time he first experienced the restaurant business and the daily challenges it brings. Now Bill is the owner of the first Capital Tacos franchise, a quick service restaurant brand that is expanding on local success. Bill shares the challenges he faced transitioning from active duty after 16 years of service and the experience of starting his own business; using his lessons learned from the Navy and leveraging his wife's skills as an educator. 
Learn more about Capital Tacos here. 
About Our Guest 
Bill Hoopes opted for helping his mother pay the bills over school growing up. A decision he doesn't regret at all. Though, he did eventually choose to return to education, enrolling in culinary school to hone the craft of cuisine and good food. He took that passion for food to the Navy, where he served for nearly two decades, whipping up food for his fellow soldiers all along the way. He then took the discipline and rigors inherent to military culture to guide him in his next adventure – which was a journey of entrepreneurship. He took over a local softball business in Tampa, while working as a teacher alongside his wife. And in the most exciting move yet, became the very first franchisee in the country for the nationally-awarded Capital Tacos QSR brand – paving the way and setting the stage for other entrepreneurs nationwide to follow in his footsteps.
Join the conversation on Facebook!
Check out Veteran on the Move on Facebook to connect with our guests and other listeners. A place where you can network with other like-minded veterans who are transitioning to entrepreneurship and get updates on people, programs and resources to help you in YOUR transition to entrepreneurship.
About Our Sponsors

Navy Federal Credit Union 
Becoming a member at Navy Federal Credit Union lets you experience more. From everyday commutes to your next big vacation, the Flagship credit card earns you 3X the points on travel, so you can get rewarded for wherever you're headed next. Plus, this premium travel card has a low annual fee of $49 and 2X the points on all purchases outside of travel; meaning, the rewards don't have to end even when the vacation does. The Flagship credit card also comes with up to $100 in credits toward TSA Precheck or Global Entry and reimbursement on an annual Amazon Prime membership.  Learn how you can earn up to 3X points on travel and more with the Flagship credit card at navyfederal.org.
At Navy Federal, our members are the mission.  
Sabio
If you're considering a job in software engineering, I highly recommend checking out Sabio. Sabio is a Coding Boot Camp and Developer Community that's been training veterans since 2013 and can help you transition to a full-time career in tech within a few months! Sabio is not your average bootcamp—in just 17 weeks, you'll not only learn to code, but gain real-life experience and graduate ready to start a real, high-paying tech job Visit sabio.la/onthemove to learn how you can use your VA benefits to enroll.
Want to be our next guest? Send us an email at interview@veteranonthemove.com. 
Did you love this episode? Leave us a 5-star rating and review! 
Download Joe Crane's Top 7 Paths to Freedom or get it on your mobile device. Text VETERAN to 38470.
Veteran On the Move podcast has published over 445 episodes. Our listeners have the opportunity to hear in-depth interviews conducted by host Joe Crane. The podcast features people, programs, and resources to assist veterans in their transition to entrepreneurship.  As a result, Veteran On the Move has over 7,000,000 verified downloads through Stitcher Radio, SoundCloud, iTunes and RSS Feed Syndication making it one of the most popular Military Entrepreneur Shows on the Internet Today.
Lorem ipsum dolor sit amet, consectetur adipiscing elit, sed do