Creating Team Rubicon with Marine Veteran William McNulty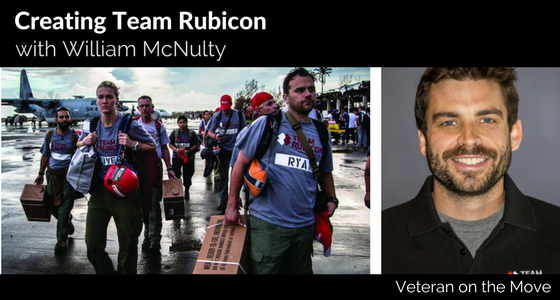 205: Creating Team Rubicon with Marine Veteran William McNulty
Disaster response teams in the spotlight today as Joe Crane talks about creating team Rubicon with Marine Veteran William McNulty. Learn how they started, what it takes to be a part of them, and how you can get involved.
"This organization is disrupting not only the disaster response base but also what it means to be a military veteran." – William McNulty
Service in the Defense System
William enlisted in the Marine Corps soon after graduating from the university in 2000. He served as a TOW gunner for three years in the West Coast.
He went on to become part of the intelligence community. It opened the doors for him to work for various agencies which included the Defense Intelligence Agency and the National Security Council's Iraq Threat Finance Cell.
Life in Transition
He could hardly tell the difference between his Marine Corps and civilian job. He's worked in a similar sphere.
After his second return from Iraq, however, he faced the same struggles of other military veterans. He came to ask himself about the thing he wanted to do the rest of his life.
Team Rubicon Disaster Response
During that time, William decided to travel around Central and South America. It led him to start a company with his friend.
But the 2010 Haiti earthquake changed their direction forever. They became the first responders and helped secure doctors and emergency personnel who went to the affected areas. That started team Rubicon.         
To hear about Creating Team Rubicon with Marine Veteran William McNulty, download and listen to this episode.
Don't forget to leave us a 5-star rating and review if you enjoyed the show. We would love to hear from you!
Links for Creating Team Rubicon with Marine Veteran William McNulty:
Skillshare is an online learning community with over 18,000 classes in business, entrepreneurship, design, technology, and more. Access to over 18,000 classes for just 99 cents Skillshare
Download Joe Crane's Top 7 Paths to Freedom or get it on your mobile device. Text VETERAN to 38470.
Guest Bio William McNulty
Marine Veteran William McNulty is the Founder of Team Rubicon, a nonprofit disaster response organization composed of military veterans that deploy across the USA and around the world. He graduated with a Bachelor's degree in Economics and Communications Studies from the University of Kansas and an M.A. in Government from The Johns Hopkins University. At present, he also serves on the Board of Directors of Airlink Flight, the Advisory Board of the Truman National Security Project, and is a member of the Council on Foreign Relations.  
Join the Veteran on the Move on Facebook!
Check out Veteran on the Move on Facebook to connect with our guests! It's also a great place where you can stay in touch with other veterans who are transitioning to entrepreneurship, and get updates and free gouge on the people programs and resources to help you in your transition to entrepreneurship.
The Veteran On the Move podcast has published over 150 episodes giving listeners the opportunity to hear in-depth interviews conducted by host Joe Crane featuring the people, programs and resources to assist veterans in their transition to entrepreneurship: Marine Corps, Army, Navy, Air Force and Coast Guard veterans, DOD, entrepreneurship, business, success, military spouse, transition, education, programs and resources.  Veteran On the Move has garnered over 500,000 listens verified through Stitcher Radio, Sound Cloud, Itunes and RSS Feed Syndication making it one of the most popular Military Entrepreneur Shows on the Internet Today.
Lorem ipsum dolor sit amet, consectetur adipiscing elit, sed do