Digital Done Right with George Bryant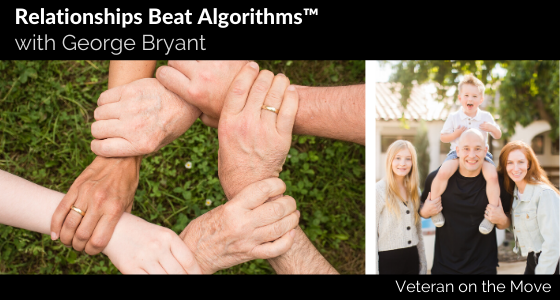 Podcast: Play in new window | Download
About This Episode  
Most people are doing digital marketing wrong. Are you? In this episode, we sit down with George Bryant, a USMC veteran and the highest-paid digital marketing consultant in the world, to hear how he is changing the approach to digital marketing and teaching entrepreneurs to do the same. George is no stranger to life struggles, but how those struggles ultimately helped him become the digital guru he is today is inspiring.
About Our Guest  
George Bryant helps brands ethically scale by guiding entrepreneurs to develop deeper relationships with their customers, employees, and themselves. His trademark, Relationships Beat Algorithms, is the core of what he teaches his private mastermind, corporate clients, and his digital community. In George's community, they focus on helping customers accomplish their goals BEFORE a purchase is made. Then taking them on a journey that creates a meaningful transformation in their life forever. As a result, the brands George works with dominate their markets by gaining & keeping customers for life. And collectively generating billions of dollars.
If you want to connect & learn from George & the influential people around him, the only way is to apply to join his Relationships Beat Algorithms community.
Apply here: https://www.facebook.com/groups/georgebryant/
Join the conversation over on our Facebook!
Check out Veteran on the Move on Facebook to connect with our guests and other listeners. A place where you can network with other like-minded veterans who are transitioning to entrepreneurship and get updates on people, programs and resources to help you in YOUR transition to entrepreneurship.
About Our Sponsors
Navy Federal Credit Union
May is Military Appreciation Month, and Navy Federal Credit Union is proud to serve Active Duty military, veterans, and their families. During Military Appreciation Month, Navy Federal Credit Union is celebrating with special offers on car loans, credit cards, certificates, and more.
Join Navy Federal Credit Union in thanking service members during Military Appreciation Month. Show your appreciation with tweets, posts, captions, and letters using #MissionMilitaryThanks.
American Express is a registered service mark of American Express, used by Navy Federal under license.
Visit navyfederal.org/veteranmove for more information.

Want to be our next guest? Send us an email at interview@veteranonthemove.com
Don't forget to leave us a 5-star rating and review if you enjoyed the show. We would love to hear from you!
Download Joe Crane's Top 7 Paths to Freedom or get it on your mobile device. Text VETERAN to 38470.
Veteran On the Move podcast has published over 250 episodes. Our listeners have the opportunity to hear in-depth interviews conducted by host Joe Crane. The podcast features people, programs and resources to assist veterans in their transition to entrepreneurship.  As a result, Veteran On the Move has over 1,000,000 verified downloads through Stitcher Radio, SoundCloud, iTunes, and RSS Feed Syndication making it one of the most popular Military Entrepreneur Shows on the Internet Today.
Lorem ipsum dolor sit amet, consectetur adipiscing elit, sed do