From CO to CEO with William Toti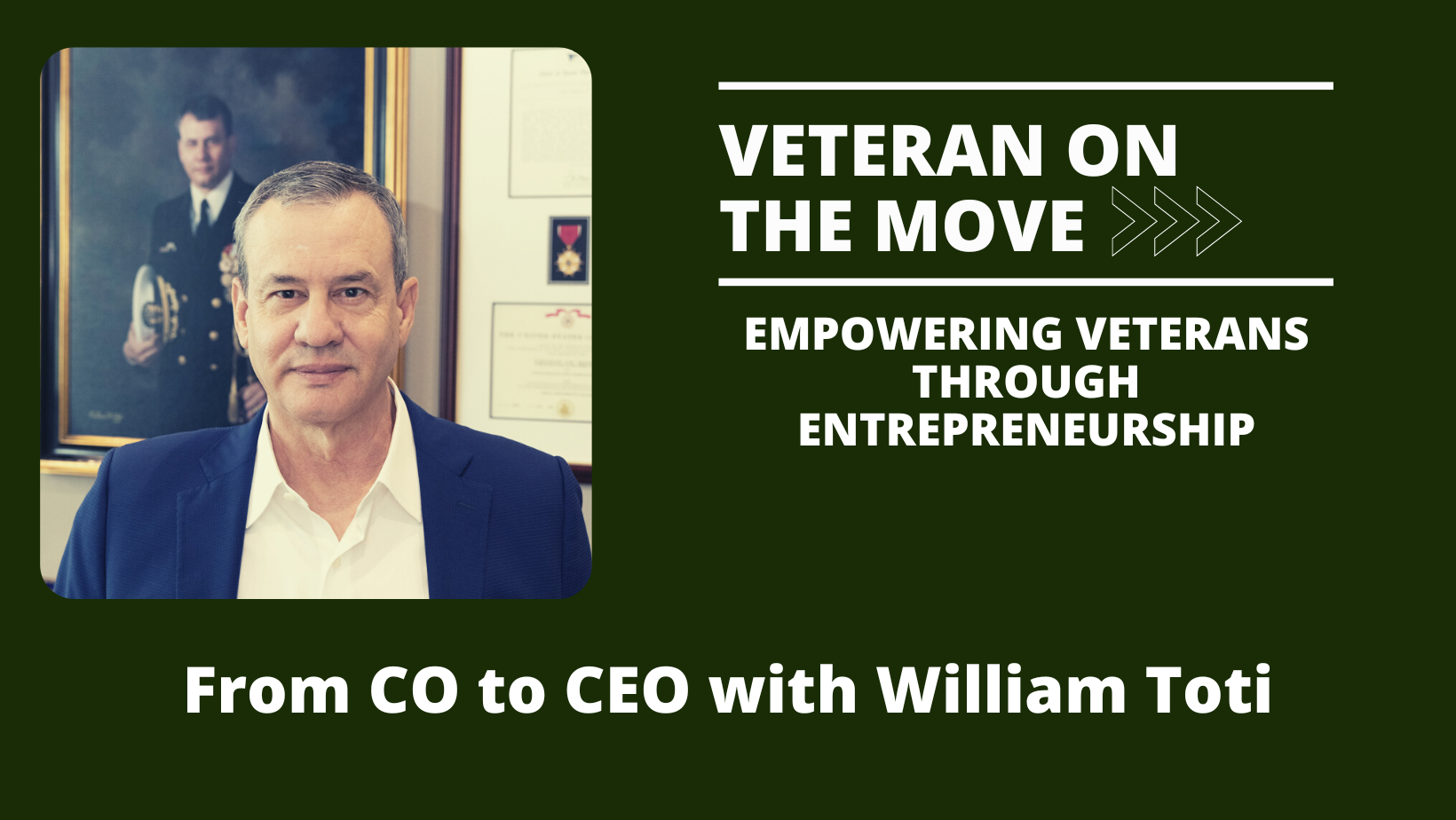 Podcast: Play in new window | Download
This week Joe is joined by William Toti, retired Naval Officer and author of From CO to CEO: A Practical Guide for Transitioning from Military to Industry Leadership. William served for 26 years on Active duty including tours as a fast attack submarine Commanding Officer and Commodore of Submarine Squadron Three. He timed his retirement to facilitate a successful transition into the corporate world and served over a decade in the defense industry. William shares with Joe the motivation behind writing his latest book and the lessons he wants to share with Veterans looking for a career in industry. Listen today to learn why it is important to have an informed passion to learn and why you need more than good leadership to be successful in Corporate America. 
About Our Guest 
Captain William Toti, US Navy (Retired), is author of From CO to CEO: A Practical Guide for Transitioning from Military to Industry Leadership. He served for more than 26 years on active duty in the U.S. Navy, including tours as commodore of Submarine Squadron 3 and as commanding officer of the nuclear fast attack submarine USS Indianapolis (SSN-697). Ashore, he served as special assistant to the Vice Chief of Naval Operations and as deputy director of the Navy War Plans Cell, Deep Blue. In industry, he served more than a decade running multi-billion-dollar global defense businesses, culminating in a role as CEO of Sparton Corporation.
Captain Toti is a graduate of the U.S. Naval Academy, the Naval Postgraduate School, and has done executive coursework at the Harvard Business School. He is author of the 2022 book, From CO to CEO: A Practical Guide for Transitioning from Military to Industry Leadership.
He worked for more than two decades to support the survivors of the World War II cruiser USS Indianapolis (CA-35), was named their honorary captain in 2005, and has been featured in several global release documentaries on that storied ship, including USS Indianapolis: Live from the Deep, USS Indianapolis: Legacy Project, USS Indianapolis: the Final Chapter, and The Lost Ships of World War II.
His narrative titled Antoinette, describing his experiences during the September 11, 2001, attack on the Pentagon was incorporated into the book Operation Homecoming. He was featured in several related documentaries, to include 9/11: Inside the Pentagon, 9/11: The Pentagon, and the 2021 National Geographic docuseries, 9/11: One Day in America.
Join the conversation on Facebook!
Check out Veteran on the Move on Facebook to connect with our guests and other listeners. A place where you can network with other like-minded veterans who are transitioning to entrepreneurship and get updates on people, programs and resources to help you in YOUR transition to entrepreneurship.
About Our Sponsors

Navy Federal Credit Union 
When you hear the name Navy Federal Credit Union, you probably think that it's just for members of the U.S. Navy. In fact, Navy Federal Credit Union serves all branches of the armed forces, Veterans, and the families of servicemembers. Navy Federal Credit Union wants to thank the men and women in the U.S. military for their important commitment to our country. For more than 85 years, Navy Federal Credit Union has made it their mission to help people in the military community and they understand their members better than anyone.
At Navy Federal, our members are the mission.  
Want to be our next guest? Send us an email at interview@veteranonthemove.com. 
Did you love this episode? Leave us a 5-star rating and review! 
Download Joe Crane's Top 7 Paths to Freedom or get it on your mobile device. Text VETERAN to 38470.
Veteran On the Move podcast has published over 430 episodes. Our listeners have the opportunity to hear in-depth interviews conducted by host Joe Crane. The podcast features people, programs, and resources to assist veterans in their transition to entrepreneurship.  As a result, Veteran On the Move has over 7,000,000 verified downloads through Stitcher Radio, SoundCloud, iTunes and RSS Feed Syndication making it one of the most popular Military Entrepreneur Shows on the Internet Today.
Disclosure: Some of the links above are affiliate links. This means that, at zero cost to you, I will earn an affiliate commission if you purchase via the link provided.
Lorem ipsum dolor sit amet, consectetur adipiscing elit, sed do