Helping Veterans Create a Successful Transition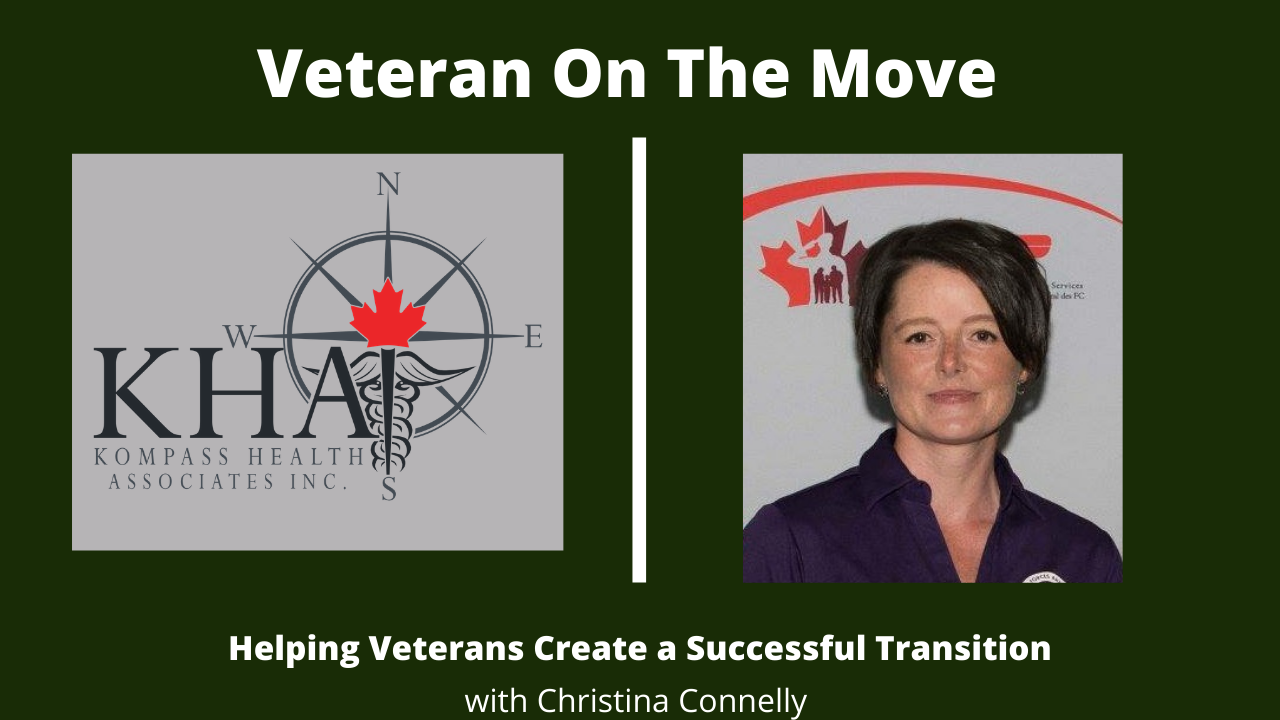 Today we're speaking with Canadian Army Veteran Christina Connelly, owner of
Kompass Health Associates Inc
. Christina speaks about her career in special forces and what led her to entrepreneurship. Christina speaks about the journey that led her to starting Kompass Health Associates.
Kompass Health Associates helps empower military members with discovering their individual sense of purpose – their WHY – so that they can make profound and decisive decisions about their next steps next job next career find out how you can help.
Are you a Veteran who is transitioning to Entrepreneurship? Then check out this FREE download for the Top 29 Entrepreneurship Programs for Veterans & their families! Download Here —> https://bit.ly/31xfz8S
About Our Guest
Christina is passionate about the work that she does. After a very distinguished career in the military, she and her husband decided to go into business together. Recognizing that there are times when we leave the military that we struggle to find our passion which often leads to feeling unfulfilled, Christina saw this as opportunity to elevate others and used her years of experience to design her signature program "Soldier To Self" to help transitioning military members quickly connect with their passion and start creating a rewarding next chapter. Her business, Kompass Health Associates Inc., founded the Canadian Veteran Marketplace group on Facebook – a 31k member social media forum designed to foster the development and growth of Canadian Veteran initiatives.
Join the conversation on our Facebook!
Check out Veteran on the Move on Facebook to connect with our guests and other listeners. A place where you can network with other like-minded veterans who are transitioning to entrepreneurship and get updates on people, programs and resources to help you in YOUR transition to entrepreneurship.
About Our Sponsors
Navy Federal Credit Union
May is military appreciation month and Navy Federal wants to celebrate the commitment that connects them to their military members, So Visit navyfederal.org/celebrate to check out our member exclusive offers during Military Appreciation Month
Navy Federal Credit Union, has made it their mission to help their military members for over 85 years, and I've been a member for the last 31 years. During Military Appreciation Month, they want to celebrate the commitment that connects them to their military members. I became a Navy Federal Member in 1990 when I first went on active duty and Many of their employees are military family members, reservists, or veterans themselves, so they get the military.
They offer resources like Best Cities After Service and Best Careers After Service to help veterans transition to civilian life and long after my retirement in 2013, I'm still a Navy Federal member. They have 24/7 customer service and support. So they're here for you whenever you need them. Most of my fellow Marines are Navy Federal members, like Bump, Gromit, Fraiser and Bones just to name a few.
So Visit navyfederal.org/celebrate to check out our member exclusive offers during
Military Appreciation Month, or share your shout-out With hashtag #MissionMilitary
Navy Federal is Insured by NCUA.
AirMedCare Network
Emergency air medical transport can be expensive, and with all the sacrifices you've made to protect our country, you deserve financial peace of mind. An AMCN membership can protect your family and finances, allowing you to worry less about what matters most. 
AirMedCare Network provides access to life-saving emergency care around the country, and their members enjoy an added value. Members pay NO out of pocket costs for emergency air medical transport when flown by an AMCN provider.  In a life or death situation, you don't have time to worry about cost.
Emergency medical air transport can be expensive, and health insurance may not cover the full cost. For as little as $85 a year, an AirMedCare Network membership covers your entire household. It's security no family should be without.
For a limited time, as a Veteran on the Move listener, you'll get up to a $50 eGift Card when you join. Visit AirMedCareNetwork.com forward slash vet and use offer code VET.
 Want to be our next guest? Send us an email at interview@veteranonthemove.com. 
Did you love this episode? Leave us a 5-star rating and review! 
Download Joe Crane's Top 7 Paths to Freedom or get it on your mobile device. Text VETERAN to 38470.
Veteran On the Move podcast has published over 250 episodes. Our listeners have the opportunity to hear in-depth interviews conducted by host Joe Crane. The podcast features people, programs and resources to assist veterans in their transition to entrepreneurship.  As a result, Veteran On the Move has over 1,000,000 verified downloads through Stitcher Radio, SoundCloud, iTunes and RSS Feed Syndication making it one of the most popular Military Entrepreneur Shows on the Internet Today.
Lorem ipsum dolor sit amet, consectetur adipiscing elit, sed do