How This Navy Veteran Started a High End Personal Training Facility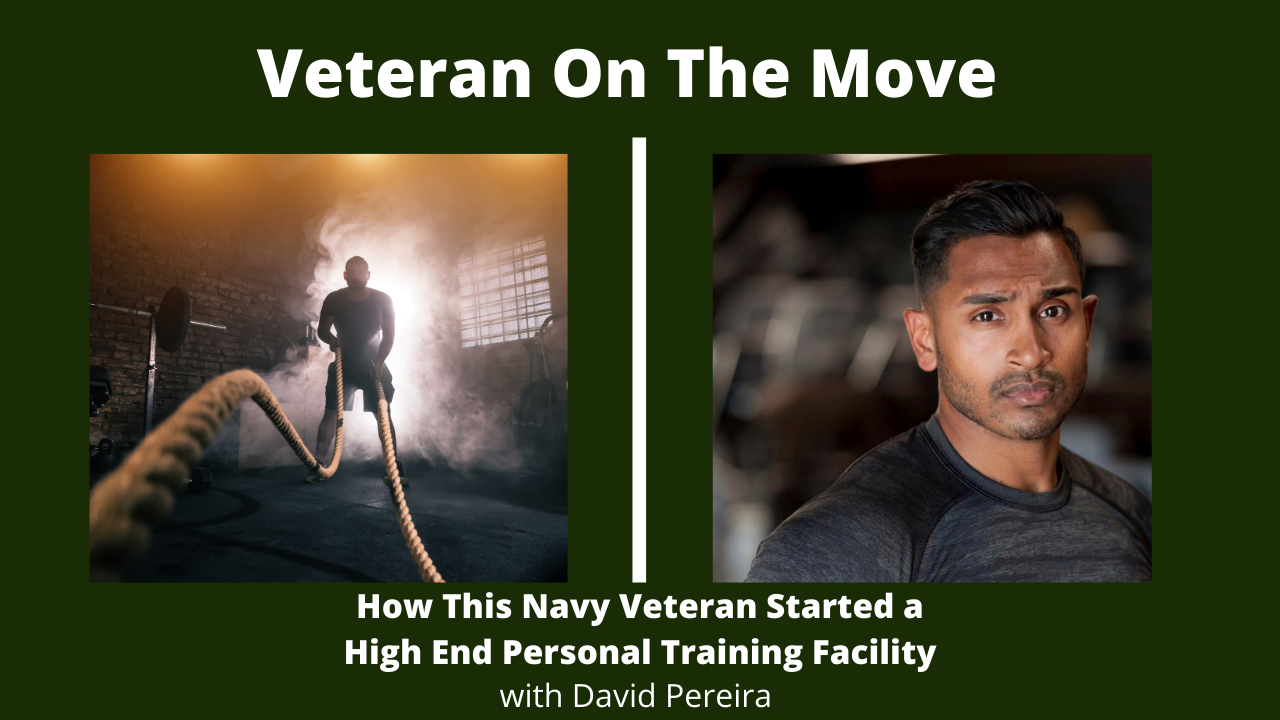 Podcast: Play in new window | Download
Today we're speaking with Navy Veteran David Pereira, who now owns a high-end personal training facility in New Jersey called FENIX Englewood. David is also the creator of the Beyond Fitness program. David speaks about his career as a Navy Corpsman and his experiences using emergency medicine in a combat zone. He speaks about how he started personal training while attending college and how this turned into a passion for fitness that led him to starting his own business. 
Are you a Veteran who is transitioning to Entrepreneurship? Then check out this FREE download for the Top 29 Entrepreneurship Programs for Veterans & their families! Download Here —> https://bit.ly/31xfz8S
About Our Guest
David is a NAVY Combat Veteran, personal trainer, and business & mindset coach. He uses the principals and experience that he learned in the military to help coach people through adversity, deal with stress, and master execution. He owns a high-end personal training facility in New Jersey (FENIX Englewood) and is the creator of the BEYOND FITNESS Program.
Join the conversation on our Facebook!
Check out Veteran on the Move on Facebook to connect with our guests and other listeners. A place where you can network with other like-minded veterans who are transitioning to entrepreneurship and get updates on people, programs and resources to help you in YOUR transition to entrepreneurship.
About Our Sponsors
Navy Federal Credit Union
Now here this, you don't have to be in the Navy to join Navy federal credit union.  That's right, If you're an active duty servicemember, veteran, DoD civilian, or military family member, you can join Navy Federal. That means if you've served in any branch of the military—doesn't have to just be the Navy, could be Army, Marine Corps, Air Force or Coast Guard—you can join Navy Federal Credit Union.
On average, Navy Federal members earn and save $361 more per year. You could pay no fees, get low rates and rate discounts, plus earn cash back and grow your savings. Navy Federal puts members first by helping them save money, make money and enjoy peace of mind and security through personalized, around-the-clock service.
Plus, now is a great time to join. Have a large credit card balance after the holidays? Balance transfers allow you to move your current credit card balance from other lenders to a Navy Federal credit card.
Make a plan to do away with high-interest credit card debt by transferring your balance to a Navy Federal credit card. With a low intro APR and no balance transfer fees, you can pick the right card to help you take back control.
Visit  navyfederal.org. Navy Federal Credit Union. Our Members Are the Mission.
Insured by NCUA.
1Dollar value of Navy Federal's 2019 Member Giveback Study.
25.99 to 18% variable APRs. Based on product type and creditworthiness. Up to $1.00 cash advance transaction fee at non-Navy Federal ATMs
Want to be our next guest? Send us an email at interview@veteranonthemove.com. 
Did you love this episode? Leave us a 5-star rating and review! 
Download Joe Crane's Top 7 Paths to Freedom or get it on your mobile device. Text VETERAN to 38470.
Veteran On the Move podcast has published over 250 episodes. Our listeners have the opportunity to hear in-depth interviews conducted by host Joe Crane. The podcast features people, programs and resources to assist veterans in their transition to entrepreneurship.  As a result, Veteran On the Move has over 1,000,000 verified downloads through Stitcher Radio, SoundCloud, iTunes and RSS Feed Syndication making it one of the most popular Military Entrepreneur Shows on the Internet Today.
Lorem ipsum dolor sit amet, consectetur adipiscing elit, sed do