Infinite Technologies, Inc with Eric Gervais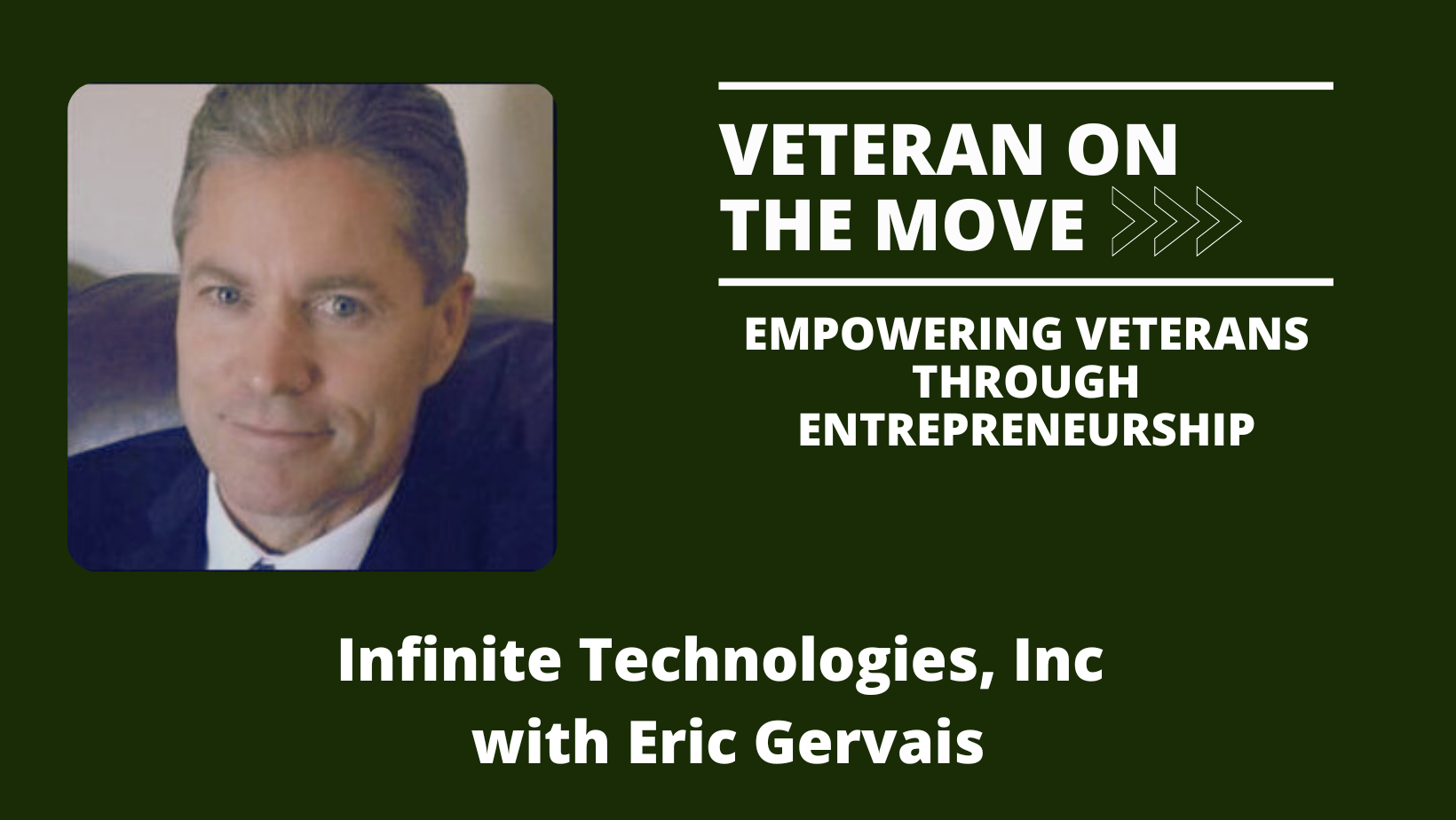 Podcast: Play in new window | Download
In this episode, Joe is joined by retired Air Force officer and Senior Consultant Eric Gervais. Eric started his Air Force career as an enlisted aircraft mechanic and later commissioned in the Air National Guard as a finance officer. He discusses with Joe his lessons learned from multiple transitions between Active Duty, Civilian life, and the National Guard. Following his retirement, he has been able to apply his military knowledge and experience to his position as a Senior Consulate with Infinite Technologies, Inc (ITI). ITI provides IT support and services to customers, including the Air Force and Air National Guard. Eric shares tips for entrepreneurs on the importance of networking within the military and protecting what you create with patents and copyright. 
About Our Guest  
Eric Gervais is an experienced Senior Consultant at Infinite Technologies, Inc. (ITI) with extensive background in aircraft maintenance, logistics, financial management, and information technology. He has been a senior consultant at ITI since 2012 where he oversees project management and military operations. Prior to joining ITI, Gervais was a United States Air Force aircraft mechanic from 1978 to 1990. In 1990, he transitioned to his role as a USAF maintenance officer and later moved on to become a USAF finance officer in 1995. Gervais earned his Associate in Arts, AAS Aircraft Maintenance Technology, AAS Instructional Technology, and BS in Industrial Technology from Southern Illinois University. He also earned his MS In Systems Management from the University of Southern California.
Join the conversation on Facebook!
Check out Veteran on the Move on Facebook to connect with our guests and other listeners. A place where you can network with other like-minded veterans who are transitioning to entrepreneurship and get updates on people, programs and resources to help you in YOUR transition to entrepreneurship.
About Our Sponsors

Navy Federal Credit Union 
Navy Federal Credit Union wants to thank the men and women in the U.S. Military for their important commitment to our country. For more than ninety years, Navy Federal Credit Union has made it their mission to help people in the military community. Navy Federal Credit Union is open to all branches of the military, veterans, and their families. Navy Federal's employees are veterans and military spouses, which makes them a part of the community they serve. They get you.  They understand their members better than anyone. Members could enjoy:
Earnings and savings of three hundred and forty-nine dollars per year.

A regular savings rate four times higher than the industry average.

An average credit card APR that's five percent lower than the industry average.

Award-winning 24/7 stateside member service.

Over three hundred and fifty branches worldwide.

And A 0.25% discounted rate on VA loans.
Show your own support for our troops with #MissionMilitaryThanks.
Learn more about how Navy Federal is celebrating the commitment that connects them to their members at NavyFederal.com/celebrate.
At Navy Federal, our members are the mission.  
Want to be our next guest? Send us an email at interview@veteranonthemove.com. 
Did you love this episode? Leave us a 5-star rating and review! 
Download Joe Crane's Top 7 Paths to Freedom or get it on your mobile device. Text VETERAN to 38470.
Veteran On the Move podcast has published over 480 episodes. Our listeners have the opportunity to hear in-depth interviews conducted by host Joe Crane. The podcast features people, programs, and resources to assist veterans in their transition to entrepreneurship.  As a result, Veteran On the Move has over 7,000,000 verified downloads through Stitcher Radio, SoundCloud, iTunes and RSS Feed Syndication making it one of the most popular Military Entrepreneur Shows on the Internet Today.
Lorem ipsum dolor sit amet, consectetur adipiscing elit, sed do