KC Cattle Company With Patrick Montgomery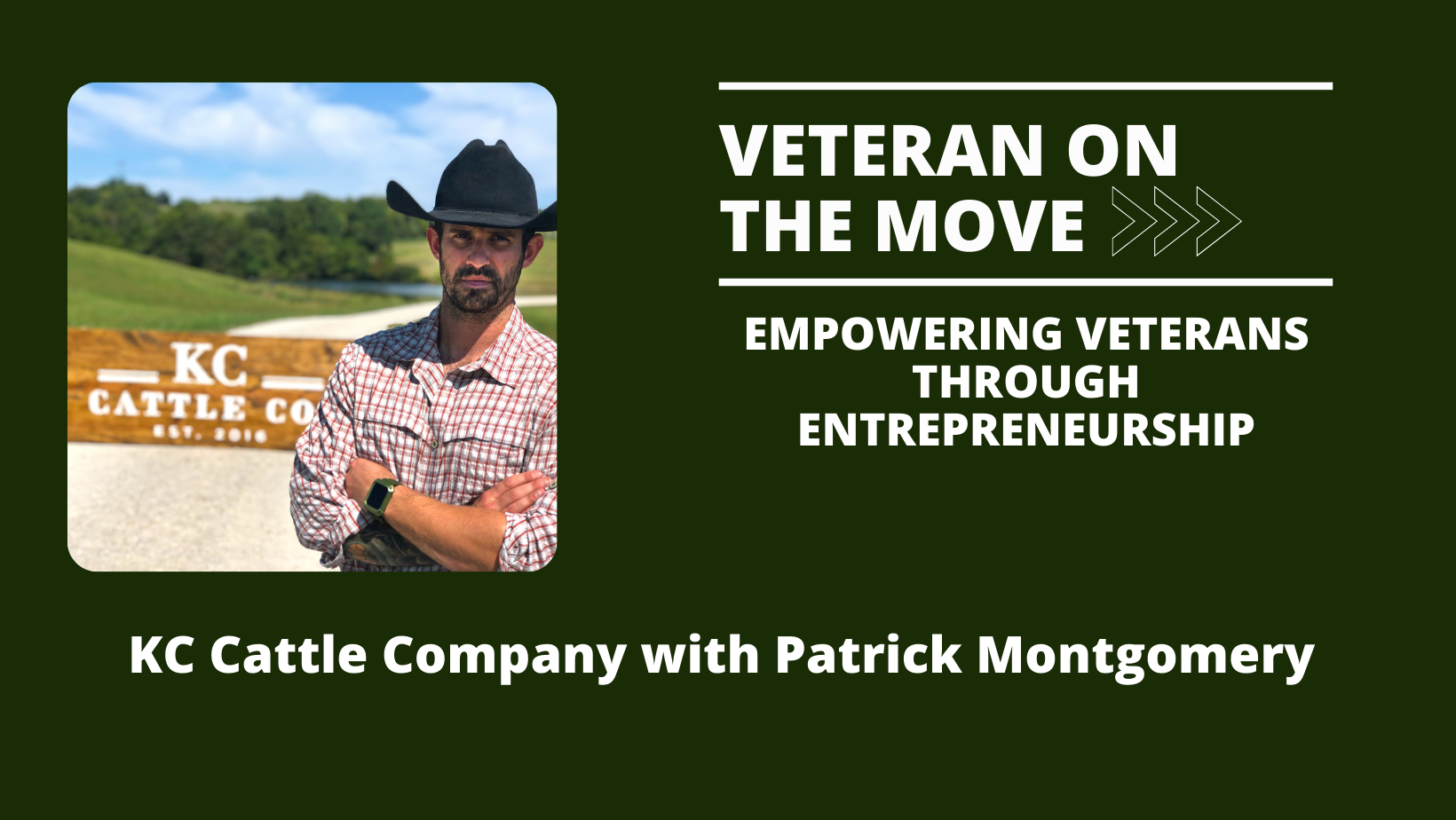 Podcast: Play in new window | Download
This week Joe is joined by Patrick Montgomery, the CEO and founder of KC Cattle Company. KC Cattle Company was founded with the goal of connecting the consumer with agriculture. They specialize in high quality Wagyu beef that is available directly to consumers across the country. An Army Veteran, Patrick discovered entrepreneurism while attending college following his service. Not motivated by a career in corporate America, Patrick founded KC Cattle Company. He shares with Joe his advice to Veterans looking to start their own business and how his military experience impacts his business leadership. 
About Our Guest
Patrick began his working career in the United States Military. After completing the Ranger Assessment and Selection Program, Patrick reported to 1st Ranger Battalion, 75th Ranger Regiment. While serving as a Ranger, Patrick completed two combat deployments to Afghanistan. He served as an assistant gunner, anti-tank team leader, shooter for a sniper team, gun-team leader, and weapons squad leader. After exiting the military, Patrick completed his Bachelor of Science in Animal Science at the University of Missouri. During his last semester, in 2016, he created the business plan for KC Cattle Company. While building his business, Patrick completed his ExecMBA through the University of Missouri – College of Business. Patrick remains the CEO/Founder of KC Cattle Company. 
Check out KC Cattle Company here. 
Join the conversation on our Facebook!
Check out Veteran on the Move on Facebook to connect with our guests and other listeners. A place where you can network with other like-minded veterans who are transitioning to entrepreneurship and get updates on people, programs and resources to help you in YOUR transition to entrepreneurship.
About Our Sponsors

Navy Federal Credit Union 
At Navy Federal Credit Union, every day is Veterans Day. They thank Veterans in ways that are meaningful by offering great resources like employment assistance partnerships with nonprofits like U.S. VETS and 24/7 member services. They're a top VA Home Loan lender and offer members personal finance counseling.
 Learn more at navyfederal.org/veterans.
At Navy Federal, our members are the mission. 
Want to be our next guest? Send us an email at interview@veteranonthemove.com. 
Did you love this episode? Leave us a 5-star rating and review! 
Download Joe Crane's Top 7 Paths to Freedom or get it on your mobile device. Text VETERAN to 38470.
Veteran On the Move podcast has published over 400 episodes. Our listeners have the opportunity to hear in-depth interviews conducted by host Joe Crane. The podcast features people, programs, and resources to assist veterans in their transition to entrepreneurship.  As a result, Veteran On the Move has over 7,000,000 verified downloads through Stitcher Radio, SoundCloud, iTunes and RSS Feed Syndication making it one of the most popular Military Entrepreneur Shows on the Internet Today.
Lorem ipsum dolor sit amet, consectetur adipiscing elit, sed do