Living a Life of Purpose with Wes Woodhouse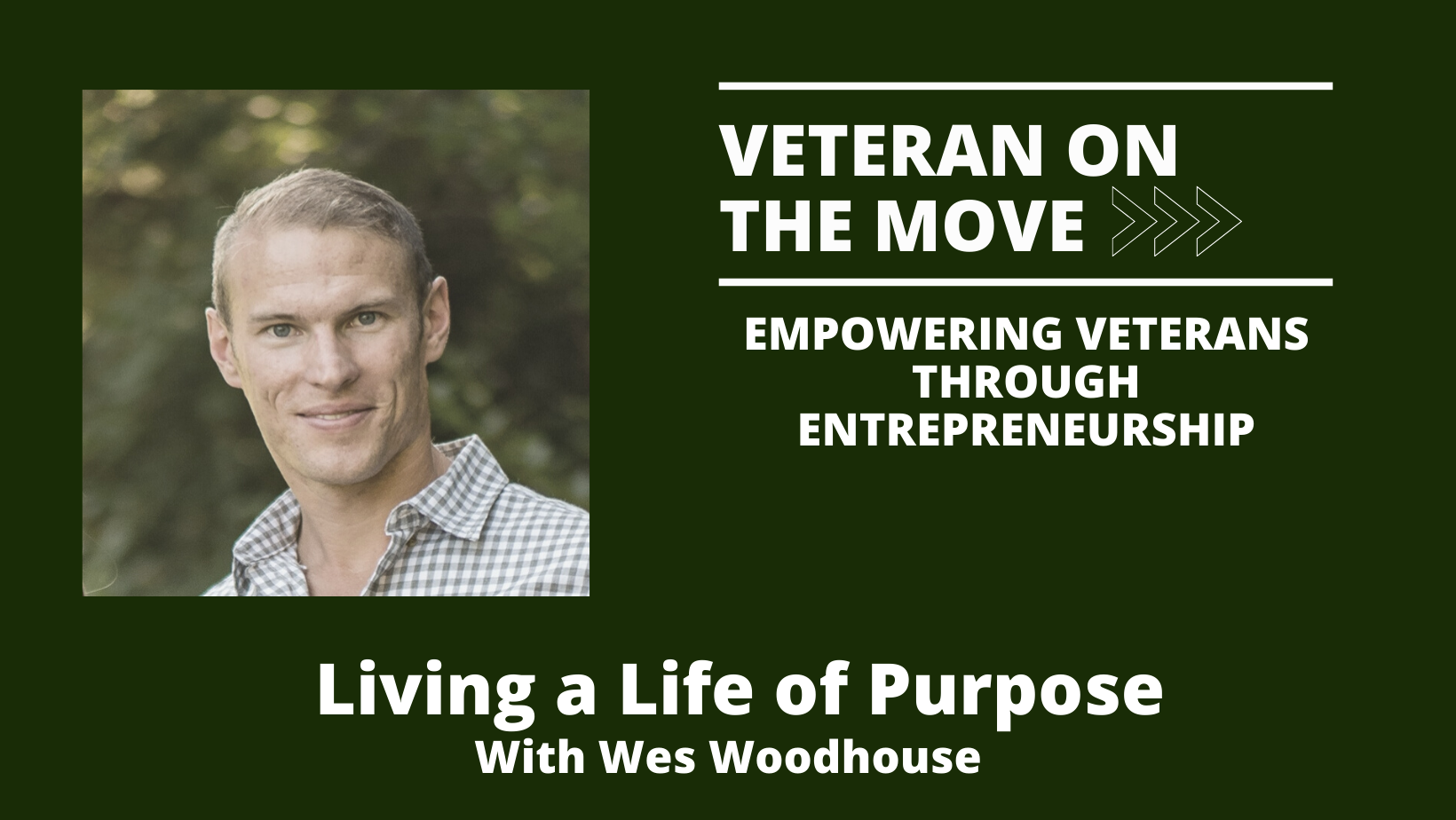 Podcast: Play in new window | Download
You finally made it! You've landed that dream job but now you might be asking, what's next? You could settle for the status quo or continue to grow and live a life of purpose. I had the opportunity to talk with Wes Woodhouse about going beyond your dream and finding your purpose in life. This purpose transcends your day job and offers endless opportunities for growth and impact. Seeing the need for strong leadership in his own generation, Wes founded Vector Mastermind with the mission of growing leaders to live a life of purpose. We also discussed the value of a Mastermind Group, which provides honest feedback and accountability, like having your very own board of directors.
Are you a Veteran who is transitioning to Entrepreneurship? Then check out this FREE download for the Top 29 Entrepreneurship Programs for Veterans & their families! Download Here !
About Our Guest
Wes Woodhouse is a husband, father, marathon runner, and fighter pilot. He has been flying the F-15E Strike Eagle since 2016, and has nearly 500 combat hours. Currently serving as an instructor pilot in an operational test squadron, he works to bring the latest and greatest hardware and software to the F-15. For Wes, flying fighter jets is the fulfillment of his childhood dream, but that is not where his most important work gets done. He believes the battlefield of the coming decades is in the human domain, where human attention will be the most valued resource. Wes mission is to build up the next generation of leaders, armed to take on the dynamic challenges of the 21st Century. He runs the Vector Mastermind, a group of strong, committed men grounded in wise counsel and accountability, striving to live a life of purpose.
Join the conversation on our Facebook!
Check out Veteran on the Move on Facebook to connect with our guests and other listeners. A place where you can network with other like-minded veterans who are transitioning to entrepreneurship and get updates on people, programs and resources to help you in YOUR transition to entrepreneurship.
About Our Sponsors
 Navy Federal Credit Union 

There are a lot of things to consider, when buying a new car, like down payments, interest rates and monthly payment schedules. Navy Federal Credit Union makes buying a car easy with their auto loan process. Whether you're looking to buy your first car or your dream car, Navy Federal helps you cruise into the car you want with a monthly payment you can afford. There are a lot of things to consider, like down payments, interest rates and monthly payment schedules. Navy Federal Credit Union makes buying a car easy with their auto loan process. Their application process is easy. You can do it on their mobile app, online or by phone. It's so fast, you can get a decision in seconds. You'll enjoy rates as low as 1.79% APR. Plus, with Navy Federal's Car Buying Service powered by TrueCar, you can shop, compare and save on your next new or used car. 
 Find out more at navyfederal.org.
At Navy Federal, our members are the mission. 
Navy Federal is Insured by NCUA.
Open to the armed forces, the DoD, veterans, and their families. American Express is a registered service mark of American Express, used by Navy Federal under license. Credit and collateral subject to approval. Rates subject to change and are based on creditworthiness Rate available for new vehicles. Message and data rates may apply.
SweetProcess
As an entrepreneur you can't do everything yourself.  It's really easy to get stuck working in your business instead of working on your business, you have to create systems and get things automated so other team members can get things done for you.  Even delegating the simplest of tasks can be liberating as a business owner.
There's a much better way of getting work done, an amazing tool that will help you overcome the frustrating log jams in your business.
SweetProcess is a simple but powerful tool that lets you create clear step-by-step instructions for every task in your business; from onboarding new customers to training new employees,  to responding to customer requests. 
So everything gets done more easily and more reliably. 
Plus you'll have a central place where everyone who works with you; your employees, contractors, and even virtual assistants, can access your procedures, anytime, from any device. 
I'm a big fan of automating and capturing processes in my business and SweetProcess makes it easy.
The best way to understand how SweetProcess streamlines your work is to start using it. 
SweetProcess offers a 14-day free trial, but as a loyal listener of The Veteran On the Move Podcast, you can try it for 28 days, free of charge. 
You don't even have to enter a credit card to get started. 
Go to sweetprocess.com/veteran to start your free 28-day trial today.
Want to be our next guest? Send us an email at interview@veteranonthemove.com. 
Did you love this episode? Leave us a 5-star rating and review! 
Download Joe Crane's Top 7 Paths to Freedom or get it on your mobile device. Text VETERAN to 38470.
Veteran On the Move podcast has published over 375 episodes. Our listeners have the opportunity to hear in-depth interviews conducted by host Joe Crane. The podcast features people, programs, and resources to assist veterans in their transition to entrepreneurship.  As a result, Veteran On the Move has over 1,000,000 verified downloads through Stitcher Radio, SoundCloud, iTunes and RSS Feed Syndication making it one of the most popular Military Entrepreneur Shows on the Internet Today.
Lorem ipsum dolor sit amet, consectetur adipiscing elit, sed do