Mail Kits for Military Kids With Michael Gosselin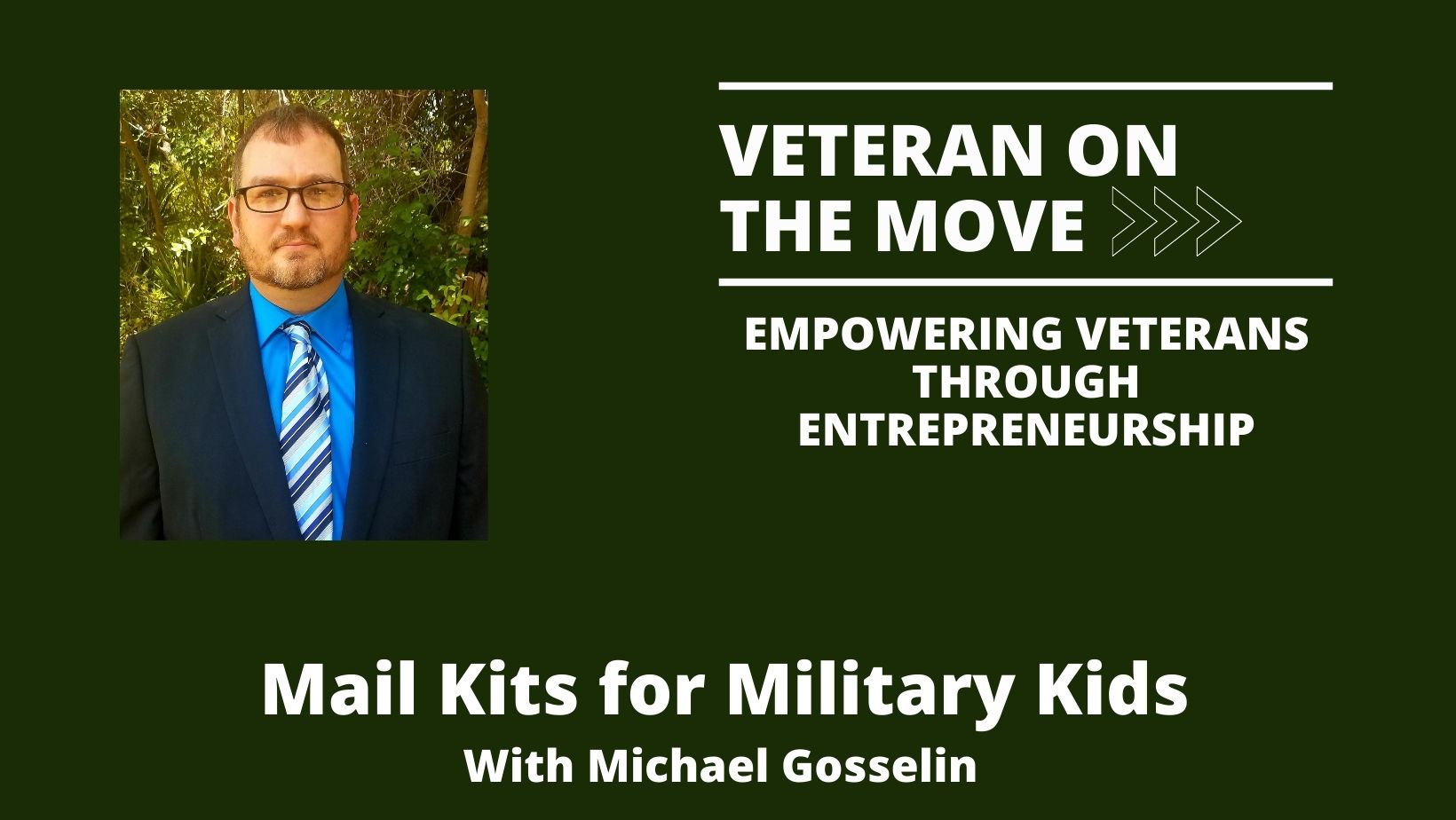 Podcast: Play in new window | Download
Retired Air Force Veteran Michael Gosselin, the co-founder of Milkid Mailkit™, came by the show to share his unique business and recent transition experience. As a 3rd generation Airman, Michael understands the challenges experienced by military kids which inspired him to create Milkid Mailkit™. Milkid Mailkit is the pen pal program for military children and it aims to encourage and foster international friendship for military children through the art of letter writing. As a part of his transition, Michael participated in both the Skillbridge and Boots to Business Programs. He shares how these programs help him start his own business and his tips for success. 
Are you a Veteran who is transitioning to Entrepreneurship? Then check out this FREE download for the Top 29 Entrepreneurship Programs for Veterans & their families! Download Here !
About Our Guest
Michael Gosselin is the co-founder of Milkid Mailkit™ along with his wife, Brunella. He is the Project Manager at The Military Editor® Agency, LLC, a writing and editing agency catering exclusively to military authors and military-related manuscripts. He is a retired Air Force veteran who served over 20 years in various locations throughout the world. He and Brunella are proud parents to two resilient military children.
Join the conversation on our Facebook!
Check out Veteran on the Move on Facebook to connect with our guests and other listeners. A place where you can network with other like-minded veterans who are transitioning to entrepreneurship and get updates on people, programs and resources to help you in YOUR transition to entrepreneurship.
About Our Sponsors
Navy Federal Credit Union 

We've bought a few cars with Navy Federal over my 31 years as a member with their fully loaded car buying experience. When you become a member of Navy Federal Credit Union, life gets better.  You can finance, buy, protect, and enjoy your auto purchase all through one convenient place. They have low rates and preapproval that's good for 90 days, so you know what you can afford while you shop. You can save thousands off MSRP with Navy Federal's car buying service, powered by TrueCar. You can also get exclusive member savings with CARFAX, GEICO and SiriusXM. They're always available with 24/7 member service representatives to answer any questions.
Learn more here. 
At Navy Federal, our members are the mission. 
Credit and collateral subject to approval. Your actual savings off MSRP may vary. Navy Federal Credit Union is federally insured by NCUA.
Enso Rings
If you wear a traditional metal ring, you know the hassle of taking it on and off every time you need to use your hands. I'm constantly taking my ring on and off when I'm working out or traveling. That's why I've been loving The Rise Collection from Enso Rings. They're high-quality silicone rings that are a great alternative to hard-metal rings and I can keep it on all day!
Enso Rings' Rise Collection is great for our lifestyle. They combine a classic precious metal look with the comfort and safety of silicone. In stylish colors like obsidian, slate, forest green, and denim. Enso Rings are the perfect alternative for your traditional wedding band and you can leave your ring on no matter what you're doing, whether you're at work, at the gym, or traveling.
Plus, Enso Rings' Rise Collection has the first ever silicone rings infused with SteriTouch™ Antimicrobial Technology, who doesn't want a cleaner ring! And they're made right here in the US. 
Veteran On The Move listeners can get 10% off their first purchase. Just go to EnsoRings.com today and use promo code VETERAN.
Want to be our next guest? Send us an email at interview@veteranonthemove.com. 
Did you love this episode? Leave us a 5-star rating and review! 
Download Joe Crane's Top 7 Paths to Freedom or get it on your mobile device. Text VETERAN to 38470.
Veteran On the Move podcast has published over 375 episodes. Our listeners have the opportunity to hear in-depth interviews conducted by host Joe Crane. The podcast features people, programs, and resources to assist veterans in their transition to entrepreneurship.  As a result, Veteran On the Move has over 1,000,000 verified downloads through Stitcher Radio, SoundCloud, iTunes and RSS Feed Syndication making it one of the most popular Military Entrepreneur Shows on the Internet Today.
Lorem ipsum dolor sit amet, consectetur adipiscing elit, sed do