MotoAmerica with Niccole Cox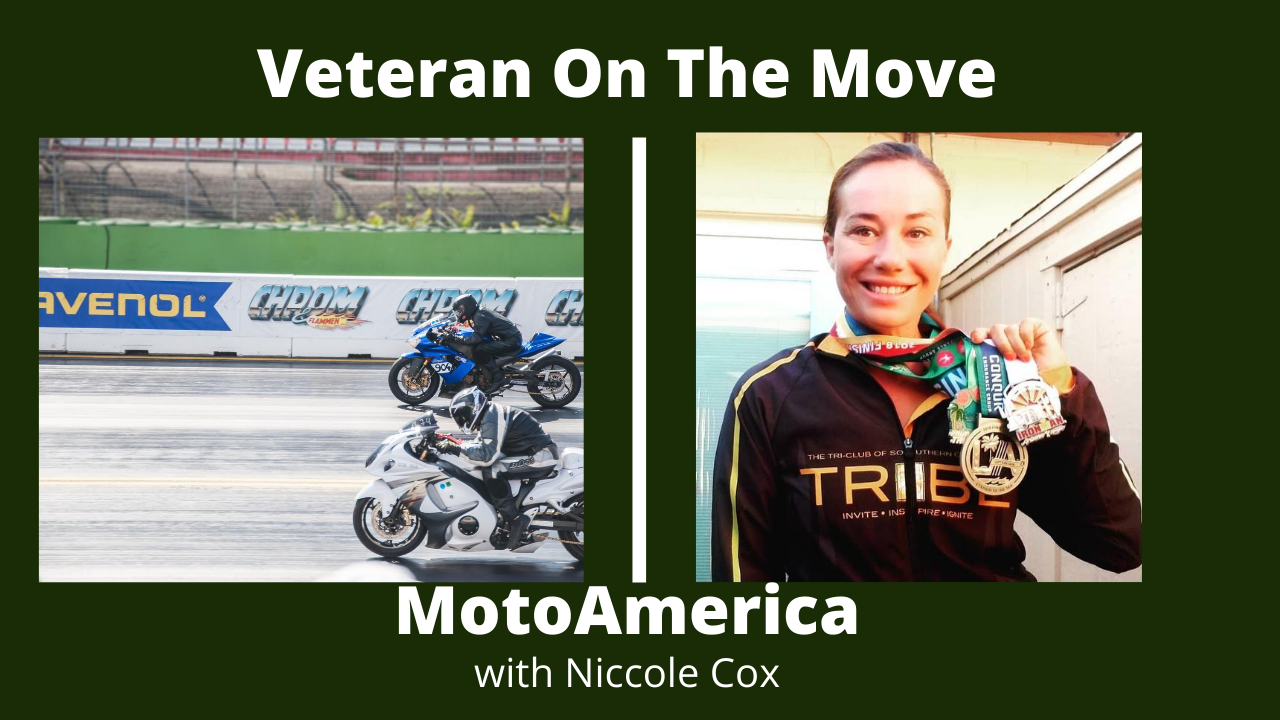 Podcast: Play in new window | Download
This weeks guest has spent her entire adult life, being the lone female in male-dominated professions. We're speaking with Army Veteran, Niccole Cox who is now the Director of Operations at MotoAmerica. Niccole speaks about her experience with the Army, how she discovered her love of Motorcycle Racing and how that led to her current position with MotoAmerica. She speaks in-depth about her decision to step away from Corporate America to pursue her lifelong passion.
"Chase the dream, not the money"  – Niccole Cox
About Our Guest  
From the battlefield to the racetrack, Niccole Cox has spent her entire adult life being the lone woman in male-dominated professions. In 13 years of service in the National Guard, Cox became the only female in her division, where she served as a Blackhawk gunner during a time when womens combat roles in the military were highly restricted and controversial. After two deployments, Cox retired in 2013 as a Staff Sergeant and shifted focus to one of her lifelong passions: motorcycle racing. As director of operations at MotoAmerica, Cox is the only woman on staff and the driving force behind the nations premier motorcycle road racing series that draws hundreds of thousands of spectators and viewers across the country. Cox found her home on the racetrack, where she spends downtime racing her own high-speed motorcycles when shes not training for her next Ironman Triathalon.
Moto America Website – http://motoamerica.com
Follow Along on Facebook – https://www.facebook.com/MotoAmerica
Follow Along on Instagram – https://www.instagram.com/motoamerica
Join the conversation on our Facebook!
Check out
 Veteran on the Move on Facebook
 to connect with our guests and other listeners. A place where you can network with other like-minded veterans who are transitioning to entrepreneurship and get updates on people, programs and resources to help you in YOUR transition to entrepreneurship.
About Our Sponsors
Navy Federal Credit Union
Did you know members earn and save more a year—an average of $289 more, just by banking with Navy Federal Credit Union?
Here's how:
•Members can choose products with low or no fees, like one of our Free Checking Accounts.  
•Navy Federal Credit Union's average credit card APR is 3% lower than the industry average.
•Members earn up to 2x more with a Navy Federal savings account thanks to savings rates that are twice the industry average. 
• Navy Federal also helps members save on their next new or used auto loan with their great low rates.
Whether it's your first car or your dream car, Navy Federal is there to guide you into finding a comfortable monthly payment you can afford.
Plus, they have military discounts. Apply online or via their mobile app and get a decision in seconds. When you're a Navy Federal member, the more you're in, the more you win. To learn about all the ways to earn and save, visit  navyfederal.org.
Insured by NCUA. Dollar value based on 2018 study by Navy Federal. Message and data rates may apply. Visit navyfederal.org for more information.
Want to be our next guest? Send us an email at interview@veteranonthemove.com. 
Did you love this episode? Leave us a 5-star rating and review! 
Download Joe Crane's Top 7 Paths to Freedom or get it on your mobile device. Text VETERAN to 38470.
Veteran On the Move podcast has published over 250 episodes. Our listeners have the opportunity to hear in-depth interviews conducted by host Joe Crane. The podcast features people, programs and resources to assist veterans in their transition to entrepreneurship.  As a result, Veteran On the Move has over 1,000,000 verified downloads through Stitcher Radio, SoundCloud, iTunes and RSS Feed Syndication making it one of the most popular Military Entrepreneur Shows on the Internet Today.
Lorem ipsum dolor sit amet, consectetur adipiscing elit, sed do