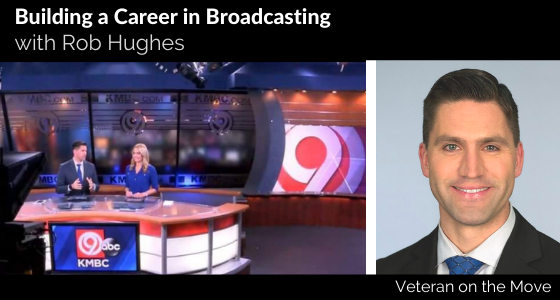 Podcast: Play in new window | Download
About this Episode
Today we are honored to host Rob Hughes on the show. Rob, a former National Guard member is a "news anchor on KMBC". Rob struggled in his journalism career and was fired and hired multiple times from different stations, today Rob will talk about his learnings from these failures and his success story.
Key Points of Discussion
   

Rob Hughes's life story

   

Struggle in journalism career

   

Getting into the Army

   

Lessons learned from career

   

Success stories of veterans

   

Media personnel for helping veterans
Key Milestones of this Episode
[01:32] Rob Hughes's life story
[05:22] Ups and downs in journalism career
[09:01] Transition into the Army
[17:00] Getting in touch with veteran organizations
[23:02] Great lessons learned
[30:35] Media for Entrepreneurs
[32:09] Success stories
[36:59] How to contact Rob
[38:25] Bottom line
Key Quotes
"I hope that I've earned veterans trust."

"People don't always trust the media and especially with veterans."

"Veteran leaders say they utilize social media, but you have two different schools of thought and we'll see a lot of businesses to come to our studio for commercials."

"I would just encourage them to really develop relationships with local media personnel."

"Be comfortable with pitching ideas about their product or service."

"It's important people know when businesses choose to give back and that's another way to to really think about it."

"Conflict, Character, Controversy, Connection is kind of a framework you can think of to win when you pitch an idea."
About Our Guest 
Rob graduated from the University of Southern California and is currently working on his MBA at Emporia State University in Emporia Kansas. He's a professional television broadcaster with the ABC/CW affiliate in Kansas City. Rob is also an infantry officer in the Army National Guard. Rob emcees multiple charity events every year, and serves on several non-profit boards, working as an ambassador and advocate for autism and Veteran/Military causes.
About Our Sponsors
Navy Federal Credit Union is a member-driven credit union with over 8 million members and incredible benefits to support the financial stability of military families.
Visit navyfederal.org/veteranmove for more information.
Use Fiverr to find freelance talent for your business or project.  Finding the right freelancer can be time consuming, frustrating and expensive.  Where do you go to find the talent? How much will it cost? How can you be certain they will deliver?  Fiverr's marketplace helps you get more done with less. Fiverr connects businesses with freelancers who offer hundreds of digital services including graphic design, copywriting, web programming, film editing and more.  Find what you are looking for instantly. Check out Fiverr.com and you will get 10% off your first order if you use my code veteran when you check out.
Don't forget to leave us a 5-star rating and review if you enjoyed the show. We would love to hear from you!
Download Joe Crane's Top 7 Paths to Freedom or get it on your mobile device. Text VETERAN to 38470. 
Join the Veteran on the Move on Facebook!
Check out Veteran on the Move on Facebook to connect with our guests! It's a great place where you can stay in touch with other veterans who are transitioning to entrepreneurship.  Get updates and free gouge on the people, programs and resources to help you in your transition to entrepreneurship.
Veteran On the Move podcast has published over 250 episodes. Our listeners have the opportunity to hear in-depth interviews conducted by host Joe Crane . The podcast features people, programs and resources to assist veterans in their transition to entrepreneurship.  As a result, Veteran On the Move has over 1,000,000 verified downloads through Stitcher Radio, SoundCloud, iTunes and RSS Feed Syndication making it one of the most popular Military Entrepreneur Shows on the Internet Today.
Lorem ipsum dolor sit amet, consectetur adipiscing elit, sed do