Fight Guy to the Flight Guy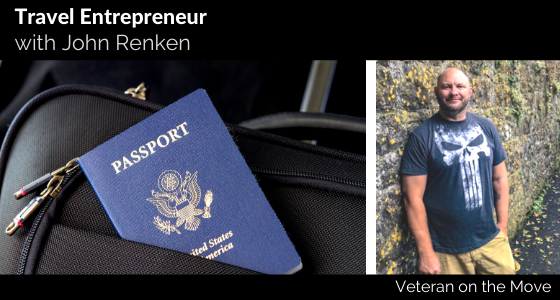 Podcast: Play in new window | Download
About this Episode
Today we are honored to host John Renken on the show. John, served in the army from 1993 to 1996 and was an infantryman in the 101st airborne division. John started his new career as a professional UFC fighter and then moved on to teaching soldiers Hand to Hand Combat. Today, John will talk about his failures and successes.
Key Points of Discussion
   

John Renken's life story

   

UFC career

   

Starting of TCL training business

   

Learning from new companies

   

Getting into travel business

   

Identifying potential for business

   

Advice for the Veterans
 Key Milestones of this Episode
[01:17] John Renken's life story
[01:53] Transition of the John
[02:31] Starting of UFC career
[04:43] Starting of new business
[09:20] Lessons learned from developing a company
[17:35] Getting into travel business
[22:49] Potential customers of travel business
[24:51] Managing side hustle
[28:26] Teaching people the secrets
[29:30] Advice for the veterans
 Key Quotes by John Renken
"If you haven't gotten out yet, you're in a great position to begin this process of figuring out what you're going to do for the rest of your life. Now that you're grown up and gotten out of the military."

"I

think the biggest lesson is just do you want to pay the taxes now or do you want to pay the taxes later?"

"The most profitable section of travel is Group Travel."

"The Google app that says 85% of all travel is planned and purchased by women."

"I began to realize the need for an exit strategy. I started asking myself. What do I enjoy; what do I love and why would I do it for free even. I love to travel so it became a very clear answer to me that this is a place that I can monetize."

"If you're not passionate about it, you probably don't have the discipline or the motivation to continue doing it when you're not getting paid."

"My first recommendation is to find something you're passionate about and look at the time requirements. You fit it in what you're doing because you're going to have to work extra hours and you know entrepreneurialism is a tough road to start with."

"You know I think college is important but it's really not the most important thing."
About Our Guest John Renken
John is a single father of 4 wonderful kids and a retired MMA Fighter who spent the last 30 years fighting and training soldiers in Hand to Hand Combat. Three years ago he started traveling a lot more and wanted to cut the cost of work related travel. So he began researching the travel industry it ignited a fire in him to help people travel more often for less money. Little did he know this would begin a transformation from the Fight Guy to the Flight Guy. His booking engine is beating Expedia by over 30%S. He also does Hotels, Vacations Packages, Group Packages, Mystery Adventures, and courses to show you how to travel more often for less money and how to be a Travel Entrepreneur.
 About Our Sponsors
Navy Federal Credit Union is a member-driven credit union with over 8 million members and incredible benefits to support the financial stability of military families.
Visit navyfederal.org/veteranmove for more information.
Use Fiverr to find freelance talent for your business or project.  Finding the right freelancer can be time consuming, frustrating and expensive.  Where do you go to find the talent? How much will it cost? How can you be certain they will deliver?  Fiverr's marketplace helps you get more done with less. Fiverr connects businesses with freelancers who offer hundreds of digital services including graphic design, copywriting, web programming, film editing and more.  Find what you are looking for instantly. Check out Fiverr.com and you will get 10% off your first order if you use my code veteran when you check out.
Don't forget to leave us a 5-star rating and review if you enjoyed the show. We would love to hear from you!
Download Joe Crane's Top 7 Paths to Freedom or get it on your mobile device. Text VETERAN to 38470. 
Join the Veteran on the Move on Facebook!
Check out Veteran on the Move on Facebook to connect with our guests! It's a great place where you can stay in touch with other veterans who are transitioning to entrepreneurship.  Get updates and free gouge on the people, programs and resources to help you in your transition to entrepreneurship.
Veteran On the Move podcast has published over 250 episodes. Our listeners have the opportunity to hear in-depth interviews conducted by host Joe Crane . The podcast features people, programs and resources to assist veterans in their transition to entrepreneurship.  As a result, Veteran On the Move has over 1,000,000 verified downloads through Stitcher Radio, SoundCloud, iTunes and RSS Feed Syndication making it one of the most popular Military Entrepreneur Shows on the Internet Today.
Lorem ipsum dolor sit amet, consectetur adipiscing elit, sed do