Sheets Laundry Club with Chris Videau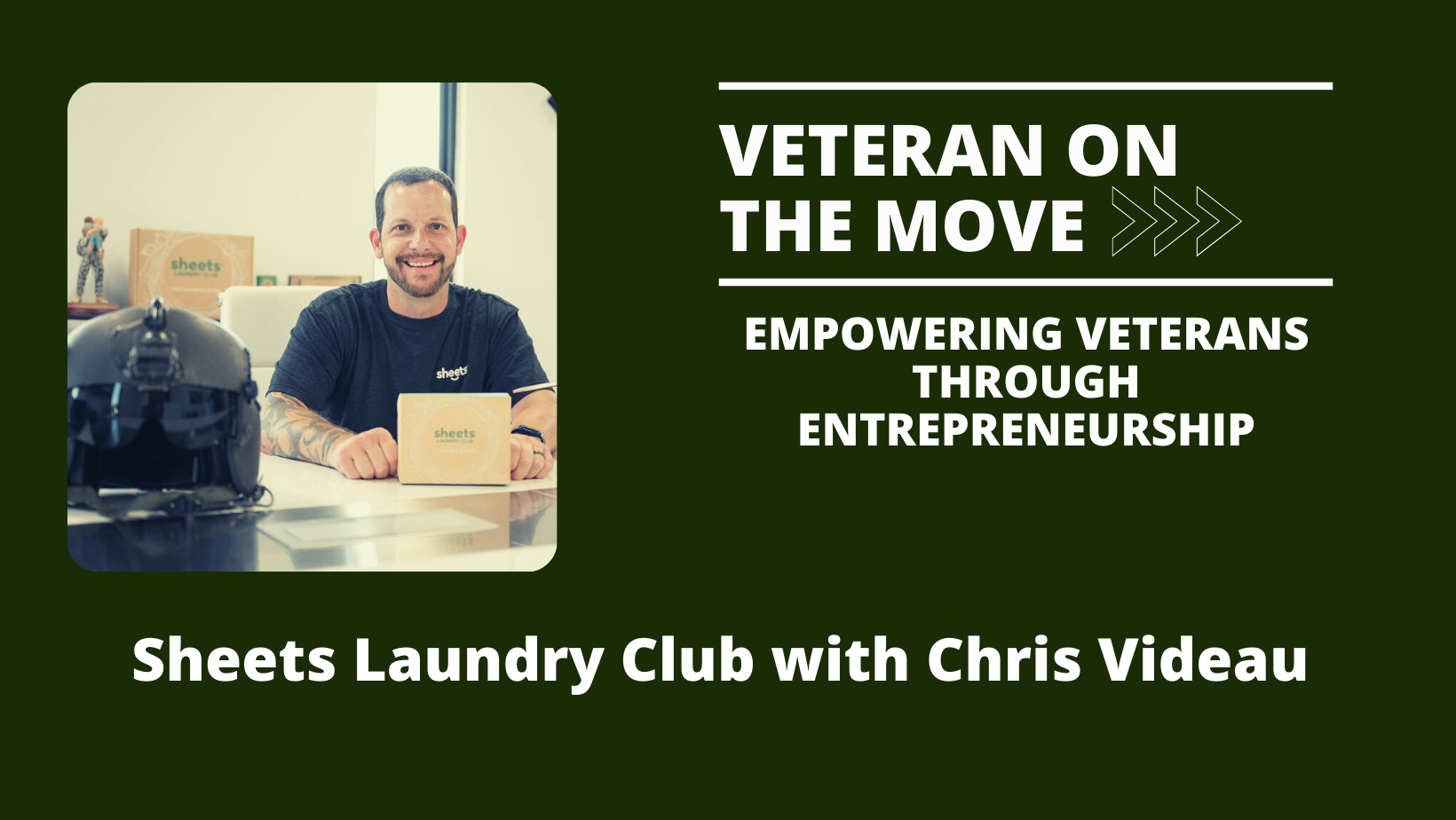 This week Joe is joined by Army Veteran and founder of Sheets Laundry Club, Chris Videau. Chris served as helicopter pilot and while flying in Iraq, witnessed and suffered the damages caused by the pollution of the toxic burn pits. Looking to spend more time with his family, Chris separated from the Army and was drawn towards entrepreneurship. Taking lessons learned from his time as a franchisee, Chris founded Sheets Laundry Club, an eco-friendly solution for laundry and other household needs. Chris shares with Joe how he came up with Sheets Laundry Club and his experience on the hit show Shark Tank.
Check out Sheets Laundry Club here. 
About Our Guest 
Chris Videau, is a veteran US Army helicopter pilot who was inspired to create a product that will help eliminate plastic waste. Over the course of 20 years in the US Army, Chris observed our planets plastic problem from the sky while in Iraq he spent most of his days flying through a black haze of pollution caused by burning trash in city streets. Chris returned from Iraq with permanent lung damage from the toxic burn pits where it has been recorded by the Department of Defense that approximately 3.5 million service members could have been exposed to these pits during their time in service. Chris has since felt compelled to be a part of the solution in saving our planet which is why he started Sheets Laundry Club. 
Find out more about Chris here:
Join the conversation on Facebook!
Check out Veteran on the Move on Facebook to connect with our guests and other listeners. A place where you can network with other like-minded veterans who are transitioning to entrepreneurship and get updates on people, programs and resources to help you in YOUR transition to entrepreneurship.
About Our Sponsors

Navy Federal Credit Union 
Navy Federal Credit Union helps you take control of your finances after the holidays. You can get a low intro APR on their Platinum Credit Card, it's their lowest rate card and it's a great tool to pay down debt. Navy Federal even has multiple savings and investing options to help you get closer to your financial goals. They offer digital tools and educational resources to help guide your decisions. With Navy Federal, you can automate your savings and investing to put your money to work for you, even as you sleep. Plus, you can buy fractional shares.
Learn more at navyfederal.org
Savings products insured by NCUA. Investment options are available through Navy Federal Investment Services and are not insured by NCUA.
At Navy Federal, our members are the mission. 
Armed Forces Travel
Hey Veteran entrepreneurs! Did you know that there is a leisure travel website that was made just for you and your family members that can save you money on travel plus support your military community at the same time?
American Forces Travel is committed to providing high-quality and best value travel services to patrons affiliated with the Department of Defense as a way to thank them for their service and dedication to our country.
American Forces Travel is a DOD partnership with Priceline. Made exclusively for Active-Duty, Reservists, Veterans, and DoD Civilians you can save up to 50% off hotels, flights, rental cars and more. You can even find and purchase event tickets through the site. 
On top of that, travel company commissions go to your service branch to be reinvested into your military community. Check out AmericanForcesTravel at https://www.americanforcestravel.com/ and see for yourself.
Want to be our next guest? Send us an email at interview@veteranonthemove.com. 
Did you love this episode? Leave us a 5-star rating and review! 
Download Joe Crane's Top 7 Paths to Freedom or get it on your mobile device. Text VETERAN to 38470.
Veteran On the Move podcast has published over 410 episodes. Our listeners have the opportunity to hear in-depth interviews conducted by host Joe Crane. The podcast features people, programs, and resources to assist veterans in their transition to entrepreneurship.  As a result, Veteran On the Move has over 7,000,000 verified downloads through Stitcher Radio, SoundCloud, iTunes and RSS Feed Syndication making it one of the most popular Military Entrepreneur Shows on the Internet Today.
Lorem ipsum dolor sit amet, consectetur adipiscing elit, sed do