Starting a Leadership Consulting Business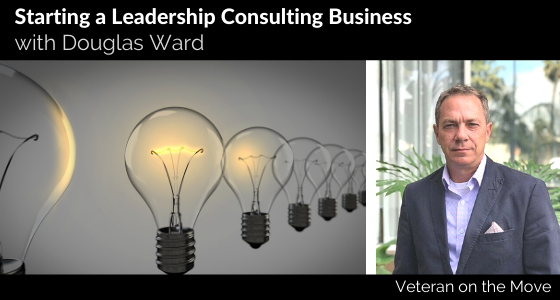 Podcast: Play in new window | Download
About this Episode
Can you believe that Doug Ward served in all the four services? Yes, he did! In today's episode, we are joined by Doug Ward. He tells us what it was like for him to serve and about his entrepreneurship journey.
If you are planning on exiting the service or you have already made your exit but you have no idea where to begin, this episode is for you.
Listen in and learn.
Key Points of Discussion
Doug's journey in the Army

Serving in the four services

Exiting the Army

Joining the corporate world

Jumping into the entrepreneurship wagon
Key Milestones of this Episode
[01:05] Joining and exiting the Marine Corps
[02:40] How Doug joined the Navy
[04:52] Lessons that Doug learned from transitioning
[05:19] Doug transitioning from the Army
[07:24] What it takes to work as a contractor
[11:07] Lessons Doug learnt from working as a contractor
[13:23] How to make the best out of Linked in as a veteran
[15:26] Is LinkedIn Premium worth it?
[19:42] The birth of Anchor Strategies
[20:39] Building a business strategy
[24:40] Digging deeper into Anchor Strategies
[25:31] The five step program
[30:05] Getting in touch with Doug
[30:55] Nuggets of wisdom for veterans seeking to start their businesses
Key Quotes by Doug Ward
 "It doesn't hurt to help people and it doesn't hurt to reach out for help."

"Don't think it's a weakness to reach out and talk to people."

"I wouldn't do it if I didn't think I could do it."

 "There's a lot of people out there you can ask for help, but they're not going to help you if you don't ask."

"Don't ask for something from somebody the first time you make contact with them."
About Our Guest Doug Ward
Douglas Ward is a retired military veteran of over 24 years. During his time in the military he held numerous leadership positions to include instructor and manager of 500 personnel to Troop Chief of a hand selected group of special communicators tasked with supporting and deploying into austere environments with Special Operations Forces. Upon retirement I supported numerous government agencies as a subject matter expert in non-standard communications and as a business development executive. Realizing that he wanted to make a bigger impact, Douglas founded Anchor Strategies to help companies build winning teams by focusing on their Vision with Purpose and Impact.
Connect with Doug
About Our Sponsor
As a veteran entrepreneur, you need a domain name that is easy to remember and accurately reflects your brand or business. Let .US serve you and choose a .US domain to stand out and get the domain name you really want. Reserve your .US domain name and website builder today for just $1 at www.launchwith.US.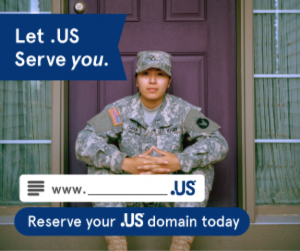 To hear more about Doug's experience, download this episode now.
Don't forget to leave us a 5-star rating and review if you enjoyed the show. We would love to hear from you!
Download Joe Crane's
Top 7 Paths to Freedom
or get it on your mobile device. Text VETERAN to 38470. 
Join the Veteran on the Move on Facebook!
Check out Veteran on the Move on Facebook to connect with our guests! It's a great place where you can stay in touch with other veterans who are transitioning to entrepreneurship.  Get updates and free gouge on the people, programs and resources to help you in your transition to entrepreneurship.
Veteran On the Move podcast has published over 250 episodes. Our listeners have the opportunity to hear in-depth interviews conducted by host Joe Crane . The podcast features people, programs and resources to assist veterans in their transition to entrepreneurship.  As a result, Veteran On the Move has over 1,000,000 verified downloads through Stitcher Radio, SoundCloud, iTunes and RSS Feed Syndication making it one of the most popular Military Entrepreneur Shows on the Internet Today.
Lorem ipsum dolor sit amet, consectetur adipiscing elit, sed do