Starting a T Shirt and Design Company with Army Veteran George Diaz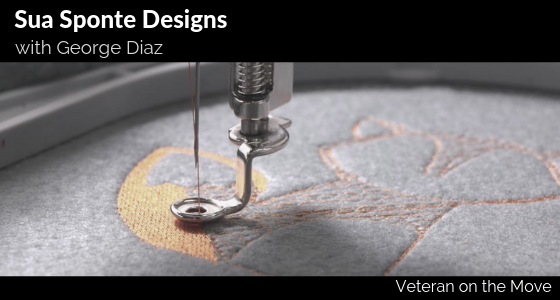 Podcast: Play in new window | Download
George Diaz is the founder and Manager of Sua Sponte Design LLC a Graphic Design Screen Printing & Embroidery company out of Visalia California.  George founded 2 companies specializing in Graphic Design, Screen Printing, Embroidery and Friction Wrist Wraps. Tune in to his story, learn classic insights on business, and hear where you too can avail of his products!
George Diaz- From Military to Contract Work
George spent a total of 6 years in the army. He spent his last year with a long range reconnaissance unit in Texas. The army was trying to reenlist him, but he was ready to try other things.
So, he went home and did contract work for 2 years. His first work was installing a CRM system, and the second was doing diplomatic security. Eventually, he decided to end contract work and return home to be with his family.
"I started watching youtube videos about printing shirts and different things.  That is how I came up with the idea and when I got home I bought my first press and haven't looked back since." – George Diaz
The Start of a Business
George had the business idea while he was still in Afghanistan. He already had a lot of experiences in the business sector. His friend advised him to do something unique.
That was when he thought about printing shirts that sent out a message. By 2012, he started his own company called Sua Sponte which means "of its own accord".  Additionally, he has another brand called Memorial Wraps.
Memorial Wraps, Hats, Jackets, Promotional Products
Memorial Wraps is the primary brand and is a fitness brand.  They manufacture friction wrist wraps to honor fallen soldiers, policemen and firefighters.  George has a dedicated machine to this brand as it is a lot of embroidery. This is the standard method of producing the wraps.
Now the business has expanded into hats, jacket, promotional products as the business has grown.  This includes a direct to garment printer and sublimation printer, new technology that produces a more durable print.
"The great thing about business is you really only need to be right one time.  You can fail a thousand times but if you get it right one time that is all that matters." – George Diaz
To hear about more about Sua Sponte Design with Army Veteran George Diaz, download and listen to the entire episode. Leave us a 5-star rating and review if you enjoyed the show. We would love to hear from you!
Don't forget to leave us a 5-star rating and review if you enjoyed the show. We would love to hear from you!
George Diaz links:
Phone: 559-358-8357
Office: 313 North West Street, Visalia, California
Download Joe Crane's Top 7 Paths to Freedom or get it on your mobile device. Text VETERAN to 38470.  
Show Sponsor
"I have slept on the dirt, the green yoga mat and military cot many a night during my days in the military and now I sleep in lots of hotel rooms when I'm on the road.  So I know a good mattress when I see one. A few weeks ago we got our new GhostBed and let me tell you…..it's the best mattress I've ever slept on. We don't ever see ourselves going back to a traditional mattress." –  Joe Crane

What separates GhostBed Mattresses from the others?  They are found on the principle of delivering a bigger, better and more comfortable mattress at a lower cost.  GhostBed has three mattresses all designed to help you sleep better, they offer a 101 night hassle free return and amazing customer service.  GhostBed has over 20,000 customer reviews so you need to check them out at http://www.veteranonthemove.com/ghostbed
Join the Veteran on the Move on Facebook!
Check out Veteran on the Move on Facebook to connect with our guests! It's a great place where you can stay in touch with other veterans who are transitioning to entrepreneurship.  Get updates and free gouge on the people, programs and resources to help you in your transition to entrepreneurship.
Veteran On the Move podcast has published over 250 episodes. Our listeners have the opportunity to hear in-depth interviews conducted by host Joe Crane . The podcast features people, programs and resources to assist veterans in their transition to entrepreneurship.  As a result, Veteran On the Move has over 1,000,000 verified downloads through Stitcher Radio, SoundCloud, itunes and RSS Feed Syndication making it one of the most popular Military Entrepreneur Shows on the Internet Today.
Lorem ipsum dolor sit amet, consectetur adipiscing elit, sed do