Scott Mann Green Beret Writes a Play About Combat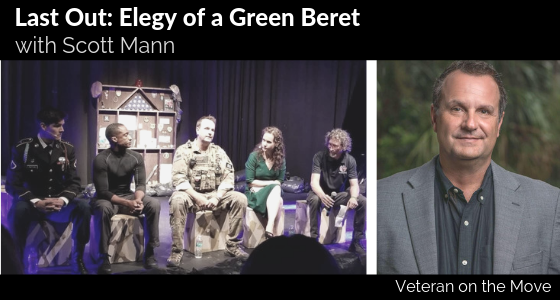 Podcast: Play in new window | Download
Scott Mann has spent nearly 23 years in the Army, of which 18 has been as a Green Beret with deployments in Colombia, Ecuador, Peru, Panama, Iraq and Afghanistan. During Scott's last combat tour to Afghanistan, he was one of the architects of the Village Stability Operations program. He has a book on this topic entitled "Game Changers: Going local to defeat violent extremists."
Scott Mann- It's Time 
Scott was a career Green Beret and spent 18 of a 23 year period in Army Special Forces, mostly in 7th Special Forces Group.  He was working in Central and South America before 9/11 and then after 9/11, his primary focus with Southwest Asia in particular southern Afghanistan where he did four tours.  Scott retired as a Lieutenant Colonel and knew that it was time to transition.
"I felt like it was time for me to go.  My Dad had always told me like, you'll know when it's time to retire.  And I just felt like I could do more good on the outside than the inside.  I was still passionate about the mission. I was still passionate about stability.  My brother and I, a former paratrooper, we had started buying real estate." – Scott Mann
Transitioning from the Military
After retiring from the Army, Scott founded the non profit Stability Institute where he still advises senior commanders and law enforcement officers on community-based operations. Scott is also a passionate advocate for veterans transitioning to civil society. He is a consultant to the Green Beret Foundation on military transition and has written a book entitled "Next Ridgeline" on this topic. Scott lives in Tampa, Florida, as a real estate entrepreneur, speaker, trainer, and author.
Storytelling to the Start of a Business
Scott found himself in some pretty dark places after retiring and had trouble transitioning.  He had lost his sense of purpose and knew he needed to share his experiences as a Green Beret with others.  Scott credits storytelling as the catalyst to pulling him out of the dark.
"I just started learning how to tell my story from the stage and bringing out lessons from those trust depleted places.  I coach executives at Capital One, Fannie Mae, Sempra Capital, and I use my story to bridge those two worlds.  It saved my life, but it also gave me a business. I've just found that storytelling for veterans, I believe is one of the most powerful transition tools you can have.  The ability to develop and share your experiences, your struggles, your lessons from your time in the military with your community, your family, and the businesses that you work with." – Scott Mann
Rooftop Leadership and The Heroes Journey
Scott and his wife have a business for profit which is called Rooftop Leadership.  He trains corporate leaders and entrepreneurs in how to use old school Green Beret interpersonal skills and their low trust environment to build connections.  Additionally, on the nonprofit side, they have The Heroes Journey. They teach that same high end storytelling skill in workshops.
"In my book Mission America, I have an online video series that's free and we're building this whole tribe around storytelling where we train.  I've got kids books that parents can use storytelling with their military kids. We are also building this culture of storytelling as a transition tool and we have all these different mediums to deliver it." – Scott Mann
Play About Combat
Scott recently decided to write a play about the war using storytelling from live theater from the stage to help civilians and politicians understand that they keep sending the same people over to this war.  He shares that it is starting to affect our families and our resiliency.  Scott reminds them that our children are not fight this war.  He tells the real story about this war and what is going on.
To hear more about Scott's journey, download this episode now.
Don't forget to leave us a 5-star rating and review if you enjoyed the show. We would love to hear from you!
Scott Mann links:
Game Changers: Going local to defeat violent extremists
Download Joe Crane's Top 7 Paths to Freedom or get it on your mobile device. Text VETERAN to 38470.  
Show Sponsor
"I have slept on the dirt, the green yoga mat and military cot many a night during my days in the military and now I sleep in lots of hotel rooms when I'm on the road.  So I know a good mattress when I see one. A few weeks ago we got our new GhostBed and let me tell you…..it's the best mattress I've ever slept on. We don't ever see ourselves going back to a traditional mattress." –  Joe Crane
What separates GhostBed Mattresses from the others?  They are found on the principle of delivering a bigger, better and more comfortable mattress at a lower cost.  GhostBed has three mattresses all designed to help you sleep better, they offer a 101 night hassle free return and amazing customer service.  GhostBed has over 20,000 customer reviews so you need to check them out at http://www.veteranonthemove.com/ghostbed
Join the Veteran on the Move on Facebook!
Check out Veteran on the Move on Facebook to connect with our guests! It's a great place where you can stay in touch with other veterans who are transitioning to entrepreneurship.  Get updates and free gouge on the people, programs and resources to help you in your transition to entrepreneurship.
Veteran On the Move podcast has published over 250 episodes. Our listeners have the opportunity to hear in-depth interviews conducted by host Joe Crane . The podcast features people, programs and resources to assist veterans in their transition to entrepreneurship.  As a result, Veteran On the Move has over 1,000,000 verified downloads through Stitcher Radio, SoundCloud, iTunes and RSS Feed Syndication making it one of the most popular Military Entrepreneur Shows on the Internet Today.
Lorem ipsum dolor sit amet, consectetur adipiscing elit, sed do