Transforming the Transition Mindset with Jason Anderson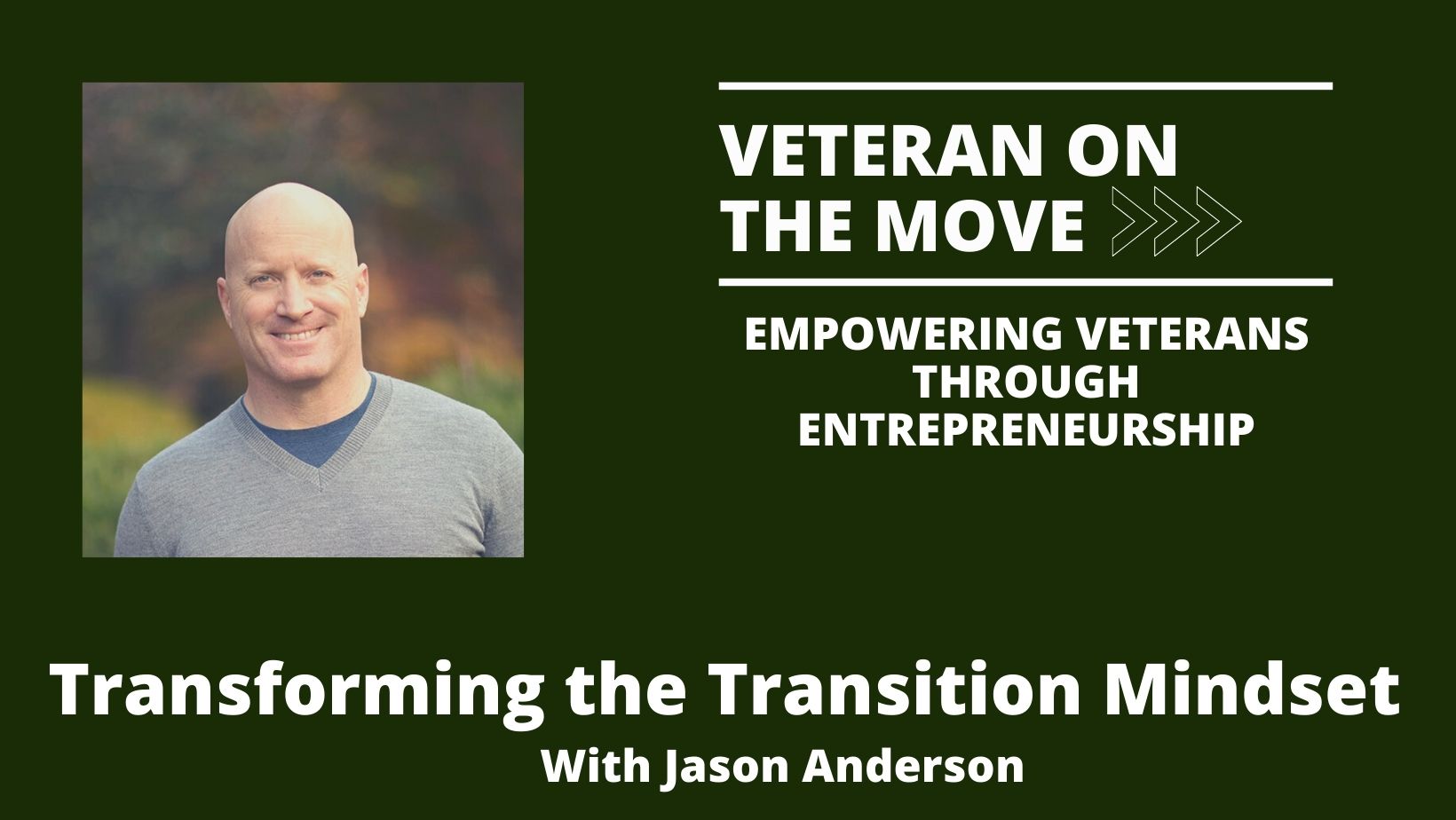 Podcast: Play in new window | Download
Jason Anderson, retired Air Force Officer and founder of PreVeteran, came by the show to discuss his business and share his transition story. Jason saw the need to update the process preparing Veterans for separation and employment. With most of the general public and future employers being non-Veterans, there can be a divide and challenges for the transitioning Service Member to overcome. PreVeteran guides Service Members and Spouses through the process with a focus on self transformation; transforming from the military mindset and aligning with the civilian sector. Jason shares why it is important to start the process early and his advice for achieving a successful post military career. 
Be sure to check out the Veteran On The Move YouTube page here.
Are you a Veteran who is transitioning to Entrepreneurship? Then check out this FREE download for the Top 29 Entrepreneurship Programs for Veterans & their families! Download Here !
About Our Guest
Jason is a retired USAF Lt Colonel and founder of PreVeteran. PreVeteran is a new company that helps military members transition more successfully from the military. As the company name implies, PreVeteran seeks to help the member self-transform and align themselves to the private sector well before taking off the uniform. At the core, PreVeteran is an individually-focused, holistic, and preventative program that provides the transitioning member a model, individual tools, and support to make them successful post-military. As is always true an ounce of prevention is worth a pound of cure. This axiom holds true for military transition as well.
Join the conversation on our Facebook!
Check out Veteran on the Move on Facebook to connect with our guests and other listeners. A place where you can network with other like-minded veterans who are transitioning to entrepreneurship and get updates on people, programs and resources to help you in YOUR transition to entrepreneurship. 
About Our Sponsors
Navy Federal Credit Union 

At Navy Federal you can finance, buy, protect and enjoy your auto purchase all through one convenient place.
We've bought a few cars with Navy Federal over my 31 years as a member with their fully loaded car buying experience. When you become a member of Navy Federal Credit Union, life gets better.  You can finance, buy, protect and enjoy your auto purchase all through one convenient place. They have low rates and preapproval that's good for 90 days, so you know what you can afford while you shop. You can save thousands off MSRP with Navy Federal's car buying service, powered by TrueCar. You can also get exclusive member savings with CARFAX, GEICO and SiriusXM. They're always available with 24/7 member service representatives to answer any questions.
Learn more at here. 
At Navy Federal, our members are the mission. 
Credit and collateral subject to approval. Your actual savings off MSRP may vary. Navy Federal Credit Union is federally insured by NCUA.
Want to be our next guest? Send us an email at interview@veteranonthemove.com. 
Did you love this episode? Leave us a 5-star rating and review! 
Download Joe Crane's Top 7 Paths to Freedom or get it on your mobile device. Text VETERAN to 38470.
Veteran On the Move podcast has published over 375 episodes. Our listeners have the opportunity to hear in-depth interviews conducted by host Joe Crane. The podcast features people, programs, and resources to assist veterans in their transition to entrepreneurship.  As a result, Veteran On the Move has over 1,000,000 verified downloads through Stitcher Radio, SoundCloud, iTunes and RSS Feed Syndication making it one of the most popular Military Entrepreneur Shows on the Internet Today.
Lorem ipsum dolor sit amet, consectetur adipiscing elit, sed do