Woodlawn Press Winery with Andrew Rosado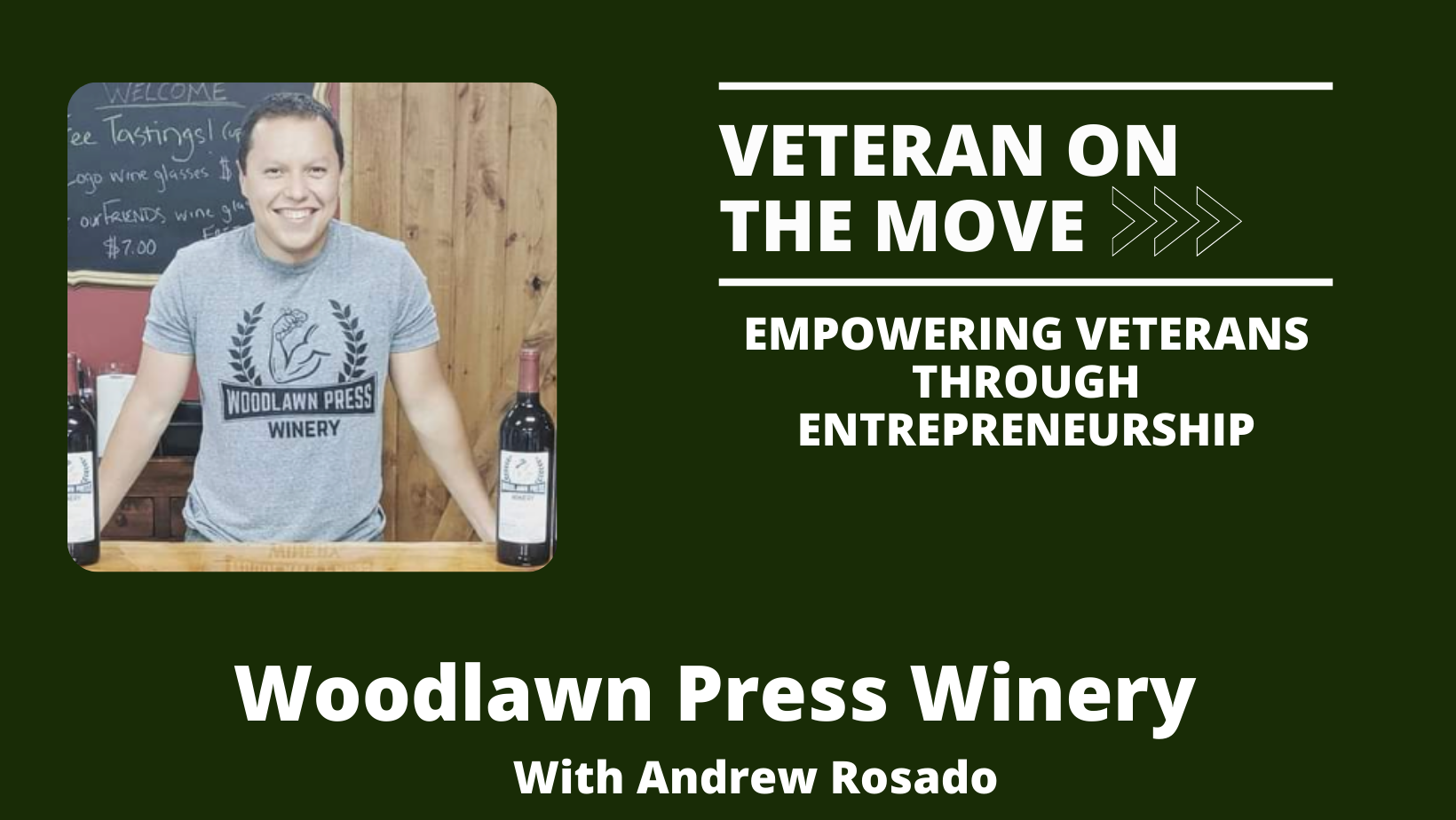 Podcast: Play in new window | Download
Woodlawn Press Winery with Andrew Rosado
This week Joe is joined by Army Veteran Andrew Rosado, who founded Woodlawn Press Winery along with his wife Bonnie. Andrew shared how he was able to turn what started as a wine making hobby into a family business. After separation from the Army, Andrew entered the civilian workforce until deciding that the entrepreneurial path was right for him and his family. He discussed how they faced the unpredictable challenges of entrepreneurship by always moving forward and pivoting when needed. Andrew and Joe discuss the value of soft skills that military members develop and how they are important to leverage in your transition. 
Are you a Veteran who is transitioning to Entrepreneurship? Then check out this FREE download for the Top 29 Entrepreneurship Programs for Veterans & their families! Download Here !
About Our Guest
Andrew Rosado is a former Army Officer now turned wine enthusiast and entrepreneur. Andrew earned his Commission upon graduation from Virginia Tech 2009 and separated from the Army in 2013. He leveraged his military experience to transition into the civilian workforce and subsequently moved between traditional contracting and Government positions, supporting the Transportation Security Administration, Defense Intelligence Agency, and US Citizenship and Immigration Services for six years. Andrew took a sharp left turn in his career in 2019 when he decided to turn his home wine making hobby into operating a microwinery in the heart of Alexandria, Virginia. Andrew is in his third year of business and prides himself on bringing a different and unique wine experience to the local community.
Woodlawn Press Winery – Drinking Local Tastes Good.
Join the conversation on our Facebook!
Check out Veteran on the Move on Facebook to connect with our guests and other listeners. A place where you can network with other like-minded veterans who are transitioning to entrepreneurship and get updates on people, programs and resources to help you in YOUR transition to entrepreneurship. 
About Our Sponsors
Navy Federal Credit Union 

For over 31 years as a Navy Federal member, I've had many Navy Federal credit cards and I can tell you that their rewards programs are great. You can now earn up to 1.75% cash back on all purchases with the cashRewards card from Navy Federal Credit Union when you sign up for direct deposit.  And when you use the Navy Federal mobile app, you can redeem your rewards as soon as you earn them.  
There's no annual, balance transfer or foreign transaction fees. Plus, rewards never expire. So if you are looking for a card that has great cash rewards then Navy federal has what you're looking for.
Learn more at navyfederal.org. 
At Navy Federal, our members are the mission. 
Navy Federal Credit Union is federally insured by NCUA.
Want to be our next guest? Send us an email at interview@veteranonthemove.com. 
Did you love this episode? Leave us a 5-star rating and review! 
Download Joe Crane's Top 7 Paths to Freedom or get it on your mobile device. Text VETERAN to 38470.
Veteran On the Move podcast has published over 400 episodes. Our listeners have the opportunity to hear in-depth interviews conducted by host Joe Crane. The podcast features people, programs, and resources to assist veterans in their transition to entrepreneurship.  As a result, Veteran On the Move has over 6,000,000 verified downloads through Stitcher Radio, SoundCloud, iTunes and RSS Feed Syndication making it one of the most popular Military Entrepreneur Shows on the Internet Today.
Lorem ipsum dolor sit amet, consectetur adipiscing elit, sed do