Wove Custom Rings with Brian Elliott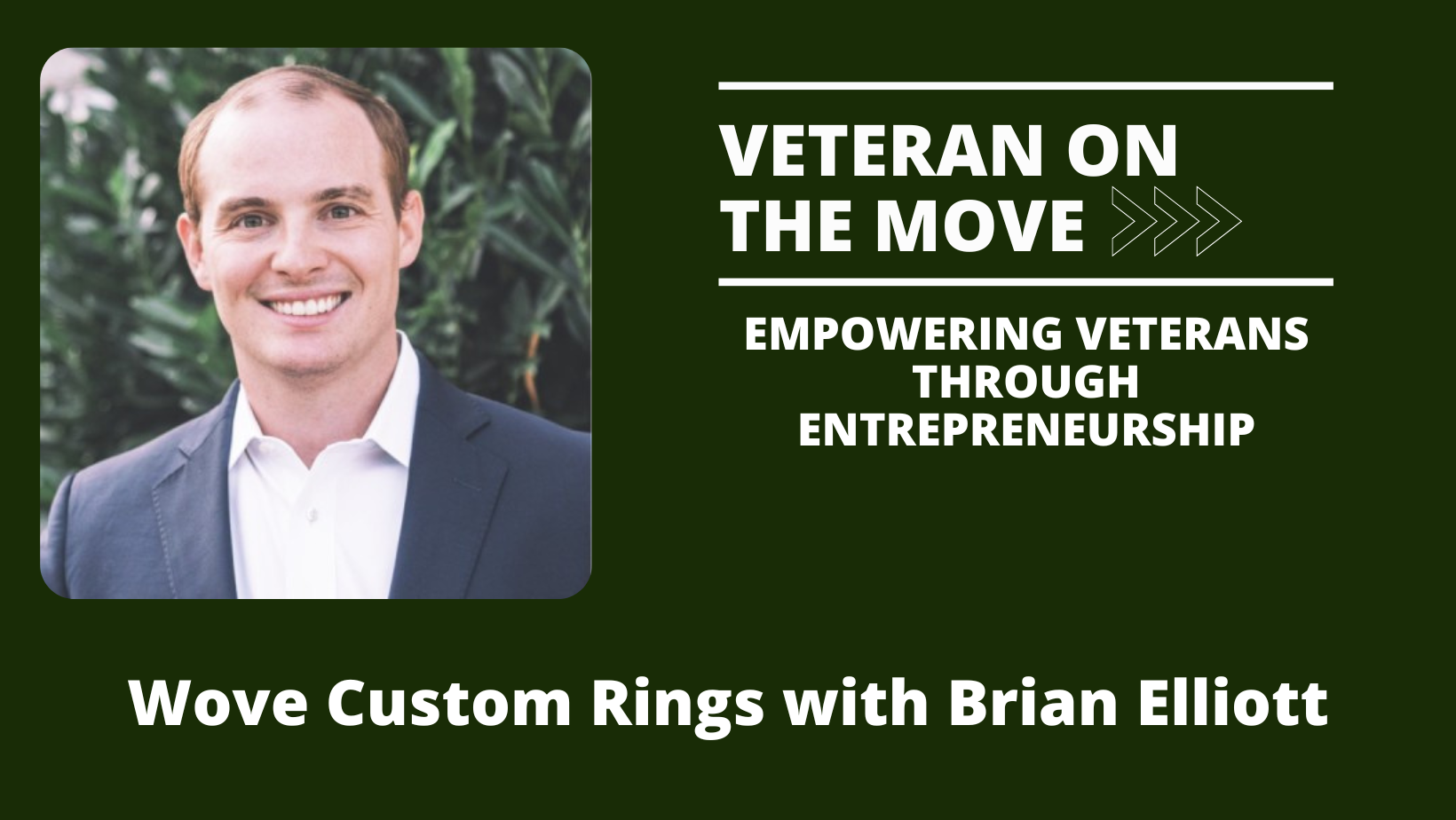 This week Joe is joined by Army Veteran and co-founder of Wove, Brian Elliott. Wove provides customers a new way to purchase custom engagement rings that are designed and handmade in the USA. Brian served as an Infantry Officer and prepared for his transition from Active Duty to entrepreneurship through self study and informational interviews. Brian shares the lessons he learned from his experiences with startups and the power of networking for entrepreneurs. Check out Wove here.
About Our Guest 
Brian Elliott is a Serial Entrepreneur with a passion for reinventing outdated consumer experiences. He is currently a Co-founder at Wove where he focuses on Digital Product, UX and Marketing. He previously worked in 2 Venture-backed consumer startups, one as a Founder and the other as an early employee. Prior to this, Brian served as a Platoon Leader in the U.S. Army's 75th Ranger Regiment, leading a team of 40 Special Operators in unconventional environments around the World. In his free time, Brian enjoys kayaking the Charles River in Boston and writing comedy sketches.
Join the conversation on Facebook!
Check out Veteran on the Move on Facebook to connect with our guests and other listeners. A place where you can network with other like-minded veterans who are transitioning to entrepreneurship and get updates on people, programs and resources to help you in YOUR transition to entrepreneurship.
About Our Sponsors
Sabio
If you're considering a job in software engineering, I highly recommend checking out Sabio. Sabio is a Coding Boot Camp and Developer Community that's been training veterans since 2013 and can help you transition to a full-time career in tech within a few months! Sabio is not your average bootcamp—in just 17 weeks, you'll not only learn to code, but gain real-life experience and graduate ready to start a real, high-paying tech job Visit sabio.la/onthemove to learn how you can use your VA benefits to enroll.

Navy Federal Credit Union 
Becoming a member at Navy Federal Credit Union lets you experience more. From everyday commutes to your next big vacation, the Flagship credit card earns you 3X the points on travel, so you can get rewarded for wherever you're headed next. Plus, this premium travel card has a low annual fee of $49 and 2X the points on all purchases outside of travel; meaning, the rewards don't have to end even when the vacation does. The Flagship credit card also comes with up to $100 in credits toward TSA Precheck or Global Entry and reimbursement on an annual Amazon Prime membership.  Learn how you can earn up to 3X points on travel and more with the Flagship credit card at navyfederal.org.
At Navy Federal, our members are the mission.  
Want to be our next guest? Send us an email at interview@veteranonthemove.com. 
Did you love this episode? Leave us a 5-star rating and review! 
Download Joe Crane's Top 7 Paths to Freedom or get it on your mobile device. Text VETERAN to 38470.
Veteran On the Move podcast has published over 445 episodes. Our listeners have the opportunity to hear in-depth interviews conducted by host Joe Crane. The podcast features people, programs, and resources to assist veterans in their transition to entrepreneurship.  As a result, Veteran On the Move has over 7,000,000 verified downloads through Stitcher Radio, SoundCloud, iTunes and RSS Feed Syndication making it one of the most popular Military Entrepreneur Shows on the Internet Today.
Lorem ipsum dolor sit amet, consectetur adipiscing elit, sed do