Billy Vaughn Starting a Sanctuary Farm and Rest House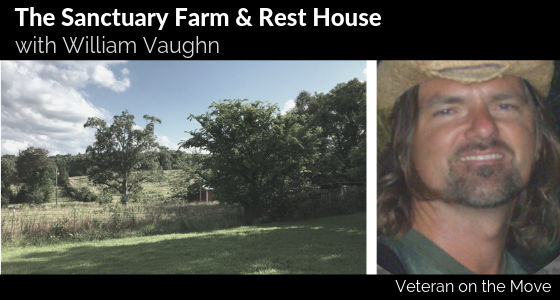 Podcast: Play in new window | Download
Billy Vaughn has been involved with helping people in crisis his whole life. His family was involved in outreach ministry when he was growing up Arkansas, and as a United States Marine for 21 years he helped people in crisis all over the world. For the last nine years he has been involved in multiple recovery contexts in churches, rescue mission, and prisons and specializes in helping people recover from the effects of trauma. For five years Billy served as a Chaplain and Director of Guest Services at the Union Rescue Mission on Skid Row in downtown Los Angeles. There he managed a staff of over 50 people and provided services and resources for over 700 guests per night experiencing homelessness.
Billy Vaughn- Unique Perspective
Presently Billy and his wife own a farm in northeast Arkansas and started a non-profit called Sanctuary Farm & Rest House (www.sanctuaryfarm.org). They plan to grow and sell organic farm products, have therapy animals, and help rehabilitate men and women who have experienced trauma, to include veterans, by teaching them organic farming and other self-supportive skills. They hope to welcome their first guests in 2019.
Billy served as an infantry Marine for 21 years, 11 of those enlisted and 10 as an officer.
"It gives you a unique perspective." – Billy Vaughn
Transitioning
During Billy's last year in the Marine Corps, he decided he would retire.  After retirement, he wanted to go to Seminary. His transition was pretty easy with little idle time between retirement and Seminary training.
"It was kind of like trading one identity for another.  I put being a Marine behind me and my new identity was being a Chaplain." – Billy Vaughn
Sanctuary Farm and Rest House
Billy and his wife purchased farmland that was in their family and started the non-profit Sanctuary Farm and Rest House.  They wanted to help people in a different and simple way. His wife's background is in horticulture and they paired that with the recovery experience.
"So we started this nonprofit that centered on the farm and bringing people,  veterans, people who've experienced different forms of trauma, to include people with addiction issues.  Maybe they'd been incarcerated, maybe they just have a hard time working or maybe they have a hard time transitioning from the military to do something else that it can be kind of like a soft place for them to land while they come here and spend time on the farm with us working with the animals, working with the land." – Billy Vaughn
To hear more from Billy Vaughn and Sanctuary Farm and Rest House, download this episode.
Don't forget to leave us a 5-star rating and review if you enjoyed the show. We would love to hear from you!
Billy Vaughn links:
Download Joe Crane's Top 7 Paths to Freedom or get it on your mobile device. Text VETERAN to 38470.  
Sponsor
Bench Bookkeeping is this episodes sponsor.  Being an entrepreneur, bookkeeping is a necessary evil.  To put your bookkeeping needs on autopilot check out Bench Bookkeeping and get one month free at veteranonthemove.com/bench.
Join the Veteran on the Move on Facebook!
Check out Veteran on the Move on Facebook to connect with our guests! It's a great place where you can stay in touch with other veterans who are transitioning to entrepreneurship.  Get updates and free gouge on the people, programs and resources to help you in your transition to entrepreneurship.
Veteran On the Move podcast has published over 250 episodes. Our listeners have the opportunity to hear in-depth interviews conducted by host Joe Crane . The podcast features people, programs and resources to assist veterans in their transition to entrepreneurship.  As a result, Veteran On the Move has over 1,000,000 verified downloads through Stitcher Radio, SoundCloud, itunes and RSS Feed Syndication making it one of the most popular Military Entrepreneur Shows on the Internet Today.
Lorem ipsum dolor sit amet, consectetur adipiscing elit, sed do