Unlocking Your True Potential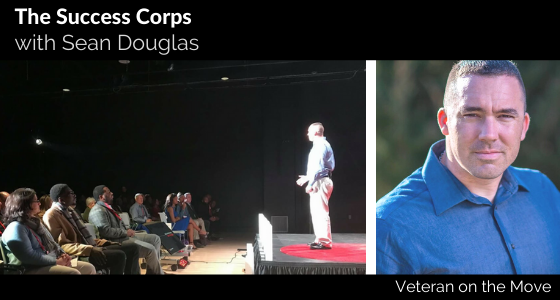 Podcast: Play in new window | Download
About this Episode
Today we are honored to host Sean Douglas on the show. Sean Douglas, Air Force veteran, is a TEDx speaker Master resilience implementer, suicide awareness trainer, business positioning strategist, international radio show host of "Life Transformation Radio", a suicide survivor and author.
Let's hear what he has to say about life and business! 
Key Points of Discussion
   

Life story of Sean Douglas

   

Transition 

   

Building first company

   

Positioning of business

   

Business examples; Uber, Netflix

   

Running the business while on the job

   

Some useful software and websites

   

Advice for the veterans
Key Milestones of this Episode
[01:17] Sean Douglas's life story
[02:36] Sean's transition out of the Air Force
[06:05] Entertainment Company
[09:34] What is positioning of business
[14:52] Difference between marketing, advertising and selling
[18:47] Example of Uber
[26:53] Veteran Entrepreneurship
[33:42] Transforming podcast to video
[37:46] Advertising and positioning software
[39:01] Advice for the veterans
Key Quotes by Sean Douglas
 "If you position yourself correctly, then you will not fail as a business owner unless you absolutely, ridiculously are horrible and you suck in entrepreneurship or running a business, but that's internal stuff."

"Positioning of business means how the market place perceives you as a business and as a brand."

"Number one rule of success is to schedule everything. I recommend that people in their job create a business that they want to create."

"Build, grow and scale while you're in a job and then when this entrepreneurial or this business venture starts supplementing your income or making more than your actual yearly income that is when you quit your job or if you don't want to quit your job then run it."

"If you don't have the time but you have money and you outsource it and you can make me and other people do it."

"You got to position yourself above the competition."

"If you're in the military and you want to be an entrepreneur start it now; you can do it".
About Our Guest Sean Douglas
Sean Douglas is a U.S. Air Force Veteran, TEDx Speaker, Master Resilience Implementer & Suicide Awareness Trainer, Business Positioning Strategist, International Radio Show Host of Life Transformation Radio, and Author. He's a suicide survivor who hit rock bottom. He believes that you were created for a purpose, and once you unlock your true potential, you will elevate your life, which is why he founded The Success Corps. Sean works with Entrepreneurs, Speakers, and Business Owners to improve their Positioning in the Market which increases Profitability while decreasing their anxiety and stress so their business thrives.
Decisions: The Power to Overcome Self-Defeating Behaviors
About Our Sponsor
Navy Federal Credit Union is a member-driven credit union with over 8 million members and incredible benefits to support the financial stability of military families.  Visit navyfederal.org/veteranmove for more information.
Don't forget to leave us a 5-star rating and review if you enjoyed the show. We would love to hear from you!
Download Joe Crane's Top 7 Paths to Freedom or get it on your mobile device. Text VETERAN to 38470. 
Join the Veteran on the Move on Facebook!
Check out Veteran on the Move on Facebook to connect with our guests! It's a great place where you can stay in touch with other veterans who are transitioning to entrepreneurship.  Get updates and free gouge on the people, programs and resources to help you in your transition to entrepreneurship.
Veteran On the Move podcast has published over 250 episodes. Our listeners have the opportunity to hear in-depth interviews conducted by host Joe Crane . The podcast features people, programs and resources to assist veterans in their transition to entrepreneurship.  As a result, Veteran On the Move has over 1,000,000 verified downloads through Stitcher Radio, SoundCloud, iTunes and RSS Feed Syndication making it one of the most popular Military Entrepreneur Shows on the Internet Today.
Lorem ipsum dolor sit amet, consectetur adipiscing elit, sed do