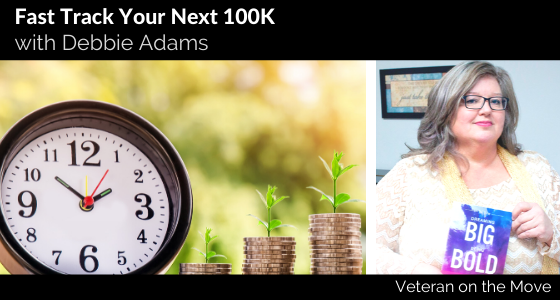 Podcast: Play in new window | Download
About this Episode
Today we have the privilege to host Debbie Adams on the show. Debbie is a veteran of the Canadian Army and a business owner.  She is an expert in new entrepreneurship, financial literacy, communication and taxes.  Debbie takes people without an entrepreneurial bone in their body and teach them how to make a ton of money and love doing it.
Key Points of Discussion
The Canadian Army

Debbie's transition to civilian life

Starting a business

Teaching money making

Unconscious bias against making money

Mindset and Mindshift

Spectrum of making money

Debbie's methodology
Key Milestones of this Episode
[01:16]  Debbie Adams's military background
[02:33]  Vision disability and kicked out of the military
[04:19]  Debbie's experience after the Army
[06:35]  Starting a business and monetizing it
[09:11]  Teaching business people how to make money
[13:19]  Client demographic
[19:13]  Fear of charging too much
[25:50]  Methodology to train clients
[29:33]  Diverse supplier
Key Quotes by Debbie Adams
"They told me I was legally blind and they told me I wouldn't be able to continue in the military."

"3,000 applications later nobody would hire me."

"Since I had such success as a woman in trade and as somebody in a male dominant environment I thought I would teach skills around that."

 "We often have to go through an inventory of skills to say what can I monetize?"

"I come from a scarcity background mindset and getting to that place where money comes in and you make decisions about for the long term that's a mindshift."

"Price does not drive people away."
About Our Guest Debbie Adams
Debbie Adams served in the Canadian Force for 11 years before a disability made it impossible for her to continue. With many barriers to employment, entrepreneurship became the only option. She now owns an income tax and business coaching business where she inspires other business people to move from heart to serve to profit motive. She is a 3 time published author and award winning speaker on the topic of money mindset.
To hear more about Debbie's experience, download this episode now.
Money Mindset: How Changing My Mind About Money Helped Me To Succeed As An Entrepreneur Kindle Edition by Debbie Adams (Author), Marlene Oulton (Editor)
Book Club/Workshop 2020, Fast-track business growth in 2020:  Think and Grow Rich by Napoleon Hill
About Our Sponsor
Navy Federal Credit Union is a member-driven credit union with over 8 million members and incredible benefits to support the financial stability of military families.  Visit navyfederal.org/veteranmove for more information.
Don't forget to leave us a 5-star rating and review if you enjoyed the show. We would love to hear from you!
Download Joe Crane's Top 7 Paths to Freedom or get it on your mobile device. Text VETERAN to 38470. 
Join the Veteran on the Move on Facebook!
Check out Veteran on the Move on Facebook to connect with our guests! It's a great place where you can stay in touch with other veterans who are transitioning to entrepreneurship.  Get updates and free gouge on the people, programs and resources to help you in your transition to entrepreneurship.
Veteran On the Move podcast has published over 250 episodes. Our listeners have the opportunity to hear in-depth interviews conducted by host Joe Crane . The podcast features people, programs and resources to assist veterans in their transition to entrepreneurship.  As a result, Veteran On the Move has over 1,000,000 verified downloads through Stitcher Radio, SoundCloud, iTunes and RSS Feed Syndication making it one of the most popular Military Entrepreneur Shows on the Internet Today.
Lorem ipsum dolor sit amet, consectetur adipiscing elit, sed do