3 Veteran and Business-Minded Conferences of 2019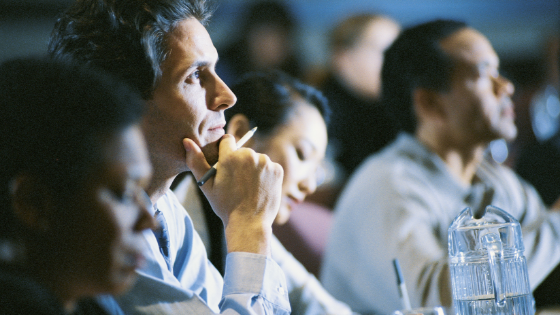 Sometimes as business owners, we find ourselves in a rut. We have big dreams and big goals. However, sometimes that fizzles out. Things we go over in this blog or the one your reading now, are just a couple ways to really expand yourself and your business.
Most likely, you're looking to grow your business. Most entrepreneurs consider attending business conferences. Sadly, it can be tough trying to figure out which conference is the best fit for you.  You have to find out what each conference focuses on.  Is it geared more towards a particular industry? Some are more dedicated to sectors and some can be broad creative-like conferences.  Some conferences require membership.  While others simply require a ticket purchase.  Business conferences not only help with personal and business growth but you can make connections with other like-minded business owners.  Just some goals of these conferences are to teach attendees topics they might need to brush up on, share ideas, and to ignite motivation. We've chosen just 3 of the many conferences here in the U.S. that we felt were great for small business owners veteran-owned or not to attend.
Founded by Joe Polish, this conference is a community intentionally created for Entrepreneurs to grow, learn, and serve others. Although this may not be for everyone. (There is a large cost for this) You will quickly find that this conference is not just a conference.   But a group or what they call a membership. You apply for membership and gain direct access to people, talent, and resources. As well as the ability to attend this annual conference and one other in that year's membership. If you feel you're the person that wants to excel and raise the bar in every area of your life, this conference & membership maybe just for you.  The group has been known to change an entrepreneur's life.  It has elevated businesses to places that CEO's never thought their businesses could get too.  See what entrepreneur and author Ben Hardy had to say about how the Genius Network changed his life HERE.
Calling all Business Owners! This conference is a dynamic three-day event; connecting entrepreneurs, business executives, and brands with the influencers who shape and support the military community. This conference is one of the largest gatherings of Entrepreneurs, Leaders, and Creatives in the military sector. It has grown rapidly in just 3 years into a community of Military Influencers who understand the importance of mentorship, storytelling, and collaboration.  The conference consists of a series of workshops. This event is jam-packed with a busy schedule of keynotes, breakout sessions, and interactive experiences.  With over 700 influential entrepreneurs at your fingertips;  this conference is a great way to really create relationships. To build ideas for your business and go home feeling energized and ready to hit the ground running!
This National conference was hosted in San Diego this year. The conference gives you the ability to connect with Corporations, Government Agencies, and Prime Contractors.   The incredible two-day conference is designed to give you everything you need to really impact your business. There's even an award banquet that concludes the conference you can attend.  The schedule is filled with break out sessions such as Pitching your business and Discussions on sales plans and longevity. As well as panel discussions with successful Veteran business owners and how they utilize their business status for success. Day 3 is filled with an expo you can attend where you can network and meet vendors.
There are so many other conferences you can attend as well. Both on a small and large scale. Costs of conferences will vary just like topics and speakers.  We always recommend starting out, reading books and saving your money. You can find a great list of recommended books here.  I was once told by a self-built CEO who runs a multi-million dollar business in the Financial Industry that: "Learning from working and earned lessons is best."  He suggested studying the great reads like Think and Grow Rich by Napoleon Hill is a great place to start.
Lorem ipsum dolor sit amet, consectetur adipiscing elit, sed do