Boron Capital with Zach Morrow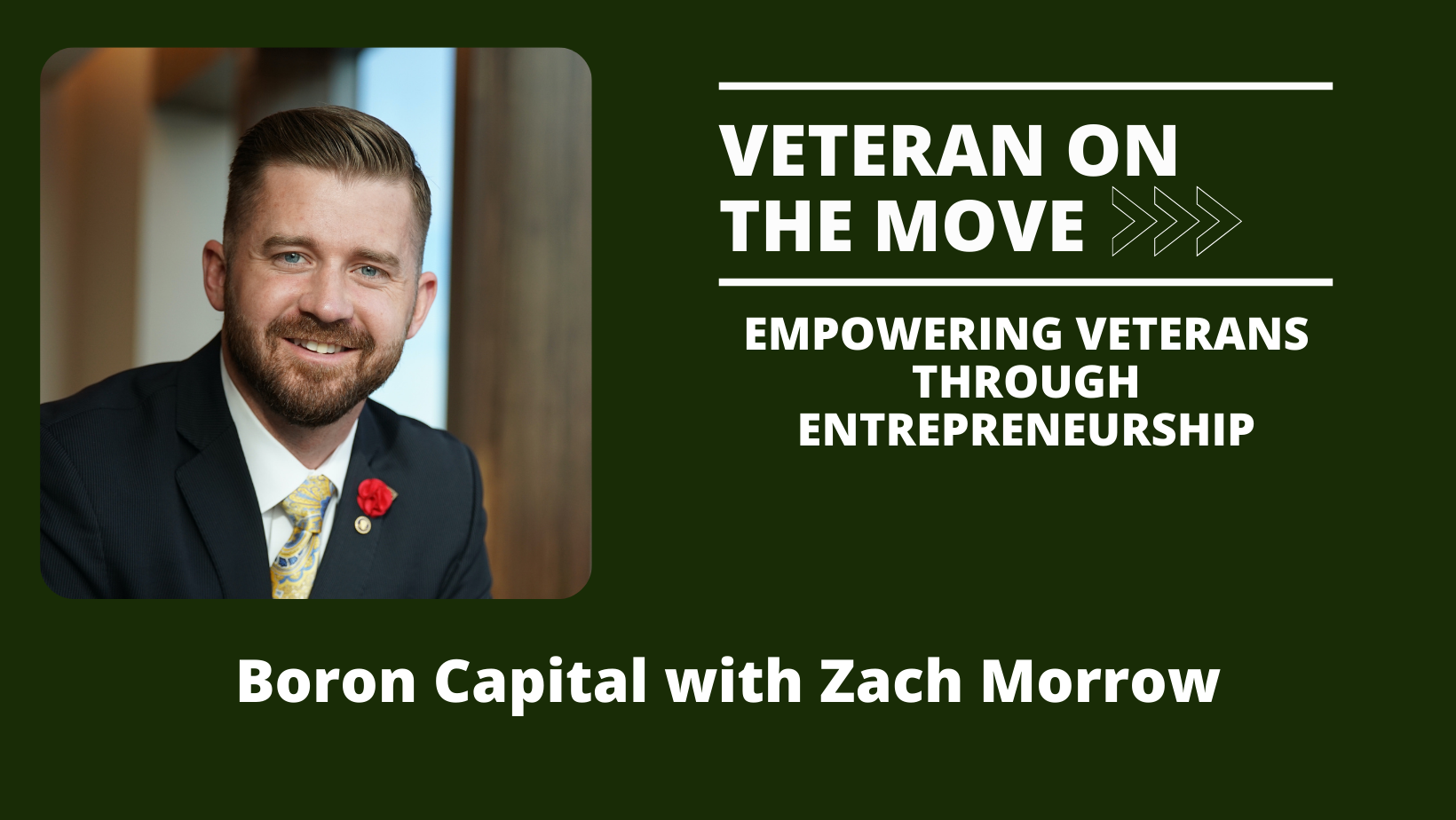 Podcast: Play in new window | Download
This week Joe is joined by Marine Corps Veteran Zach Morrow. Zach served on Active Duty for five years and was a member of the Marine Presidential Security Force. As he transitioned into civilian life Zach continued his education and ended up owning his own gym. While running his business, he was mentored by a client that would later offer him a position at his current company, Boron Capital. Zach and Joe discuss the importance of soft skills and qualities that lead Veterans to success and the importance of being prepared for opportunity. He shares more information about Cryptocurrency and Real Estate investments. If you want to learn more about crypto, text info to 877-771-0615 to connect with Zach. 
About Our Guest 
Zach Morrow is a seasoned Real Estate and Cryptocurrency Hedge Fund manager who doesn't just help protect his client's wealth, he has actively protected 3 different U.S. presidents while serving on a Marine Presidential Security Force for a top secret facility and Department of the White House. Now he focuses on serving investors through alternative asset classes like Blockchain Technology, Cryptocurrency, and specific sectors of Real Estate. Zach serves as the VP of Investor Relations for Boron Capitals family of investment funds, whose teams have created triple digit returns and consistently outpaced Bitcoin..
Join the conversation on Facebook!
Check out Veteran on the Move on Facebook to connect with our guests and other listeners. A place where you can network with other like-minded veterans who are transitioning to entrepreneurship and get updates on people, programs and resources to help you in YOUR transition to entrepreneurship.
About Our Sponsors

Navy Federal Credit Union 
When you hear the name Navy Federal Credit Union, you probably think that it's just for members of the U.S. Navy. In fact, Navy Federal Credit Union serves all branches of the armed forces, Veterans, and the families of servicemembers.
Navy Federal Credit Union wants to thank the men and women in the U.S. military for their important commitment to our country. For more than 85 years, Navy Federal Credit Union has made it their mission to help people in the military community and they understand their members better than anyone.
This month is Military Appreciation Month, so show your own support for our troops with #MissionMilitaryThanks. Learn more about how Navy Federal is celebrating the commitment that connects them to their members at navyfederal.org/celebrate.
At Navy Federal, our members are the mission.  
Want to be our next guest? Send us an email at interview@veteranonthemove.com. 
Did you love this episode? Leave us a 5-star rating and review! 
Download Joe Crane's Top 7 Paths to Freedom or get it on your mobile device. Text VETERAN to 38470.
Veteran On the Move podcast has published over 430 episodes. Our listeners have the opportunity to hear in-depth interviews conducted by host Joe Crane. The podcast features people, programs, and resources to assist veterans in their transition to entrepreneurship.  As a result, Veteran On the Move has over 7,000,000 verified downloads through Stitcher Radio, SoundCloud, iTunes and RSS Feed Syndication making it one of the most popular Military Entrepreneur Shows on the Internet Today.
Lorem ipsum dolor sit amet, consectetur adipiscing elit, sed do