Patriot Family Homes with Joe Riley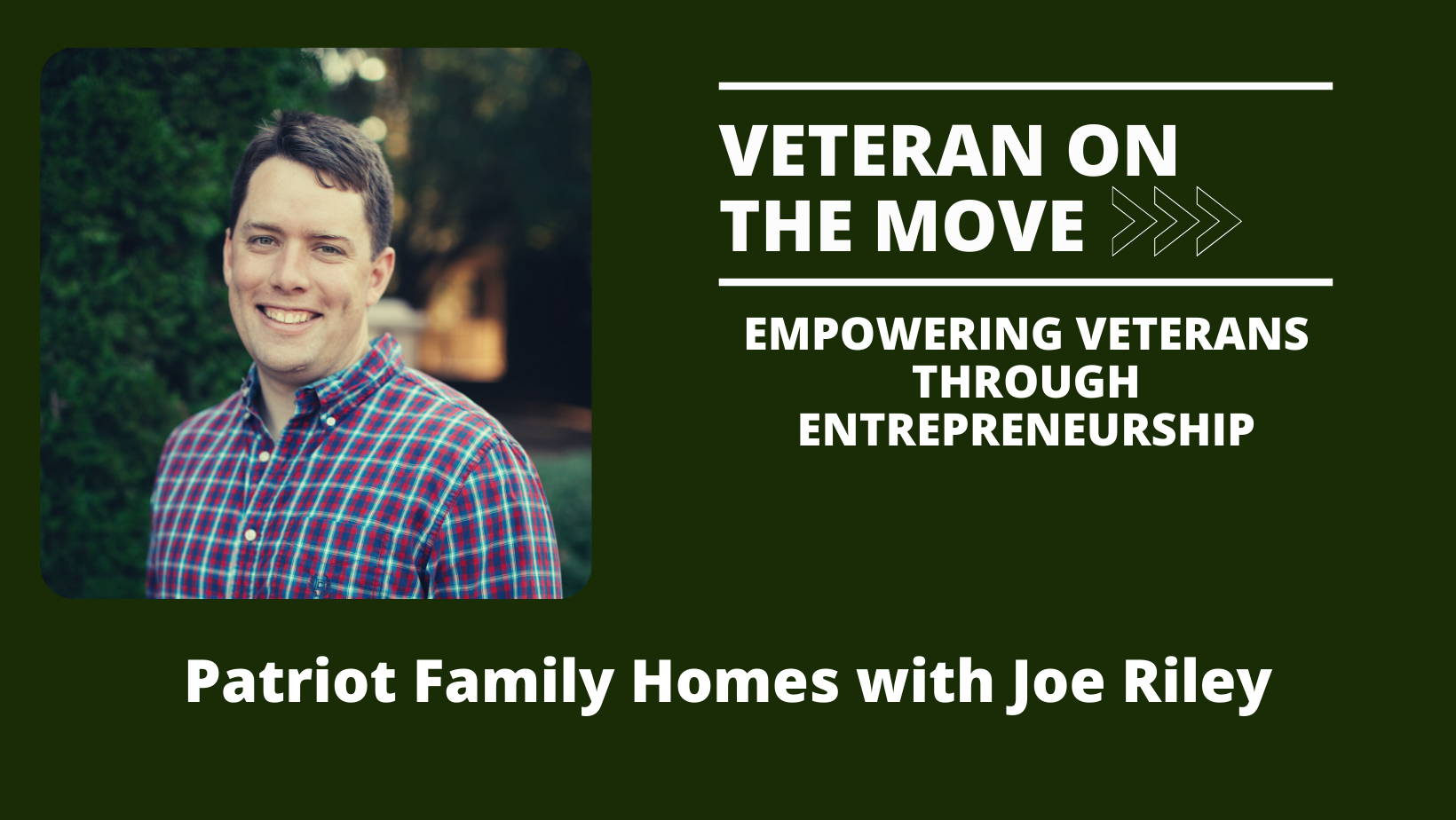 Podcast: Play in new window | Download
This week Joe is joined by Army Veteran and founder of Patriot Family Homes, Joe Riley. Joe started his business while on Active Duty after seeing the need for flexible and reliable housing near military bases. He participated in the Skillbridge Program as part of his transition and now offers internships with his business. Patriot Family Homes provides property management services, short term rental management, and rental properties in over 25 markets. Joe discusses the importance of leaders understanding all aspects of their business and how he overcame challenges in the real estate industry. Check out Patriot Family Homes here. 
About Our Guest 
Joe founded Patriot Family Homes to meet the need for affordable, reliable housing in the South, particularly near military bases. A captain in the Army, Joe has deployed with the Ranger Regiment to Afghanistan and Ukraine. He previously served on the National Security Council at the White House.
Join the conversation on Facebook!
Check out Veteran on the Move on Facebook to connect with our guests and other listeners. A place where you can network with other like-minded veterans who are transitioning to entrepreneurship and get updates on people, programs and resources to help you in YOUR transition to entrepreneurship.
About Our Sponsor

Navy Federal Credit Union 
When you hear the name Navy Federal Credit Union, you probably think that it's just for members of the U.S. Navy. In fact, Navy Federal Credit Union serves all branches of the armed forces, Veterans, and the families of servicemembers.
When it comes to buying a car, Navy Federal knows it's a big investment. That's why they offer rates as low as 1.79% APR on new vehicles, along with flexibility with monthly payments and terms. And now, when you refinance your auto loans from another lender, members could save and get $200! Get decisions in seconds and start saving with Navy Federal Credit Union. To earn and save more as a member, learn more at navyfederal.org.
At Navy Federal, our members are the mission.  
Want to be our next guest? Send us an email at interview@veteranonthemove.com. 
Did you love this episode? Leave us a 5-star rating and review! 
Download Joe Crane's Top 7 Paths to Freedom or get it on your mobile device. Text VETERAN to 38470.
Veteran On the Move podcast has published over 425 episodes. Our listeners have the opportunity to hear in-depth interviews conducted by host Joe Crane. The podcast features people, programs, and resources to assist veterans in their transition to entrepreneurship.  As a result, Veteran On the Move has over 7,000,000 verified downloads through Stitcher Radio, SoundCloud, iTunes and RSS Feed Syndication making it one of the most popular Military Entrepreneur Shows on the Internet Today.
Lorem ipsum dolor sit amet, consectetur adipiscing elit, sed do