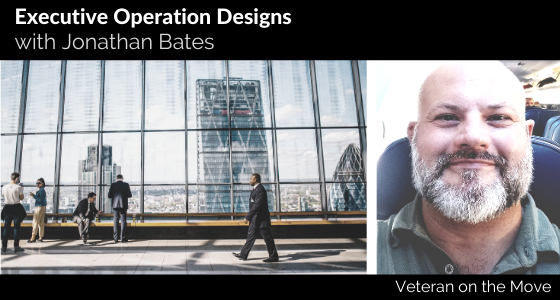 Podcast: Play in new window | Download
About this Episode
Today we are honored to host Jonathan Bates on the show. Jonathan served in the Navy for 23 years and was an Explosive Ordnance Disposal technician.  On an interesting note, Jonathan has 3,987 jumps throughout his military career.  
Jonathan has a great program to help your business get the credit it deserves. As the founder of Executive Operation Designs, he helps you learn how to fund your business with business credit NOT personal credit.
Key Points of Discussion
Jonathan's introduction

Being a great salesperson

Building systems and processes

Running an entrepreneurial venture on active duty

Military planning process and business

Building a business
Key Milestones of this Episode
[01:07]  Jonathan's experience in the Navy
[02:44]  From EOD to entrepreneurship
[05:02]  Systematizing and automating your business
[10:40]  Entrepreneur on Active Duty
[16:40]  Using your mission, vision and values
[28:06]  Jonathan's business venture
[30:36]  Helping businesses build credit
[36:07]  Removing red flags
Key Quotes by Jonathan Bates
"The focus of EOD is to keep everyone safe."

"That's all I've done for 23 years is build systems and processes."

"Running a bomb squad is exactly like running a business."

"The business credit system in America is set up to test the trustworthiness of your business."

"We give you the criteria to set up your business correctly."
About Our Guest Jonathan Bates
Jonathan Bates is a seasoned entrepreneur who has founded multiple companies. At Executive Operation Designs, veterans get what they need to grow their businesses!  His experience as an Explosive Ordnance Disposal technician continually drives him to question everything and search for better ways to do things. Through personal experience and while working with over 300 companies, one of the best ways to improve things is to learn how to fund your business with business credit, NOT personal credit. Jonathan wants to share, so you don't make the same mistakes he did until someone taught him… listen in and Stop Bootstrapping!
Connect with Jonathan
Email: Jonathan Bates
About Our Sponsor
Bench Bookkeeping is this episodes sponsor.  Being an entrepreneur, bookkeeping is a necessary evil.  To put your bookkeeping needs on autopilot check out Bench Bookkeeping and get one month free at veteranonthemove.com/bench.
To hear more about Jonathan's success, download this episode now.
Don't forget to leave us a 5-star rating and review if you enjoyed the show. We would love to hear from you!
Download Joe Crane's Top 7 Paths to Freedom or get it on your mobile device. Text VETERAN to 38470.  
Join the Veteran on the Move on Facebook!
Check out Veteran on the Move on Facebook to connect with our guests! It's a great place where you can stay in touch with other veterans who are transitioning to entrepreneurship.  Get updates and free gouge on the people, programs and resources to help you in your transition to entrepreneurship.
Veteran On the Move podcast has published over 250 episodes. Our listeners have the opportunity to hear in-depth interviews conducted by host Joe Crane . The podcast features people, programs and resources to assist veterans in their transition to entrepreneurship.  As a result, Veteran On the Move has over 1,000,000 verified downloads through Stitcher Radio, SoundCloud, iTunes and RSS Feed Syndication making it one of the most popular Military Entrepreneur Shows on the Internet Today.
Lorem ipsum dolor sit amet, consectetur adipiscing elit, sed do