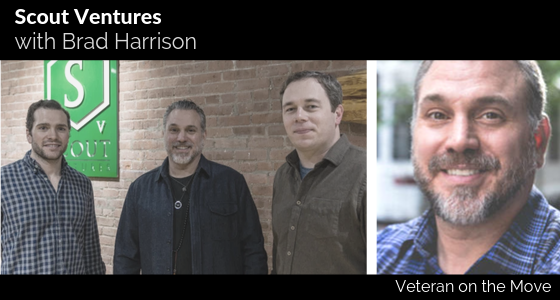 Podcast: Play in new window | Download
About this Episode
Imagine leaving your good career to jump into the entrepreneurship boat, which is filled with uncertainties without knowing where to begin. It's not a bed of roses, but it pays off in the end.
Today we are honored to host Bradley Harrison on the show. Brad tells us how he transitioned from the army to entrepreneurship. The ups and downs and when the sweat finally pays off.
Key Points of Discussion
Brad's introduction

Leaving the army

Brad's journey in MIT

Jumping into the entrepreneurship world

Tech ideas that fascinate Brad
Key Milestones of this Episode
[01:07]  Brad's stay in the army
[02:41]  Transitioning out of the military
[06:07]  Joining MIT
[09:12]  A taste of the entrepreneurship world
[16:05]  Tech ideas that fascinate Brad
[22:56]  The storage units
[26:41]  The big pay-outs
[29:13]  How does scout ventures work?
[35:26]  Words of wisdom from Brad
Key Quotes by Bradley Harrison
"Get out there, go to some events in your local community."

"No investor has ever got upset that the head of sales is outperformed."

"When a management team isn't optimally functioning, they normally have a, a person in the flow that is part of the problem."

"There's a lot of value in getting an all cash."

"There can be good ideas that are lifestyle businesses and then good ideas that are venture back-able businesses."

"If you really want to, you know, start companies, you need to understand how they operate when they're huge."
About Our Guest Bradley Harrison
Bradley C. Harrison is an entrepreneur and seasoned business development who founded Scout Ventures to focus on making the world a better, safer place by cultivating standout frontier technologies built by hard-to-access founders. As Managing Partner of Scout Ventures, Brad has invested in over 80 startups, including Unite US, Olapic, Signpost, ID.me, RedOwl Analytics, and Bespoke Post.
Connect with Brad
LinkedIn: https://www.linkedin.com/in/bradharrison/
Email: brad@scoutventures.com
Blog: https://mayorbrad.com/
About Our Sponsor
Navy Federal Credit Union is a member-driven credit union with over 8 million members and incredible benefits to support the financial stability of military families.
Visit navyfederal.org/veteranmove for more information.
To hear more about Brads's success, download this episode now.
Don't forget to leave us a 5-star rating and review if you enjoyed the show. We would love to hear from you!
Download Joe Crane's Top 7 Paths to Freedom or get it on your mobile device. Text VETERAN to 38470.  
Join the Veteran on the Move on Facebook!
Check out Veteran on the Move on Facebook to connect with our guests! It's a great place where you can stay in touch with other veterans who are transitioning to entrepreneurship.  Get updates and free gouge on the people, programs and resources to help you in your transition to entrepreneurship.
Veteran On the Move podcast has published over 250 episodes. Our listeners have the opportunity to hear in-depth interviews conducted by host Joe Crane . The podcast features people, programs and resources to assist veterans in their transition to entrepreneurship.  As a result, Veteran On the Move has over 1,000,000 verified downloads through Stitcher Radio, SoundCloud, iTunes and RSS Feed Syndication making it one of the most popular Military Entrepreneur Shows on the Internet Today.
Lorem ipsum dolor sit amet, consectetur adipiscing elit, sed do