Bunker Labs with France Hoang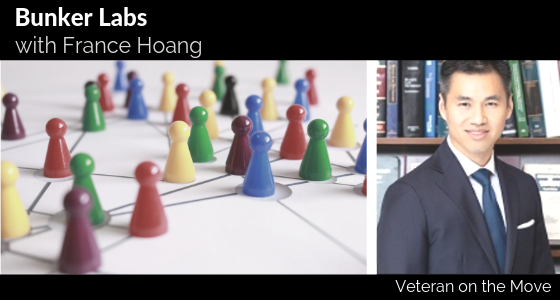 France Hoang is a veteran entrepreneur who has been on the founding teams of companies that have generated over $600 million of combined sales and employed over 1,200 professionals across the fields of law, aerospace, defense, government services, and technology.
France Hoang- Military Experience
France was born in Vietnam in 1973. In 1975 he was with his family in Saigon when Communist forces were closing in on the area. Luckily, him and his family were evacuated by US forces and brought to America. France said this experience motivated him to join the US Military. He has been commissioned twice terms and was honorably discharged both times. France previously deployed to the Former Yugoslavia during Operations Joint Endeavor and Joint Guard and later served as the Deputy Chief of Police and SWAT Commander for Fort Leavenworth, Kansas. He also previously worked as a lawyer at the law firm of Williams & Connolly and briefly served as an Assistant United States Attorney in the Eastern District of Virginia.
"And based on that experience I felt motivated and obligated to join the military, which I did." -France Hoang
Education and Experience
France graduated in the academic top 1% of his West Point class, received a Masters in Criminal Justice from Washburn University, and graduated magna cum laude from Georgetown University Law Center. He somehow also managed to pass both Ranger School and the CPA Exam. France also has over 20 years of national security experience, with service in every branch of the U.S. Government. He clerked for Judge Thomas Griffith on the U.S. Court of Appeals for the D.C. Circuit and was appointed by President George W. Bush as an Associate White House Counsel and Special Assistant to the President. Shortly after leaving the White House, France mobilized in support of Operation ENDURING FREEDOM where he served as the Executive Officer of a U.S. Army Special Forces Company on a combat deployment in Southeast Afghanistan. France said he never really had any plans to start up a business during his time in the military.
Entrepreneurial Company
France was in contact with a guy by the name of Joe Fluitt during his time in the military. Joe had been in France's ear about joining one of the companies he had started up when he got back from Afghanistan. France was never planning on getting involved with entrepreneurship, as he planned on going back to being a lawyer. France rejected the offer, but gave it a few days and thought about it. After careful consideration, France accepted Joe's offer. France's current and previous Board service includes MAG Aerospace, the Stimson Center, Marymount University, Bunker Labs, and the Greater Washington Board of Trade. France also serves as an advisor to the ABA Standing Committee on Law & National Security. France has been quoted by Law360, American Lawyer, National Defense Magazine, and the Federal Times, and his commentary has been published by the Wall Street Journal.
"I applied what I called the rocking chair test, which is the things that you would regret not having done when you're 98 years old sitting in your rocking chair." -France Hoang
To hear more about France's entrepreneur success, download this episode now.
Don't forget to leave us a 5-star rating and review if you enjoyed the show. We would love to hear from you!
Download Joe Crane's Top 7 Paths to Freedom or get it on your mobile device. Text VETERAN to 38470.  
Show Sponsor
"I have slept on the dirt, the green yoga mat and military cot many a night during my days in the military and now I sleep in lots of hotel rooms when I'm on the road.  So I know a good mattress when I see one. A few weeks ago we got our new GhostBed and let me tell you…..it's the best mattress I've ever slept on. We don't ever see ourselves going back to a traditional mattress." –  Joe Crane
What separates GhostBed Mattresses from the others?  They are found on the principle of delivering a bigger, better and more comfortable mattress at a lower cost.  GhostBed has three mattresses all designed to help you sleep better, they offer a 101 night hassle free return and amazing customer service.  GhostBed has over 20,000 customer reviews so you need to check them out at http://www.veteranonthemove.com/ghostbed
Join the Veteran on the Move on Facebook!
Check out Veteran on the Move on Facebook to connect with our guests! It's a great place where you can stay in touch with other veterans who are transitioning to entrepreneurship.  Get updates and free gouge on the people, programs and resources to help you in your transition to entrepreneurship.
Veteran On the Move podcast has published over 250 episodes. Our listeners have the opportunity to hear in-depth interviews conducted by host Joe Crane . The podcast features people, programs and resources to assist veterans in their transition to entrepreneurship.  As a result, Veteran On the Move has over 1,000,000 verified downloads through Stitcher Radio, SoundCloud, iTunes and RSS Feed Syndication making it one of the most popular Military Entrepreneur Shows on the Internet Today.
Lorem ipsum dolor sit amet, consectetur adipiscing elit, sed do