It's about Solving Problems with Marine Veteran Glenn Fisher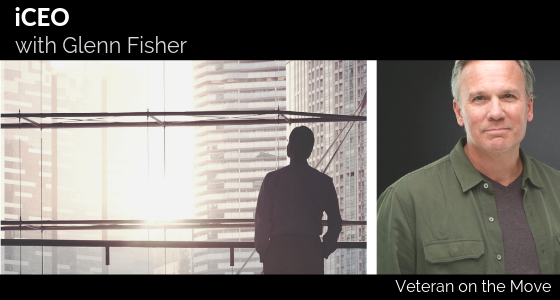 Glenn Fisher is a highly experienced senior executive, a "rainmaker" driven for continuous improvement with an outstanding record of starting, building, growing and operating companies. Glenn is passionate about making a difference; building teams that are aligned with the mission, committed to innovation and change, laser-focused on priorities that lead to better results.
Glenn's roles have spanned the country in various industries including: alternative lending, technology systems, debt collections, business process outsourcing, payment processing, insurance, investment, loan servicing, business intelligence, Saas, auditing, construction, waste & recycling management, logistics & transportation, manufacturing, legal services and consulting.
Glenn Fisher- Marine Corps Experience
Glenn spent time in the Marine Corps as an Avionics Technician for a Marine Fighter Squadron stationed in Yuma, Arizona. He spent 4 years active duty in the Marine Corps and 2 years inactive. Glenn worked on Harrier Jets and A-4 Skyhawks, and built some important relationships during his time with the Marines. Glenn was in school during his time with the Marines and also started a part time business.
"When I was in the Marine Corps I had my Marine Corps job, I went to school, and then I also created a business while in the Marine Corps. I printed T-shirts for all types of people. I basically outsourced the printing of it, so I was a sales organization. That allowed me to create a business, and by the time I got out of the marine corps, I had a business and I was making part time $500 to $1000 a month doing that. I thought if I can do this investing part time, what could I do if I did this full time? So I naturally went ahead and created a business called Specialty Design, and moved that to Dallas after I got out of the Marine corps. I started picking up accounts, and before you knew it I was printing around 40,000 shirts a day." -Glenn Fisher
Progression
Glenn had a full time job at a hotel after his time in the Marine Corps, and this granted him financial security to build up his business. He also worked as a bartender at a comedy club where he met his wife. He then partnered up with 2 guys he outsourced the printing from.
Things went well for the first few years, and Glenn landed accounts with Dr. Pepper and 7UP, but one day he walked into the office to find the IRS tagging all of their equipment. Glenn was unaware that his business partners were not paying their taxes for the business they had created before they became partners. Glenn had lost everything he worked so hard for, and he learned a valuable lesson about who one should – or should not do business with.
"I walked away, but all of the business I built was gone in an instance, because I didn't do a very good job partnering with the right guys." – Glenn Fisher
Entrepreneurial Company
Glenn had to start from scratch, so he moved to Kansas City with his wife. Glenn was out grabbing a beer with a friend and overheard a man yelling furiously at someone over the phone. He started conversation with the man and found out he was losing a ton of money because his employees on his job site were sitting around waiting for an empty trash container so they could clean up. The company in charge of the trash containers was doing a poor job and costing this man a fortune. Noticing the opportunity, Glenn offered to do business with this guy, and he agreed. Glenn took out a loan to buy the equipment, then got his first contract. He was competing with Deffenbaugh, the same company that caused his first client to switch over.
"I eventually sold that business to Waste Management, then they asked me to turn around a business that had a half a billion dollars in revenue. It had never made a profit in 20 years, so I turned that around and it was generating 22% evened out. I then sold that company to BFI Canada." -Glenn Fisher
Civilian Workforce
Glenn shares his thoughts about military veterans getting out of the military and going into the civilian workforce.  
"I've never set out to be an entrepreneur, I set out to solve problems." -Glenn Fisher
To hear more about Glenn's entrepreneur success, download this episode now.
Don't forget to leave us a 5-star rating and review if you enjoyed the show. We would love to hear from you!
Download Joe Crane's Top 7 Paths to Freedom or get it on your mobile device. Text VETERAN to 38470.  
Show Sponsor
"I have slept on the dirt, the green yoga mat and military cot many a night during my days in the military and now I sleep in lots of hotel rooms when I'm on the road.  So I know a good mattress when I see one. A few weeks ago we got our new GhostBed and let me tell you…..it's the best mattress I've ever slept on. We don't ever see ourselves going back to a traditional mattress." –  Joe Crane
What separates GhostBed Mattresses from the others?  They are found on the principle of delivering a bigger, better and more comfortable mattress at a lower cost.  GhostBed has three mattresses all designed to help you sleep better, they offer a 101 night hassle free return and amazing customer service.  GhostBed has over 20,000 customer reviews so you need to check them out at http://www.veteranonthemove.com/ghostbed
Join the Veteran on the Move on Facebook!
Check out Veteran on the Move on Facebook to connect with our guests! It's a great place where you can stay in touch with other veterans who are transitioning to entrepreneurship.  Get updates and free gouge on the people, programs and resources to help you in your transition to entrepreneurship.
Veteran On the Move podcast has published over 250 episodes. Our listeners have the opportunity to hear in-depth interviews conducted by host Joe Crane . The podcast features people, programs and resources to assist veterans in their transition to entrepreneurship.  As a result, Veteran On the Move has over 1,000,000 verified downloads through Stitcher Radio, SoundCloud, iTunes and RSS Feed Syndication making it one of the most popular Military Entrepreneur Shows on the Internet Today.
Lorem ipsum dolor sit amet, consectetur adipiscing elit, sed do