Connecting Knife Creators and Customers With BladesWork Unlimited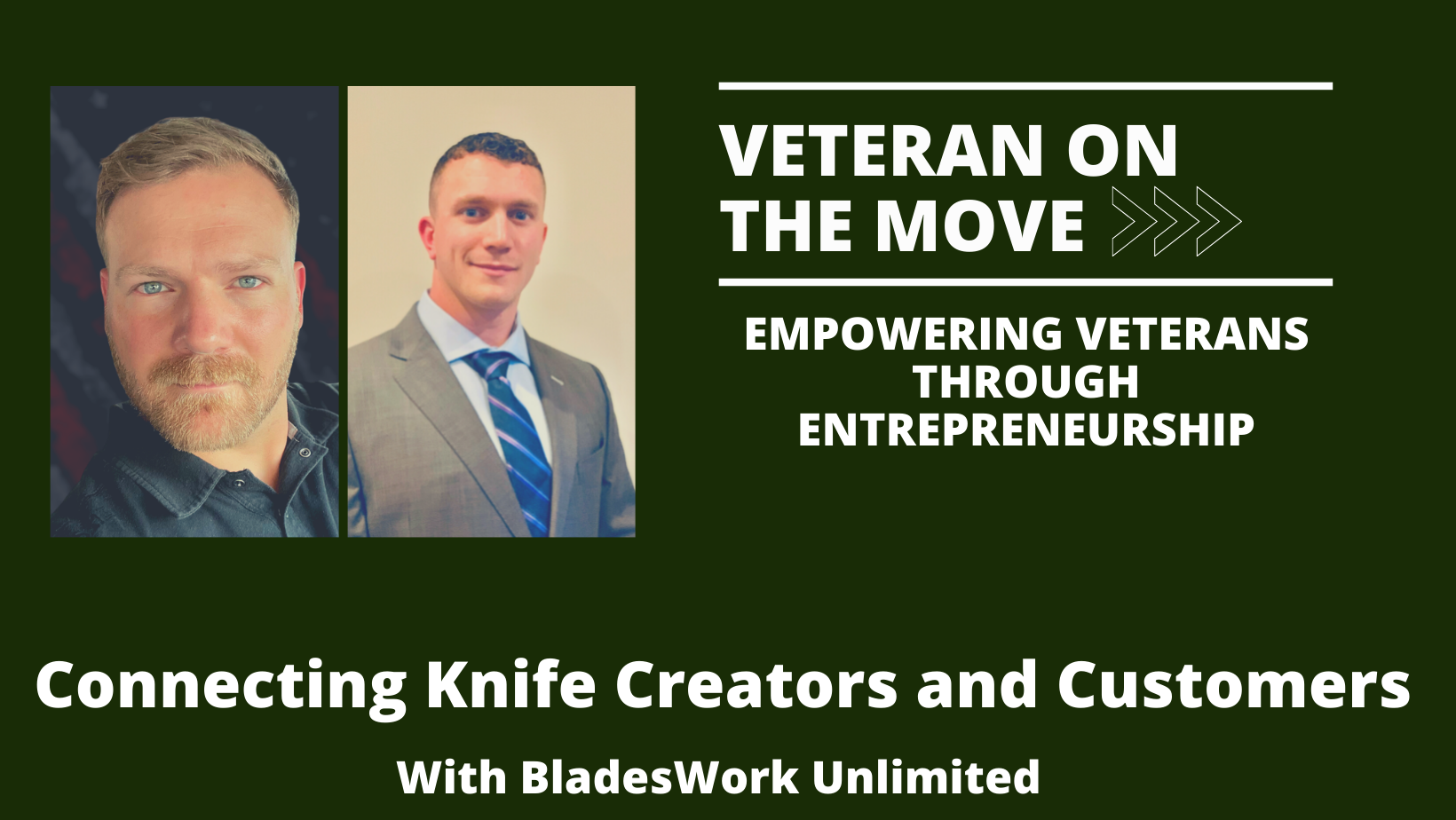 Podcast: Play in new window | Download
Co-founders of BladesWork Unlimited and Marine Corps Veterans, Christian Helms and Robert 'Bo' Plante came by the show to share more about their business and the story behind their startup journey. BladesWork Unlimited provides a sales and marketing platform to bladesmiths, connecting them with customers. Through BladesWork's marketplace, customers can create custom knives or shop from qualified, vetted craftsmen. Bo and Christian share how they transitioned from the Marines into entrepreneurship and the value of their military experience. They discuss entering and eventually winning funding through a pitch competition and how that helped grow their business. 
Are you a Veteran who is transitioning to Entrepreneurship? Then check out this FREE download for the Top 29 Entrepreneurship Programs for Veterans & their families! Download Here !
About Our Guests
Christian Helms served for 12 years in the Marine Corps, five years enlisted in Reserves and seven years on active duty as an Infantry Officer. BladesWork started as Shadow Blades Forge in 2018 and then became BladesWork unlimited in 2020. Christian has been making knives for 10 years and absolutely loves the community and the process of creating masterpieces. 
Robert 'Bo' Plante is a former Marine Officer and current business owner, consultant, and MBA Graduate Student at George Washington University. During his time on active duty, Bo began his graduate studies at night and co-founded BladesWork Unlimited. Upon EAS, Bo has begun working as a consultant for TSA and DHS and developing a series of leadership discussions for mid-level employees and future leaders, as well as continuing his service in the National Guard.   
Join the conversation on our Facebook!
Check out Veteran on the Move on Facebook to connect with our guests and other listeners. A place where you can network with other like-minded veterans who are transitioning to entrepreneurship and get updates on people, programs and resources to help you in YOUR transition to entrepreneurship.
About Our Sponsors
Navy Federal Credit Union 

We've bought a few cars with Navy Federal over my 31 years as a member with their fully loaded car buying experience. When you become a member of Navy Federal Credit Union, life gets better.  You can finance, buy, protect, and enjoy your auto purchase all through one convenient place. They have low rates and preapproval that's good for 90 days, so you know what you can afford while you shop. You can save thousands off MSRP with Navy Federal's car buying service, powered by TrueCar. You can also get exclusive member savings with CARFAX, GEICO and SiriusXM. They're always available with 24/7 member service representatives to answer any questions.
Learn more here. 
At Navy Federal, our members are the mission. 
Credit and collateral subject to approval. Your actual savings off MSRP may vary. Navy Federal Credit Union is federally insured by NCUA.
20 for 20 Podcast
It's the 20th anniversary of 9/11 which means that college freshmen weren't even alive then. And with our busy lives and the 24 hour news cycle, the country is in danger of forgetting 9/11. It's why I'm excited to tell you about a podcast called 20 for 20 that's telling 20 heroic stories about 9/11 for the 20th anniversary.
It's hosted by a firefighter named Niels Jorgensen who got leukemia from cleaning up Ground Zero and the storytelling is powerful. 
To check out these incredible stories, go to 20for20Podcast.com or you can find 20 for 20 wherever you get your podcasts.
Want to be our next guest? Send us an email at interview@veteranonthemove.com. 
Did you love this episode? Leave us a 5-star rating and review! 
Download Joe Crane's Top 7 Paths to Freedom or get it on your mobile device. Text VETERAN to 38470.
Veteran On the Move podcast has published over 375 episodes. Our listeners have the opportunity to hear in-depth interviews conducted by host Joe Crane. The podcast features people, programs, and resources to assist veterans in their transition to entrepreneurship.  As a result, Veteran On the Move has over 1,000,000 verified downloads through Stitcher Radio, SoundCloud, iTunes and RSS Feed Syndication making it one of the most popular Military Entrepreneur Shows on the Internet Today.
Lorem ipsum dolor sit amet, consectetur adipiscing elit, sed do