Leading Your Business From the Front With Kurt Yeghian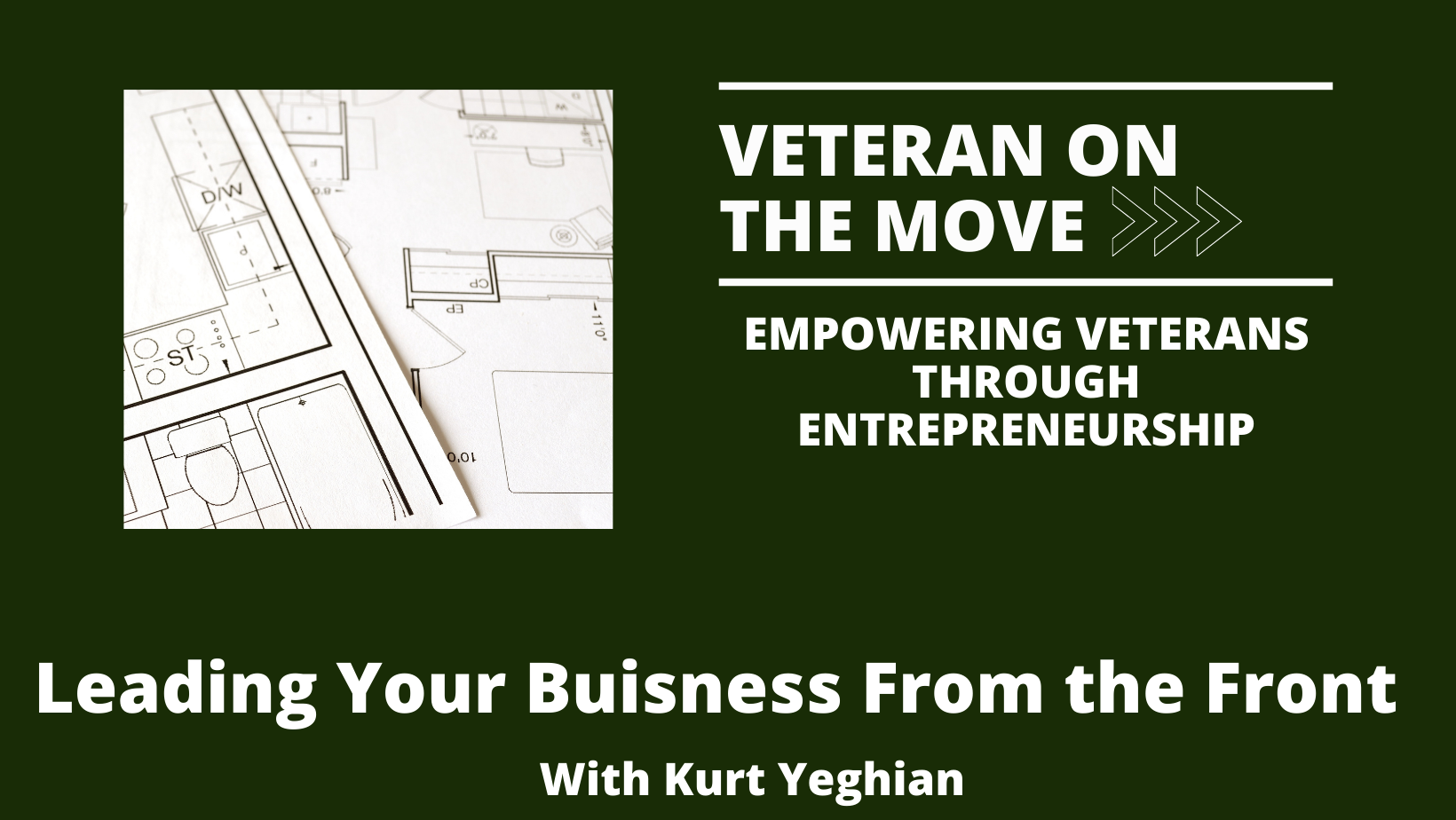 Podcast: Play in new window | Download
CEO and founder of Existing Conditions, Kurt Yeghian, came by the show to talk about his entrepreneurial journey after service and how he has led his successful company for over 23 years. After serving in the Air Force for 13 years, Kurt trained as and entered the private sector as an architect.  Recognizing the need for a better way to conduct an existing condition survey, he founded his own business, specializing in providing accurate building drawings using 3-D laser scanning. Kurt talks about how his military experience has influenced his leadership style and the value Veterans bring to his team. If you are looking to start a business, this episode is for you!
Are you a Veteran who is transitioning to Entrepreneurship? Then check out this FREE download for the Top 29 Entrepreneurship Programs for Veterans & their families! Download Here !
About Our Guest
Kurt Yeghian is the founder and CEO of Existing Conditions, managing daily operations for the company. Mr. Yeghian became a licensed building contractor in 1992 and managed the construction of numerous residential buildings in Rhode Island. Prior to his private sector work experience, Mr. Yeghian spent 13 years as an engineer in the United States Air Force, specializing in existing building analysis and contingency preparedness. Mr. Yeghian attended the Boston Architectural College, and has been appointed chairman of the Boston Society of Architects 3D laser scanning committee.
Join the conversation on our Facebook!
Check out Veteran on the Move on Facebook to connect with our guests and other listeners. A place where you can network with other like-minded veterans who are transitioning to entrepreneurship and get updates on people, programs and resources to help you in YOUR transition to entrepreneurship.
About Our Sponsors
Navy Federal Credit Union 

We've bought a few cars with Navy Federal over my 31 years as a member with their fully loaded car buying experience. When you become a member of Navy Federal Credit Union, life gets better.  You can finance, buy, protect, and enjoy your auto purchase all through one convenient place. They have low rates and preapproval that's good for 90 days, so you know what you can afford while you shop. You can save thousands off MSRP with Navy Federal's car buying service, powered by TrueCar. You can also get exclusive member savings with CARFAX, GEICO and SiriusXM. They're always available with 24/7 member service representatives to answer any questions.
Learn more at here
At Navy Federal, our members are the mission. 
Credit and collateral subject to approval. Your actual savings off MSRP may vary. Navy Federal Credit Union is federally insured by NCUA.
Enso Rings
If you wear a traditional metal ring, you know the hassle of taking it on and off every time you need to use your hands. I'm constantly taking my ring on and off when I'm working out or traveling. That's why I've been loving The Rise Collection from Enso Rings. They're high-quality silicone rings that are a great alternative to hard-metal rings and I can keep it on all day!
Enso Rings' Rise Collection is great for our lifestyle. They combine a classic precious metal look with the comfort and safety of silicone. In stylish colors like obsidian, slate, forest green, and denim. Enso Rings are the perfect alternative for your traditional wedding band and you can leave your ring on no matter what you're doing, whether you're at work, at the gym, or traveling.
Plus, Enso Rings' Rise Collection has the first ever silicone rings infused with SteriTouch™ Antimicrobial Technology, who doesn't want a cleaner ring! And they're made right here in the US. 
Veteran On The Move listeners can get 10% off their first purchase. Just go to EnsoRings.com today and use promo code VETERAN.
20 for 20 Podcast
It's the 20th anniversary of 9/11 which means that college freshmen weren't even alive then. And with our busy lives and the 24 hour news cycle, the country is in danger of forgetting 9/11. It's why I'm excited to tell you about a podcast called 20 for 20 that's telling 20 heroic stories about 9/11 for the 20th anniversary.
Its hosted by a firefighter named Niels Jorgensen who got leukemia from cleaning up Ground Zero and the storytelling is powerful. They tell the story of Stephen Siller running 2 miles through a closed tunnel with 60lbs of gear on his back and giving up his life to save others, a group of 5 civilians who saved over 50 people, and a man who led 50 people praying into their deaths on the 104th floor.
To check out these incredible stories, go to 20for20Podcast.com or you can find 20 for 20 wherever you get your podcasts.
Want to be our next guest? Send us an email at interview@veteranonthemove.com. 
Did you love this episode? Leave us a 5-star rating and review! 
Download Joe Crane's Top 7 Paths to Freedom or get it on your mobile device. Text VETERAN to 38470.
Veteran On the Move podcast has published over 375 episodes. Our listeners have the opportunity to hear in-depth interviews conducted by host Joe Crane. The podcast features people, programs, and resources to assist veterans in their transition to entrepreneurship.  As a result, Veteran On the Move has over 1,000,000 verified downloads through Stitcher Radio, SoundCloud, iTunes and RSS Feed Syndication making it one of the most popular Military Entrepreneur Shows on the Internet Today.
Lorem ipsum dolor sit amet, consectetur adipiscing elit, sed do