Elevating the Health of Healthcare with Steve Kiewiet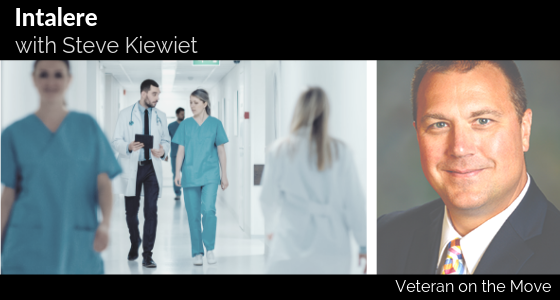 Steve Kiewiet is the Chief Commercial Officer for Intalere, a healthcare company focused on working with healthcare providers to improve their patient engagement, clinical quality and financial performance. He has over 25 years of experience ranging from patient care to business development, sales, marketing and operations. Additionally, Steve is a 10 year veteran of the US Navy. He served as a hospital corpsman and left the service as an HM1.
Steve Kiewiet- Navy Experience and Transition
Steve was a Navy Hospital Corpsman in combination of Navy Reserve and Active Navy for a total of 10 years in Navy medicine.  He obtained his paramedic certification while on active duty so his transition was smooth as his first job was as a paramedic when he got out of the Navy.
"I had a lot of connections and worked with local EMS agencies and went through their hiring recruiting process, which is a similar to the fire process I guess so you kind of go to work for a county government and their EMS agency, but you do practical tests and knowledge tests and all of my care experience in the Navy really helped me." – Steve Kiewiet
Progression
Steve worked as a paramedic while finishing his education.  He then worked as a paramedic for the 911 service as well as for a local emergency room.  Once Steve graduated, he wasn't sure what he wanted to do so he went into pharmaceutical sales.  This was his first time on the other side of medicine and the start of a long journey of many sides of the industry.
"Intalere is a couple of sides of the business, but essentially we're a part of the group purchasing organization where we have health care members, everything from veterinary, dental, physician office, all the way up to single hospital systems and multiple hospital systems and we help them aggregate their contracts." – Steve Kiewiet
Entrepreneurial Company
Intalere is an entrepreneurial oriented type company but is also owned by a healthcare system.  Intermountain Healthcare is the owner headquartered in Salt Lake City. Intalere is a for profit organization owned by a not for profit, but their connection to a healthcare provider system.
"It gives us that ability to be nimble and innovative so we are a small company and we get to try a lot of really new things too, to help this journey to reducing costs of health care." – Steve Kiewiet
Civilian Workforce
Steve shares his thoughts about military veterans getting out of the military and going into the civilian workforce.  
"Well, while we all are very disciplined and know how to follow orders, so to speak, and follow a chain of command.  That ability to make good sound decisions, good judgment, change course when necessary and still adhere to a sound structure and discipline make for really great employees." – Steve Kiewiet
To hear more about Steve's entrepreneur success, download this episode now.
Don't forget to leave us a 5-star rating and review if you enjoyed the show. We would love to hear from you!
Download Joe Crane's Top 7 Paths to Freedom or get it on your mobile device. Text VETERAN to 38470.  
Show Sponsor
"I have slept on the dirt, the green yoga mat and military cot many a night during my days in the military and now I sleep in lots of hotel rooms when I'm on the road.  So I know a good mattress when I see one. A few weeks ago we got our new GhostBed and let me tell you…..it's the best mattress I've ever slept on. We don't ever see ourselves going back to a traditional mattress." –  Joe Crane
What separates GhostBed Mattresses from the others?  They are found on the principle of delivering a bigger, better and more comfortable mattress at a lower cost.  GhostBed has three mattresses all designed to help you sleep better, they offer a 101 night hassle free return and amazing customer service.  GhostBed has over 20,000 customer reviews so you need to check them out at http://www.veteranonthemove.com/ghostbed
Join the Veteran on the Move on Facebook!
Check out Veteran on the Move on Facebook to connect with our guests! It's a great place where you can stay in touch with other veterans who are transitioning to entrepreneurship.  Get updates and free gouge on the people, programs and resources to help you in your transition to entrepreneurship.
Veteran On the Move podcast has published over 250 episodes. Our listeners have the opportunity to hear in-depth interviews conducted by host Joe Crane . The podcast features people, programs and resources to assist veterans in their transition to entrepreneurship.  As a result, Veteran On the Move has over 1,000,000 verified downloads through Stitcher Radio, SoundCloud, iTunes and RSS Feed Syndication making it one of the most popular Military Entrepreneur Shows on the Internet Today.
Lorem ipsum dolor sit amet, consectetur adipiscing elit, sed do