Some Gave It All with Danny Lane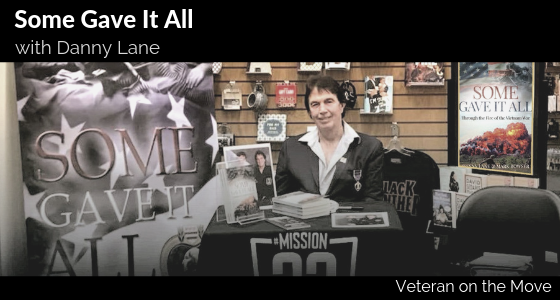 Danny Lane is a highly decorated US Marine. He was awarded two Purple Hearts, the Marine Combat Action Medal and numerous other commendations and valor for his service in Vietnam. Danny is a retired police officer and homicide detective. He is martial arts master in the Chuck Norris System, former bodyguard to stars and corporate VIPS and private investigator. Danny works high profile criminal and civil cases nationwide.
Danny Lane- Drafted
Danny was 19 year old and when the draft was instituted and he got a draft notice in 1968 that he was being drafted by the Army.  In the meantime, Danny joined the Marine Corps. His stepfather was a Marine and out of respect for him and his premature death, Danny paid tribute by joining the Marines and go to war.
"I went to Paris Island and South Carolina for basic and went to Camp LeJeune and Camp Geiger and on to North Carolina for the ITR training, which is  the infantry training. Came home for 20 days then went to Camp Pendleton in California for advanced infantry training and the prisoner of war training in the mountains of California.  Arrived in Okinawa for two days and then by November 20, 1968 I was in Vietnam." – Danny Lane
Transitioning
When Danny was in Vietnam, he started thinking about what he would do when he returned home.  Again, out of honor for his father, he decided that he would like to go into the police force and emailed a few of his step dad's friends who agreed to help him in any way they could if he made it home.   Danny retired law enforcement after 15 years and started his next venture in martial arts with Chuck Norris.
"I  had already been in martial arts since I was in the Marine Corps, but I also had a chain of martial arts schools.  I started those in 1971. So I had about a 14 year history of having a second job already, as being a martial arts teacher and things of that sort.  So I had a fall back plan when I retired. I went right into martial arts and went into pushing myself more nationally and doing martial arts full time." – Danny Lane
Career Phases
Danny then went on to the next phase of his career and became a private investigator and eventually and bodyguard.  The preparation in being a bodyguard who had a hit on him from the mafia made him vulnerable as well. Danny drove around in bullet and bomb proof limousines and tried to get his clients in and out within 3 seconds.
"We know that these veterans are coming out and I mean they have, depends on what their, job description was in the military.  But you know, people are looking to hire people that have discipline, have a good work ethic, are hard workers, and dedicated, things like that." – Danny Lane
Some Gave It All
Danny wrote the book Some Gave It All and it has been out since May of 2018.  It was released by Ingram in observance of Military Month.
"I struggle everyday still with post traumatic stress with the atrocities and things I did, I saw, witnessed.  I'm still part of, I'm still under medical treatment for that. This is 50 years. And for some people it never really goes away." – Danny Lane
To hear more about Danny's entrepreneur success, download this episode now.
Don't forget to leave us a 5-star rating and review if you enjoyed the show. We would love to hear from you!
Some Gave It All by Danny Lane
Download Joe Crane's Top 7 Paths to Freedom or get it on your mobile device. Text VETERAN to 38470.  
Show Sponsor
"I have slept on the dirt, the green yoga mat and military cot many a night during my days in the military and now I sleep in lots of hotel rooms when I'm on the road.  So I know a good mattress when I see one. A few weeks ago we got our new GhostBed and let me tell you…..it's the best mattress I've ever slept on. We don't ever see ourselves going back to a traditional mattress." –  Joe Crane
What separates GhostBed Mattresses from the others?  They are found on the principle of delivering a bigger, better and more comfortable mattress at a lower cost.  GhostBed has three mattresses all designed to help you sleep better, they offer a 101 night hassle free return and amazing customer service.  GhostBed has over 20,000 customer reviews so you need to check them out at http://www.veteranonthemove.com/ghostbed
Join the Veteran on the Move on Facebook!
Check out Veteran on the Move on Facebook to connect with our guests! It's a great place where you can stay in touch with other veterans who are transitioning to entrepreneurship.  Get updates and free gouge on the people, programs and resources to help you in your transition to entrepreneurship.
Veteran On the Move podcast has published over 250 episodes. Our listeners have the opportunity to hear in-depth interviews conducted by host Joe Crane . The podcast features people, programs and resources to assist veterans in their transition to entrepreneurship.  As a result, Veteran On the Move has over 1,000,000 verified downloads through Stitcher Radio, SoundCloud, iTunes and RSS Feed Syndication making it one of the most popular Military Entrepreneur Shows on the Internet Today.
Lorem ipsum dolor sit amet, consectetur adipiscing elit, sed do