Executive Speaking Success with John Bates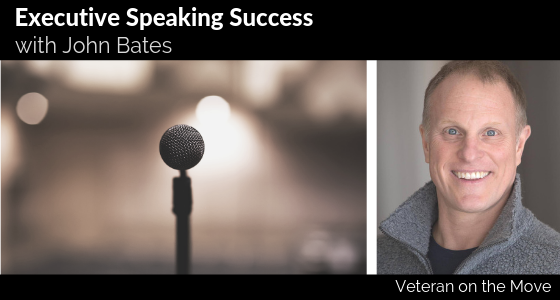 Podcast: Play in new window | Download
John Bates' why is to bring out what is awesome inside of you, so it can live in the world and make a real difference. Hilarious, entertaining and actionable, his large and small group trainings, keynotes and 1:1 coaching are famous the globe over. His offerings thrill audiences, meeting planners and HR, alike.
After getting his start by absolutely blowing his first talk on the TED stage, John has gone on to train hundreds of TED/TEDx speakers in countries from the US to Yemen in what he learned, the hard way. He also works with C-level executives at top global corporations to make their communications "TED-Worthy." Executives from organizations like Johnson & Johnson, NASA (where he most recently trained the Astronauts), Boston Scientific and more recommend him to their colleagues as the best, and most fun, leadership communication trainer working today.
John Bates- Early Days
John grew up in the Marine Corps.  His father was a Combat Marine in Vietnam.  John wanted to fly but wasn't allowed to so he ran away with his rock band.  
"But it turns out that performance experience is actually tremendous value in business, you know   So I don't feel as bad as I used to about doing that. It was pretty fun too. " – John Bates
How I Got Started
John has been an entrepreneur his whole adult life and had debt and stock worth millions from start up companies he was part of.  He got married and wanted to provide a better life for his wife and decided he would like to be a speaker coach. He was passionate about being a great speaker and saw how he helped transform others.  John began as an Internet entrepreneur & consultant in 1994 and has always been a Founder or early employee and senior executive team member at startup companies.
"I called my friends who would be the kind of people who would hire speaker coaches and they all said, John Speaker Coaches are a dime a dozen.  You don't want to do that. That's a nightmare. Do something else. So I cried about it for a little while and then I finally just said, you know what?   I know I provide value. I have seen people come alive when I work with them and this really provides value. So I did it anyways." – John Bates
The Big Lesson
When John was solely focused on money he realized that he wasn't successful.  When he switched his focus to providing value he started making money. John found that it was a powerful transition and that he need he had the value added component.
"I think it's important to think about money, right, because money, the funny thing about sustainability is you have to sustain it and that's what money and profit does.  But the sole focus for me, the focus being so much on the money and not really as much on the value. I had heard that before, you know, provide value and you make money. But that was when I actually experienced it." – John Bates
To hear more about John's entrepreneur success, download this episode now.
Don't forget to leave us a 5-star rating and review if you enjoyed the show. We would love to hear from you!
Executive Speaking Success Website
Download Joe Crane's Top 7 Paths to Freedom or get it on your mobile device. Text VETERAN to 38470.  
Show Sponsor
"I have slept on the dirt, the green yoga mat and military cot many a night during my days in the military and now I sleep in lots of hotel rooms when I'm on the road.  So I know a good mattress when I see one. A few weeks ago we got our new GhostBed and let me tell you…..it's the best mattress I've ever slept on. We don't ever see ourselves going back to a traditional mattress." –  Joe Crane
What separates GhostBed Mattresses from the others?  They are found on the principle of delivering a bigger, better and more comfortable mattress at a lower cost.  GhostBed has three mattresses all designed to help you sleep better, they offer a 101 night hassle free return and amazing customer service.  GhostBed has over 20,000 customer reviews so you need to check them out at http://www.veteranonthemove.com/ghostbed
Join the Veteran on the Move on Facebook!
Check out Veteran on the Move on Facebook to connect with our guests! It's a great place where you can stay in touch with other veterans who are transitioning to entrepreneurship.  Get updates and free gouge on the people, programs and resources to help you in your transition to entrepreneurship.
Veteran On the Move podcast has published over 250 episodes. Our listeners have the opportunity to hear in-depth interviews conducted by host Joe Crane . The podcast features people, programs and resources to assist veterans in their transition to entrepreneurship.  As a result, Veteran On the Move has over 1,000,000 verified downloads through Stitcher Radio, SoundCloud, iTunes and RSS Feed Syndication making it one of the most popular Military Entrepreneur Shows on the Internet Today.
Lorem ipsum dolor sit amet, consectetur adipiscing elit, sed do