Road Trip with Army Veteran Brandon Schatz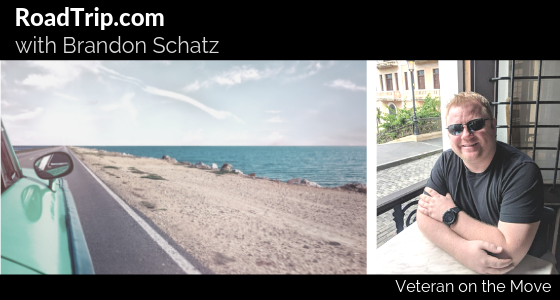 Podcast: Play in new window | Download
Brandon Schatz is a passionate technologist that loves to build things. He has nearly 20 years of experience developing software and helping businesses become successful from idea to market.
Brandon Schatz – SportsPhotos.com
Brandon founded SportsPhotos.com in 2012 and it is quickly becoming an industry leader in race photography. They utilize computer vision for Search by Selfie™, their facial recognition system, that enables athletes to find themselves by simply uploading a selfie. SportsPhotos.com has a huge focus on quality that is currently missing in the industry. 
RoadTrip.com
Additionally, Brandon recently took over the day to day operations of RoadTrip.com. Right now it is a social way to plan and share your trips. They have around 6 million places throughout the US that they have categorized really well into different interests. RoadTrip.com is tracking a lot of data that will enable it to become a recommendation engine customized to its users.
Army Days
Brandon was already deployed to Bosnia when we declared war on Iraq.  He was a communications specialist and was responsible for setting up networks to help officers communicate during missions.  Brandon was also deployed to Kosovo on a peacekeeping mission.
"So it's a pretty big responsibility for 20 year old specialists at the  time. They just opened up a warehouse and they're like, hey, go for it. You know, good luck, you know, don't let us down. " – Brandon Schatz
Transitioning
While Brandon was in the Army he was already consulting on the side.  He had his feet in the business side for a while so he already knew what that he would transition into business.  Brandon founded SportsPhotos.com and lived in a google fiber house in Kansas City.
"I wanted to pursue this project since like 2009.    wanted to build a photo ecommerce platform for sports photographers. I just kind of shelved that idea and was  like if I can get the best domain, I perceive, the best brand for this business, then I'll go after it." – Brandon Schatz
To hear more about Brandon's entrepreneur success, download this episode now.
Don't forget to leave us a 5-star rating and review if you enjoyed the show. We would love to hear from you!
Download Joe Crane's Top 7 Paths to Freedom or get it on your mobile device. Text VETERAN to 38470.  
Show Sponsor
"I have slept on the dirt, the green yoga mat and military cot many a night during my days in the military and now I sleep in lots of hotel rooms when I'm on the road.  So I know a good mattress when I see one. A few weeks ago we got our new GhostBed and let me tell you…..it's the best mattress I've ever slept on. We don't ever see ourselves going back to a traditional mattress." –  Joe Crane
What separates GhostBed Mattresses from the others?  They are found on the principle of delivering a bigger, better and more comfortable mattress at a lower cost.  GhostBed has three mattresses all designed to help you sleep better, they offer a 101 night hassle free return and amazing customer service.  GhostBed has over 20,000 customer reviews so you need to check them out at http://www.veteranonthemove.com/ghostbed
Join the Veteran on the Move on Facebook!
Check out Veteran on the Move on Facebook to connect with our guests! It's a great place where you can stay in touch with other veterans who are transitioning to entrepreneurship.  Get updates and free gouge on the people, programs and resources to help you in your transition to entrepreneurship.
Veteran On the Move podcast has published over 250 episodes. Our listeners have the opportunity to hear in-depth interviews conducted by host Joe Crane . The podcast features people, programs and resources to assist veterans in their transition to entrepreneurship.  As a result, Veteran On the Move has over 1,000,000 verified downloads through Stitcher Radio, SoundCloud, iTunes and RSS Feed Syndication making it one of the most popular Military Entrepreneur Shows on the Internet Today.
Lorem ipsum dolor sit amet, consectetur adipiscing elit, sed do