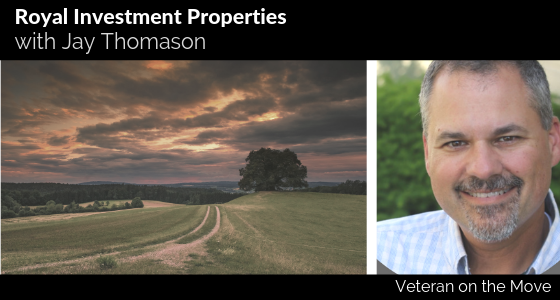 Podcast: Play in new window | Download
About this Episode
Jay Thomason is flipping vacant land and most of the time he never even steps foot on the property. Unbelievable? Jay tells us all about his business.
Jay graduated with a degree in criminal justice. He always wanted to be a cop, but along the way he decided to join the private security world. Jay has worked for Montgomery wards and at Home Depot. Most recently he worked for a security department at a fairly big hospital in Kansas City. All along he had a drive to do something entrepreneurial. In 2009, he started flipping houses with a partner and that was by far the greatest job he ever had.
Then, a couple of years ago, his brother in law introduced him the land flipping business. Listen in for more.
Key Points of Discussion
Jay's journey to land flipping

Land flipping as business

How masterminds can help you become a better entrepreneur
Key Milestones of this Episode
[01:11] Jay's introduction
[02:40] Introduction to land flipping
[05:31] All about owner financing
[31:03] Are masterminds really necessary?
Key Resources
Key Quotes by Jay Thomason
"If somebody is delinquent on their payments, it's really easy to repossess vacant land."

"If a buyer trusts you, they will definitely buy from you."

"Partner up with some people that you know are working with you in this thing."

"Don't invest in vacant land because it's always going to be negative income while you own it."
Contact Info for Jay Thomason
For more information about Jay's company, visit http://royallandco.com
About Our Sponsor
Navy Federal Credit Union is a member-driven credit union with over 8 million members and incredible benefits to support the financial stability of military families.
Visit navyfederal.org/veteranmove for more information.
Lorem ipsum dolor sit amet, consectetur adipiscing elit, sed do